How to make a closed floorplan feel more open.
By emily.bailey
Here are 10 ways to decorate any space so that you can enjoy your closed floorplan without experiencing claustrophobia.
If you've recently decided that an open floorplan isn't all it's cracked up to be, you aren't alone. Whether you're installing new walls in your current home or looking for a new one with a more traditional closed layout, you might be wondering how to balance privacy with not feeling cramped. Here are 10 ways to decorate any space so that you can enjoy your closed floorplan without experiencing claustrophobia.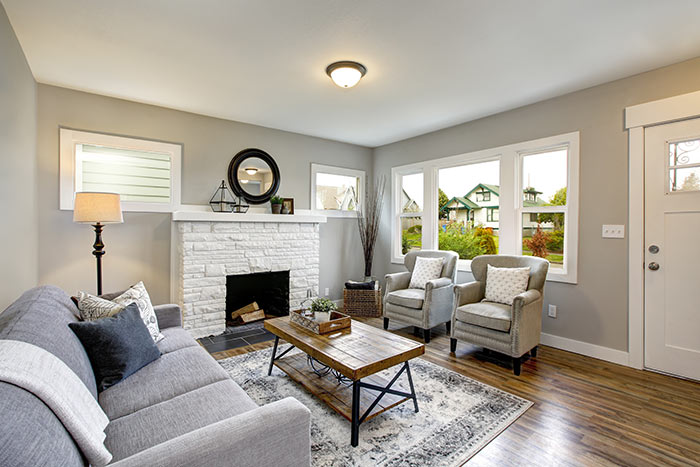 1. Remove the clutter
The more things you put in a room, the smaller it will feel. Take a hard look at your belongings and determine what's really necessary. You don't have to be a minimalist or get rid of your most prized sentimental possessions. If you don't use something or it doesn't really help you enjoy the room, it's time to remove it.
2. Manage furniture strategically
First up, get rid of furniture you don't need. Less furniture will free up floor space, regardless of the layout. With the furniture you keep, whether it's a bed, tables, chairs or entertainment centers, make sure it's proportional to the room. An oversized king bed in a smaller bedroom will make the entire room feel crowded. A six-seat table in a dining room that is now closed off with the wall you added to separate it from the living room might be too tight. Assuming you don't have a family of six, look to replace it with a smaller dining set.
You might also look for multifunctional furniture. For example, a storage bench at the end of the bed is both a nice place to stash extra blankets and gives you somewhere to sit while you get ready in the morning. That one piece might help you eliminate multiple pieces such as a chest and a chair.
3. Keep thinking about that furniture
Furniture style also plays a big role in how open or crowded a room feels. The Spruce says that Mid-Century Modern furniture is great for smaller spaces simply because it tends to have legs. Legs, especially those that are thinner, raise your pieces up off the ground and trick the eye into thinking there's more space.
4. Use natural light
Natural light is the best friend of small spaces for two reasons. First, any light makes a room feel more open and airier. Second, you can rely less on lamps that take up space. To let in more natural light, choose window treatments that are either more transparent or can be easily raised when you crave the sun. You might also arrange your furniture in relation to windows. Place your home office's desk under the window, for example, and you'll get some Vitamin D while you work, rely less on artificial light, possibly reduce eye strain from staring at a computer screen nonstop and even look better on those video conference calls.
5. Hang mirrors
We recommend this tip for small foyers all the time. Mirrors reflect light, which, like we said in #4, helps to make almost any space feel larger. Plus, mirrors don't take up much space. That makes them the perfect solution for banishing a cold minimalist feel without taking up valuable square footage.
6. Opt for sconces
Especially if you've gotten rid of side tables or chose a smaller night stand, you might be wondering where to put your lamps. Use your wall space. Try sconces on either side of your bed's headboard, in a narrow hallway or over your desk. You don't have to rewire or call an electrician if that's a concern. Within the Grove shows how to combine battery-operated puck lights with traditional sconces for the ultimate DIY hack.
7. Take advantage of vertical space
You might be surprised how much wasted space there is above your head. Open shelving is a good way to store items without the bulk of big, heavy bookcases. If you like a built-in look, go all the way to the ceiling and paint your shelves the same color as the wall. Your eye will be drawn vertically to create the illusion of more space.
8. Match window treatments to your walls
Similar to painting your built-in shelves the same as your walls, matching your window treatments to your wall color can make your room feel larger. This allows your eye to continue traveling around the room uninterrupted. Instead of seeing a little bit of all here, then a window, then another small section of wall there, your mind will register one continuous view.
9. Decorate with light colors
Some designers will debate this, but the general consensus is that lighter colors make a space feel fresh and open. Don't just think about paint color, though. Remember that dark-wood furniture can also bog down a space, especially if there's a lot of it. The same goes for dark flooring. If you absolutely can't live without a daring darker color or print, use it sparingly for an accent wall, bedding or accessories.
10. Choose removable barriers
For those of us who didn't want to or couldn't add permanent walls for more privacy during the coronavirus pandemic, temporary barriers are a great alternative. Privacy screens, pass-through bookshelves and even simple curtains can be beautiful and functional. They can also be removed when you don't need them, so if the dining room suffices as a small home office during the day but needs to be more open for family time in the evening, try a room divider that can be added and removed as necessary.
Our homes should transform to fit our lifestyle, not the other way around. Find more ideas for making your home work for you at the Schlage blog. And if you're on the hunt for a new place entirely, don't forget our Real Estate hub with advice on buying, selling and moving into your perfect home.