10+ design tricks to create the illusion of a bigger, better home.
By emily.bailey
We all love a good décor hack, so why not try a sleight of hand with these DIY projects to fool your friends.
Interior designers' tricks of the trade really are just tricks sometimes. Unless you're paying close attention, what catches your eye in a beautiful home could be an optical illusion. It might be making a small room feel larger or faking a more luxurious lifestyle than you actually have. We all love a good décor hack, so why not try a sleight of hand with these DIY projects to fool your friends.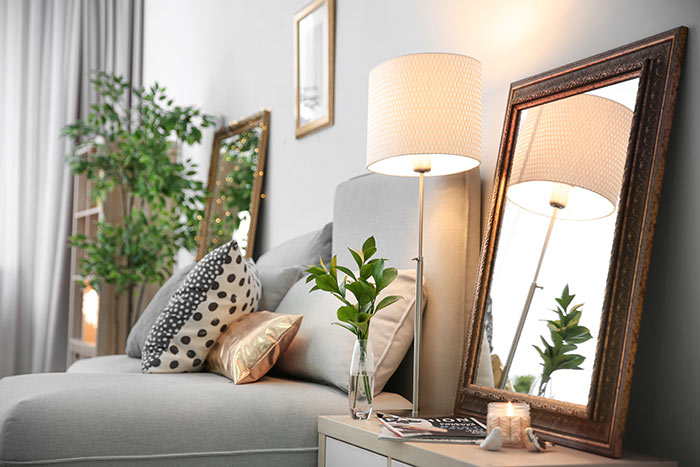 1. Curtains
Window treatments are one of the all-stars of optical illusions. If you want to make a room feel more spacious, choose light-colored and airy curtains instead of heavier drapes. On the other hand, if you want to create a snug bedroom, for example, go for those heavy curtains to feel wrapped in a tight cocoon on coziness.
How you hang your curtains can also "change" the dimensions of a room. If a window is off center on the wall, install the curtain rod as if it weren't. Then position the curtains in a way that hides the window frames and gives the illusion of symmetry.
Similarly, if you have a short wall you want to make appear longer, extend the curtains farther beyond the edges of the window itself. Or hang them nearer to the ceiling than at the top of the frame to create the illusion of height in a room. These strategies will trick the eye, much the same way stripes on clothing can "change" the shape of your body.
2. Paint colors
Like curtains, if you want to make a room feel larger, choose a light and airy paint color. Brighter spaces make you think you're more in the open. But again, if you want that cozy cocoon vibe, choose a darker color.
To create the illusion of a higher ceiling, use multiple colors with the darker paint toward the bottom and the lighter above. Apply this rule to kitchen cabinets with the upper cupboards one color and the lower ones in a darker shade. This can help to draw the eye upward, making the brain think there's more space overhead.
3. Blue porch ceiling
While you have the brushes out, try painting your porch ceiling blue. By replicating the sky, a blue paint can make the porch feel more open or just reinforce the idea that you're outside enjoying nature. This can be especially beautiful in coastal areas or if you love some good beach décor.
4. Hollow core doors
Sometimes the illusion is less about space and more about adding refinement without busting the budget. Homebuilders install hallow core doors because they're inexpensive. Unfortunately, they aren't very attractive either, but you can change that with some simple DIY hacks. Add panels or glass insets, or simply get creative with the paint job to create a whole new look.
5. Door hardware
Add door hardware to your bag of style tricks for two reasons. First, it can create a luxurious look for very little effort. When you pair your door knobs or handles to the style of the rest of your home or match the finishes to other accessories like plumbing fixtures or lighting, you create a polished look that screams sophistication.

Second, door hardware can add a decorative touch to small rooms without taking up valuable space. If you want a small room to feel larger, you need to choose your décor wisely and avoid clutter. So when you're trying to add some visual interest, you want pieces that are both fashionable and functional. The perfect glass door knob, like the
Schlage Custom™ Alexandria
or
Hobson
, or a
modern lever
with a bit of shine can do just that.
6. Curtains instead of doors
Schlage is suggesting you remove doors? For this hack, yes. Sometimes a room can feel small or lackluster because it's hard to arrange your furniture. The bed would look perfect on that wall, but then it blocks a closet door from opening. Replace the door with a curtain so that swing radius is no longer a concern. Using a lighter fabric can also help remove any claustrophobic feelings you might be having.

7. Furniture scale
In minimalist Scandinavian and Japandi styles, you'll rarely see oversized, bulky furniture. This is because it can make a room feel crowded and cluttered. Regardless of the size of your space, make sure your furniture is proportionate to the rest of the room.
If you're trying to make a space feel larger, look for furniture with a sleeker silhouette, wood with lighter finishes and pieces on narrow legs. This modern bedroom suite is a great example of how thin legs lift the pieces off the floor, making them feel less heavy and bringing the eye upward to create the illusion of more space.
8. Lighting
We keep talking about bringing the eye upward. That is exactly what happens with uplighting. If you have a low ceiling, choose light fixtures, such as this adjustable floor lamp or sconces, that shine up.
However, if you want to direct people's attention to a particular item – perhaps a luxurious piece of art – or create a close, moody ambience, choose downlighting. Think of it as a spotlight on a dramatic stage.
9. Mirrors
It's called smoke and mirrors for a reason. Reflective surfaces can play all kinds of tricks on the mind. We often recommend mirrors for your entryway because they tend to be small, narrow spaces. Fortunately, a mirror can reflect light and make the space feel more open. A mirror opposite a window so that it reflects the open outdoors can be especially effective, not to mention good feng shui.
10. Open stairways
When updating stair railings, choose your spindles wisely. Bulky wooden spindles spaced closed together are common in traditional homes but will make a space feel more closed off. If you're looking for a more open vibe, choose thinner spindles or even cables or glass, which can be stunning in modern and industrial homes.
11. Expansive art
Create an escape with wall art that makes you think of something expansive. An oversized image – it could be a painting, wallpaper or a decal – of a beach scene or outer space can trick your mind into thinking of distant horizons instead of just another wall. Some abstract art with no clear beginning or end can have the same effect.
12. Furniture arrangement
If you have a small space but a beautiful view like this one, take advantage of it. Instead of facing furniture to the center of the room, make the windows your focal point. You'll feel like you've brought the outside in while reading or chatting.
13. Declutter
The cheapest trick in the book is getting rid of things you don't need. There's no secret here and no need to get out power tools or knock out walls. To make a space feel more open, remove the clutter and get organized.