How to safely store and dispose of paint, stain and other DIY supplies.
By emily.bailey
We'll show you how to safely store your paint so it lasts longer and how to properly dispose of it without harming the environment.
One the toughest home improvement questions you may ever have to answer: How much paint do I need? It turns out we aren't very good at calculating the amount of paint it takes to redo a room, even with
online calculators
to help us. The
Product Stewardship Institute
estimates that about 80 million gallons of household paint go unused in the U.S. each year. Many of us will hang on to some of that extra paint for future jobs or to touch up the walls after our toddlers have their way. But what about the rest? Below, we'll show you how to safely store your paint so it lasts longer and how to properly dispose of it without harming the environment.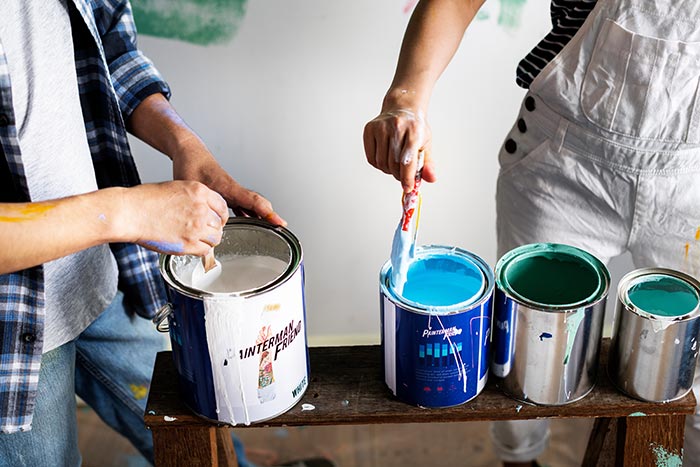 How to store paint to make it last longer
The less air that reaches your paint, the longer it will last. That's why many experts recommend putting it in a smaller container such as another can or jar. Whatever you choose, make sure you can get an air-tight seal with the lid.
If you're going to store the paint in its original can, clean the rim and sides of excess paint. Then place some plastic wrap over the opening – this helps create a tighter seal – and replace the lid. Use a rubber mallet to tap the lid back into place securely without damaging it. If you use a regular hammer, you can distort the lid or the rim, preventing it from closing properly. True Value also recommends storing the can upside down.
Store your paint in a cool, dry place like a cabinet or basement. Too cold of a location will cause the paint to separate and become unusable if it freezes. Too hot of a location or one in direct sunlight will cause the paint to deteriorate more quickly. Also, avoid storing paint directly on the ground where moisture can cause the bottom of the can to rust and damage the paint.
Label your paint clearly so it's easier to find and use when you need it again. The original can will likely have the color on it, but you can use a permanent marker to write the date and how it was used previously. Then, when you want to do touchups later, you won't be guessing which paint was used in the living room and which was the dining room.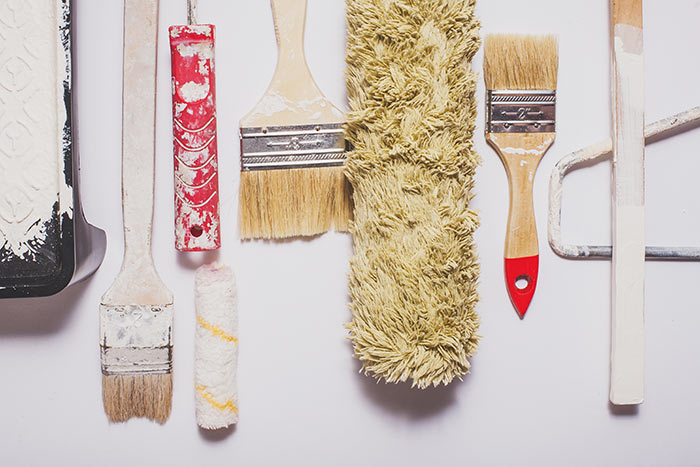 How to dispose of paint and wood stain
Latex paint
You have a few options for disposing water-based latex paint. You can take it to a hazardous waste facility or add a drying agent to it before putting in the trash. If you choose the second option, add kitty litter or a commercial paint hardener, then let it sit out and harden for a few days. Make sure it's somewhere kids and pets can't get to it. Once the mixture is the consistency of oatmeal or firmer, put it out on the curb with the rest of your garbage. Double-check your local regulations to make sure this is legal in your area first.
Oil-based paint
Oil-based paint cannot be thrown away, no matter what you do to it first. Take it to a hazardous waste or drop-off center so they can dispose of it properly without polluting the environment. Another great option is to donate extra paint to a local non-profit organization such as a community center, theater, school or place of worship. The same goes for pretty much any item on this list.
Spray paint
Only recycle cans of spray paint when you're sure they're completely empty. A half-full can still contains a great amount of pressure and can explode. Spray a piece of cardboard to be sure the can is completely empty before recycling it. Learn more about disposing aerosol cans and other common household items.
Wood stain
In many cases, you dispose of wood stains the same way you would paint. However, check your local regulations first. Your community may require you by law to drop off leftover stain at a hazardous waste facility for proper handling. Used rags can usually be thrown in the trash once they've completely dried.
Varnish
Used to seal and protect wood, varnish is considered a hazardous material. As such, it should be disposed of by taking it to a drop-off center. It is flammable, so don't throw it in the trash.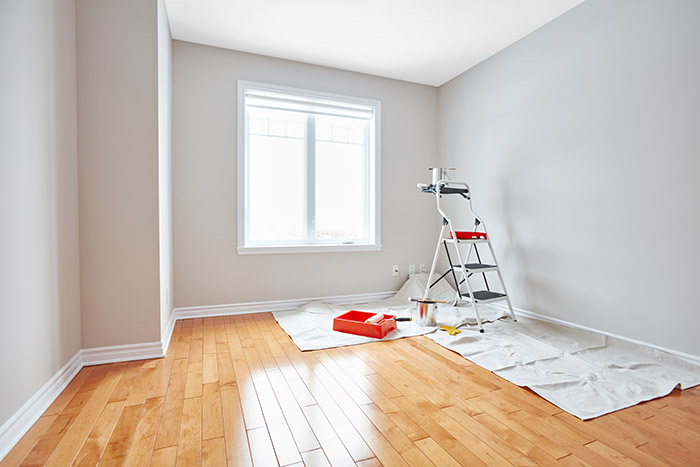 How to dispose of painting supplies
Brushes, rollers and pans
Most high-quality brushes and rollers can be reused if you clean them properly after each use. When it is time to dispose of them, follow the instructions for paint disposal. Supplies used with latex paint can be thrown in the garbage after they've completely dried. If you used oil-based paint, take them to the waste disposal facility with your leftover paint.
Drop cloths
Plastic drop cloths or cardboard should not be recycled. That type of plastic typically isn't accepted by most curb-side pick-up recycling programs. And if it's covered in paint, it probably can't be processed anyway. A canvas drop cloth can be reused more often and is the better choice for reducing waste in the first place. When it's time to retire it, though, you'll probably want to take it to a special collection location, especially if you used oil-based paint. HGTV also has a fun alternative for turning old canvas drop cloths into wall art.
Paint thinner and paint stripper
Leftover paint thinner, used paint stripper and used rags should be disposed of at a hazardous waste center. Do not throw them away as they are highly flammable. Do not pour them down the drain. This can cause groundwater contamination. Bob Vila also has tips for storing paint thinner for reuse.
Dirty paint water
Once you've cleaned your brushes, you'll be left with a bucket of dirty paint water. What do you do with that waste? Let the bucket sit in a warm spot until the water evaporates. Make sure to keep it away from children and animals. You can then peel off the paint residue left at the bottom of the pail and throw it away.