What is a mobile wallet and should you trust one?
By emily.bailey
Mobile wallets are making financial transactions and keeping track of credentials easier, quicker and more convenient. But what are they? And how can you use them?
Stop wasting time doing unexciting things. As much as it feels like our lives are speeding up, we wouldn't complain if we could get through everyday mundane tasks a little quicker. By taking advantage of technology like mobile wallets, you can do that. Spend less time standing in the checkout line, digging around in your bag for an ID or trying to track down your transit pass and more time enjoying what you bought and the friend you're traveling to see.
If you aren't using a mobile wallet like Apple Pay or Google Pay yet, chances are that you've seen someone else wave their phone near the card scanner, grab their bags and go. Or someone paid for their share of the check by saying, "I'll Venmo you the money." Mobile wallets are making financial transactions and keeping track of credentials easier, quicker and more convenient. But what are they? And how can you use them?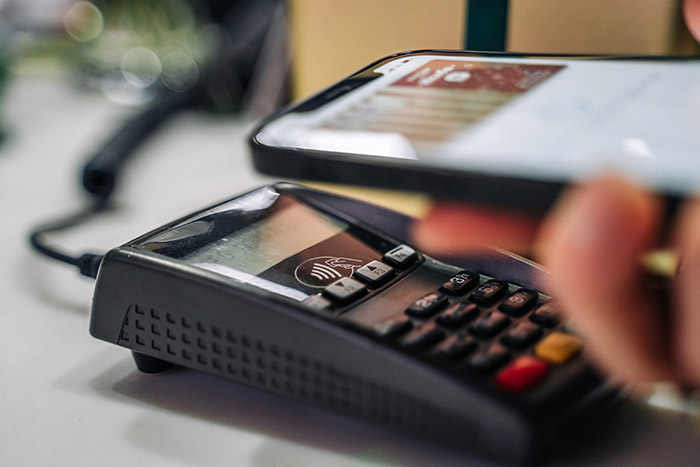 What is a mobile wallet?
In the simplest terms, a mobile wallet is the digital version of carrying everything you have in your physical wallet or pocketbook. Instead of a bunch of plastic credit and debit cards, the information you need to pay for in-store or online purchases is kept virtually in your mobile wallet. The same goes for loyalty cards, some identification cards and more.
When this information is stored in your mobile wallet, you can then use your smartphone or compatible smart watch to make payments, show an ID or ticket, unlock a door or automatically link to those store rewards. The benefits of a mobile wallet include convenience, safety through touchless transactions and increased security.
If you've ever gotten to a store and realized you forgot your wallet or don't have the credit card you need, that problem is taken care of with mobile wallet. With everything you need to pay right on your phone, there's no more searching your bag or making embarrassing apologies for holding up the line. Just tap your device with the mobile wallet to the store's reader and you're set.
More stores and shoppers began to adopt mobile wallets for touchless pay during COVID-19. With no need for you to touch the store's credit card reader or transfer a card or cash to the employee, risk of transmitting germs was reduced. And as for increased security? Keep reading.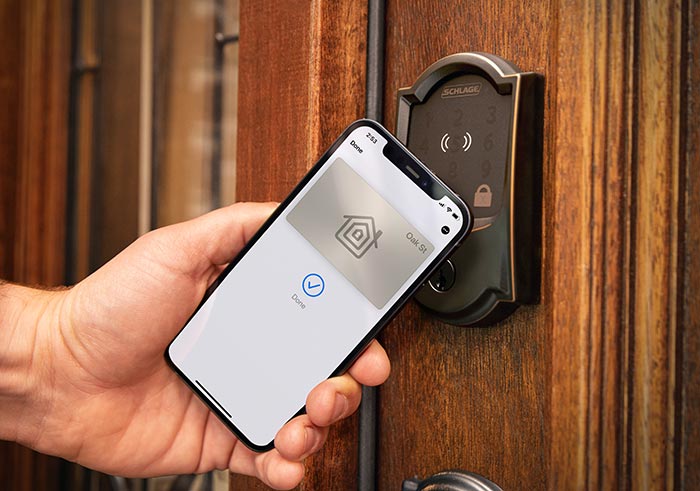 Are mobile wallets safe?
No matter where you keep your credit cards, you need them to be safe. The last thing you want is for the card or any of its information to fall into the wrong hands. The same goes for keys and other credentials. So you're probably wondering how safe mobile wallets actually are? How much can you trust a mobile wallet to protect your personal information?
To answer that, let's start with how mobile wallets work. According to Clearview Federal Credit Union, mobile wallets use Device Account Numbers, or DANs, instead of your actual credit card or account numbers to make payments. After you enter your card or account information to the mobile wallet app, that information is encrypted. It's the encrypted information – the DAN – that is used for transactions. This is important for security because if your phone or watch is lost or stolen, the finder has only the encrypted information, which is essentially useless to them without your biometric authentication or passcode. The encryption means they will not have direct access to your account.
By comparison, if your physical credit card or credential is lost or stolen, there is little to deter someone else from using that information to make unauthorized purchases or otherwise impersonate you. It's similar to why we at Schlage love keyless security for your home. Without physical keys to carry or share with someone like the babysitter or dog walker, you're limiting the risk that those keys will go missing. Instead, by relying on smart lock access codes, you have greater control over who can enter your home, not to mention increased ability to monitor that access through smartphone apps.
Authentication features like face ID or touch ID on your smart device also provide an additional layer of security to protect your personal and financial information. Before completing a mobile purchase at the store, you often have to prove your identity before the mobile wallet will complete the transaction. Again, that simply isn't the case with a physical card or key.
As with anything, of course, it's best for you to also maintain secure personal practices. Don't share your authentication code with others. Follow best practices to create strong access codes and PINs, taking special care to choose ones that can't be easily guessed. And just as you wouldn't hide a physical key in one of those obvious fake rocks, make sure you properly store your smart devices or take then with you when they're not in use. Don't leave them on the coffee shop table, even for a minute, or leave them in plain view in your car.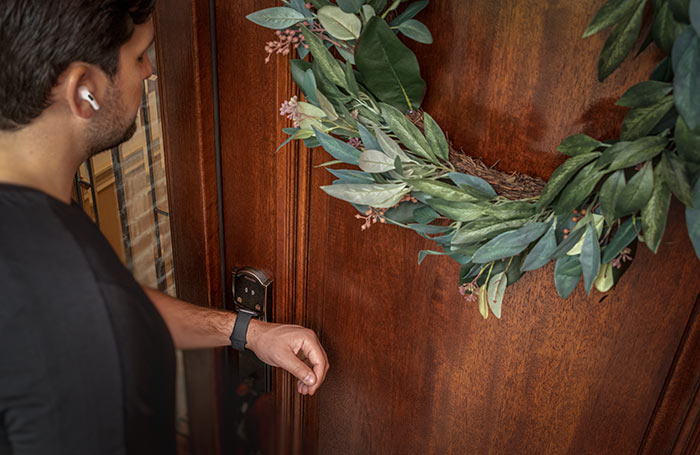 What else can you store in a mobile wallet?
When we think of "wallets," our minds often go first to money. But what else is in your physical wallet? There probably are plenty of other cards – IDs and licenses, store loyalty cards, bus passes – and scraps of paper like receipts, too.
A mobile wallet isn't much different. When using an app like Apple Wallet, you can store credit card information as well as boarding passes for your next flight, bus or subway passes, tickets for that concert or sporting event, in the mobile wallet.
Again, loyalty cards can often be uploaded as well as some identification cards. Allegion, parent company of Schlage, helped make it possible for the University of Tennessee, Knoxville, to launch contactless student IDs in Apple Wallet in 2019. The groundbreaking innovation enhanced credential security on campus. Even if a phone was lost, students' IDs, which were required to enter buildings, couldn't be unlocked by someone other than the intended user. That means access to buildings like dorms was limited only to those with proper permissions.
Increasingly, keys can also be stored in your mobile wallet. With Apple Wallet, you may be able to keep your hotel key – skipping the lobby check-in process – or your car key. When you have the Schlage Encode Plus™ Smart WiFi Deadbolt, you can also pair the lock with your Wallet app to take advantage of home keys. This allows you to tap to unlock and securely and conveniently access your home without using a physical key. Just like when paying for your groceries, you tap your iPhone or Apple Watch to use what's stored in your Wallet. And with the lock, that means easily entering your home, even when your hands are full of those groceries or they're free because you left your keys in the entryway when you went for a run.