How to safely dispose of common household items and chemicals.
By emily.bailey
Monday, February 21, 2022
When upgrading your home or tackling a DIY project, make sure you dispose of appliances, furniture and other materials correctly. You'll not only be keeping your family safer, but you'll also do your part to protect the environment.
We love upcycling as much as the next person, but somethings just can't – or shouldn't – be reused. When upgrading your home or tackling a DIY project, make sure you dispose of appliances, furniture and other materials correctly. You'll not only be keeping your family safer, but you'll also do your part to protect the environment.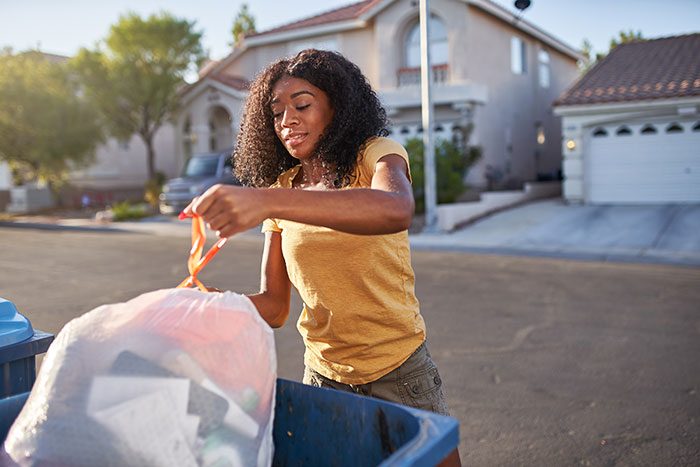 To start, check the labels and packaging of household items, if you can. They often give clues as to how to safely dispose of them. If you're uncertain, even after using the guide below, call your local environmental, health or solid waste agency. They should be able to advise you on how to properly dispose of or recycle most items.
How to dispose of common household items
Cleaning supplies
The active ingredients in household cleaners can vary widely, so it's best to consult the packaging for disposal instructions. Some of the milder solutions can often be poured down the drain, but those with more hazardous chemicals – oven and drain cleaners, furniture and metal polish, and tub and tile cleaners to name a few – should be taken to a waste disposal center. Check out this helpful household waste chart from Water Environment Federation for more information on which cleaners are safe to dispose of yourself.
Light bulbs
You're never going to stop using light bulbs. Even if you wanted to, many candles emit toxic chemicals into the air as they burn, so they're not a great alternative anyway. So when it's time to replace your light bulbs, at least dispose of them properly. Incandescent – the standard, old-school kind – and halogen bulbs can go out in the regular trash. Fluorescent and CFL light bulbs, however, can re-introduce mercury into the environment, which is no good for soil and water. The Junkluggers recommend taking them to a local retailer or collection center for proper recycling.
Aerosol cans
Only throw aerosols in the trash if you're sure the can is completely empty. Even a half-full can contains a high amount of pressure and can explode. To be sure it's empty, spray a piece of cardboard until absolutely nothing more comes out. If it isn't empty, recycle it through a hazardous waste facility. This applies to spray paint, some cleaning solutions and certain types of sunscreens and bug repellants.
Mattresses
Although some areas will accept mattresses in the landfill, it's not a great option. Sleep Foundation estimates that almost 20 million mattresses end up in the landfill each year, and at their size, that's a major environmental impact … not the good kind, either. Instead, recycle them. Earth911 has an excellent database to help you find recycling centers for mattresses as well as other items. If there isn't a recycling center that will accept the entire mattress and you're up for a bit of work, break down the mattress and recycle its individual parts.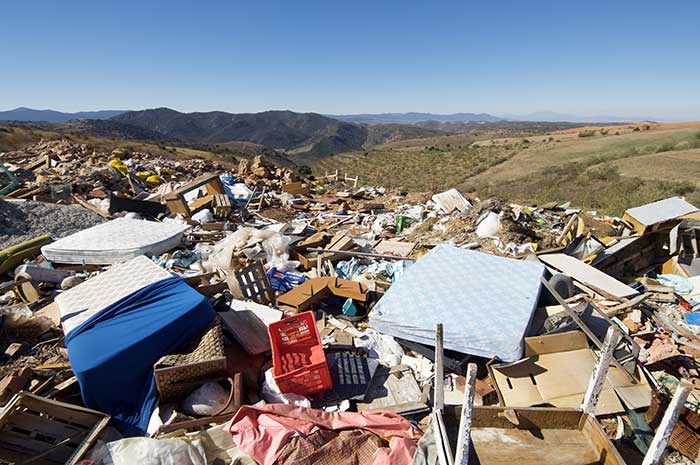 Best way to recycle appliances and electronics
Large appliances
About half the states in the U.S. have banned large appliances from landfills, so if you aren't going to donate them to a group like Habitat for Humanity, recycling refrigerators, washers and dryers, air conditioning units, dehumidifiers and other similar items is really your only option. If you've just bought a new appliance, ask the store to take your old one when they deliver the new. They might also be able to take other appliances, not just the upgraded oven you purchased.
Another option is to ask your community about bulk pick-up days. If there is a designated time for large-appliance pick-up, ask about additional rules. They might not accept appliances with Freon, and if they do, they might charge extra for that service. It's also worth looking into the EPA's Responsible Appliance Disposal (RAD) program. Not only will a RAD partner dispose of the appliance for you, but you may also be eligible for a financial incentive or rebate.
Small appliances
The key to whether these items can be put in the trash or should be recycled is if they contain hazardous waste. Televisions, computers, microwaves, thermostats and string lights, for example, can contain chemicals that, if leaked, contaminate the soil and waterways. Take them to a hazardous waste facility. Lamps and light fixtures, toasters and vacuum cleaners are generally safe for the landfill as long as you remove any rechargeable batteries first. More on batteries in a minute.
Personal electronics
When you replace your TV, computer, printer or phone, ask the retailer if they have a take-back program. You can often then mail or return your old electronic to them for proper recycling. This is better for the environment than adding it to the landfill and can be safer for you in that your personal information can be removed from the device before processing.
Batteries
The type of battery will dictate the best way to dispose of it. Note that in this case, "type" means which metals it contains, not the size or shape. Single-use lithium and button-cell batteries should be taken to a special recycling location, as should several types of rechargeable batteries. Many other types can be put in your community's recycling. The EPA has a detailed chart to help you dispose of batteries so that important metals can be reused, making them more sustainable for the environment, and to avoid accidental fires as even "dead" batteries may still have enough charge to cause a spark.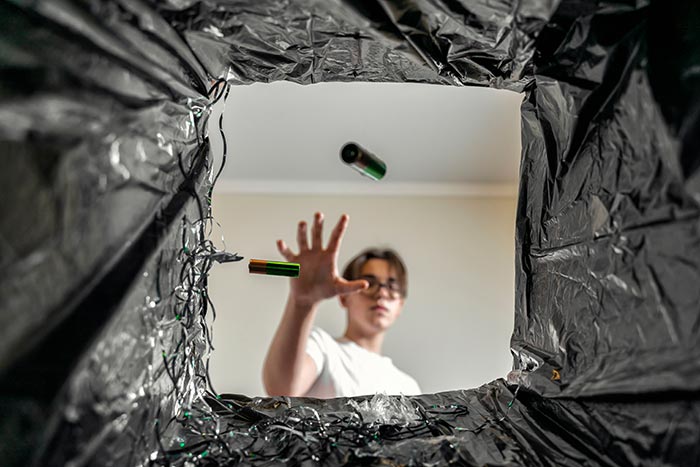 More disposal tips
Keep hazardous materials such as pesticides, cleaning solutions and other solvents in their original containers. This not only reduces confusion of what it actually is – you don't want someone to mistake it for food – but it also reduces the chance of leaks and other accidents. If you put a corrosive chemical in the wrong metal container, for example, the container could erode, creating a hazardous spill and possibly causing personal injury.


Do not remove the original labels from containers. This will reduce the chances that you mistakenly use something for the incorrect purpose as well as keep important information about shelf life, storage and disposal on hand.


Don't mix chemicals. You might think it's easier to dispose of a single container than lots of half-empty buckets. However, some materials simply don't mix. You could end up creating a chemical reaction that results in a fire, explosion or other danger. Mixing materials also could mean they are no longer recyclable.