6 signs you should replace your door locks.
By emily.bailey
When a door knob comes off in your hand, you know what to do. But did you know that's not the only time you might need new locks?
If a window is broken, you know you need a replacement. If your car tire is flat, it's obvious that you need a new one. When a door knob comes off in your hand, you know what to do. But did you know that's not the only time you might need new locks? Here are six signs you need to upgrade your door locks that you shouldn't ignore.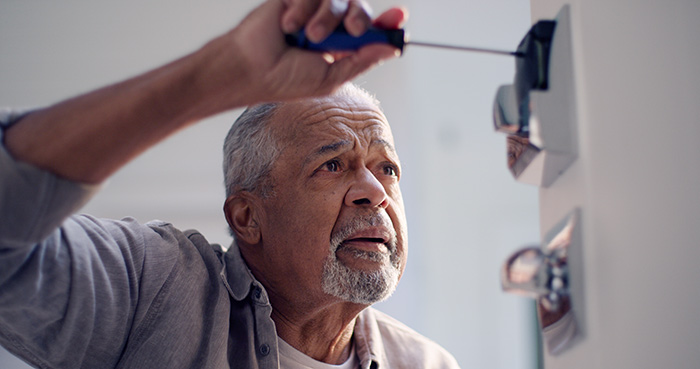 1. It doesn't latch or lock right
Obviously, if your door hardware is broken – your toddler pulled the lever off the door, you can't get the key in or out of the deadbolt – it's time to replace it. But other times we fool ourselves into thinking it's good enough as it is. Maybe the deadbolt sticks a little bit. Or maybe it latches, but only when we tug on it and hold it closed while we turn the key.
In some of these cases, the issue might be with the door or frame. Rather than investing in new hardware, try making a few adjustments for when your lock doesn't fit your door. In other cases, upgrading to a higher quality door knob or lever is the answer. The bolt could be sticking because it's made of sub-par materials and no amount of lubricant or adjusting its position will fix it. Again, choose hardware that's been tested to avoid these pitfalls. Look for the BHMA rating. One that's graded A and certified highest in Durability is a sign you can trust that hardware to last.
2. You've had a life-changing event
Your home should adapt with your lifestyle, not necessarily the other way around. Consider how you use rooms differently as you transition from being a childless couple to having a newborn, from raising a toddler, then a teen and finally returning to being empty nesters. A room could need different door hardware in each of those life stages. You might have wanted to be able to lock the door to your home office, but now that it's a child's room? Maybe not. When choosing door locks for toddlers, some families find it's best to switch to a passage function so their little one doesn't lock themselves in a room during a fit of the Terrible Twos.
Learn more about the difference between passage and privacy functions and what door hardware is best for each room in your house.
If you've had a change in marital status, new hardware might be in order. New members of the household will need keys when you blend families . This could be a good time to switch to electronic locks, especially if you're concerned about kids losing a spare key. With their own access codes, they can come and go securely, while still feeling welcome in their new home. And while it's not fun to think about, if someone has moved out, it might put your mind at ease to change the locks then, too.
3. You need security you can trust
Locks for your front door, and even your back door and side entrance if we're honest, should protect what matters most. To help keep your home and family secure, make sure exterior deadbolts check the following boxes:
High quality: Door hardware that helps protect your home should be made with premium materials, not cheap plastic. Look for attention to detail in the design that helps protect against attacks such as impact from hammers, sawing, picking and bumping. High-quality craftsmanship and better security often go hand-in-hand.


Durability: Whether it's an interior lever or exterior deadbolt, you use your door hardware every day, multiple times each day. It should stand up to the test of time, working and looking as good on Year 10 as it did on Day 1. We know life can be hard on your home and that's why we test our locks against everything from toddlers hanging on door levers to Mother Nature's impact on handlesets.


Lifetime warranty: One way to check a lock company's commitment to durability is to pay attention to the warranty.

Schlage's limited lifetime mechanical and finish warranty

is one way we show our commitment to providing durable, high-quality hardware. We also offer a limited three-year electronics warranty.
4. You want to go smart
Smart locks are a great way to add security as well as convenience. Maybe you just love to be on the cutting edge of innovation. With Schlage smart locks, you get the security and craftsmanship you expect from all of our deadbolts, plus integrations with your other favorite smart home devices. The Schlage Encode™ Smart WiFi Deadbolt, for example, works with Ring Video Doorbell so you can see who's at your door and unlock it as needed, all from a single app. If you're an Apple HomeKit® user, you might want the Schlage Sense® Smart Deadbolt. Or if you're partial to Samsung SmartThings, try the Schlage Connect® Smart Deadbolt. You can see the full list of integration partners at Schlage.com.
Regardless of the smart lock you choose, when it's connected to your home network, you get remote access from anywhere. That's peace of mind in the palm of your hand.
5. It doesn't match your style
Many people are surprised to learn how big an impact door hardware can have on a room's overall style. They don't really notice a knob or lever until they've redone a room and the hardware sticks out like a sore thumb. Whether you're renovating your entire home or simply giving a face lift to a single room, consider upgrading your hardware to match your new design. Schlage offers a wide variety of styles and finishes to fit nearly any home.
Updating your door hardware's style is also a great way to make a big change even when you have a smaller budget. To see what we mean, check out our popular blog on how to update hollow core doors to make the look more expensive.
6. You've moved
One of the first things you do when move into a new house is change the locks on your doors. You never know who might still have a key from the previous owners. Since you're going to replace your locks anyway, be sure to choose ones that are right for your home and family. Do you want a mechanical deadbolt or electronic deadbolt? How much should you spend on a lock? While everyone's budget is different, consider the value of a quality lock that will protect your home. Even a more expensive deadbolt costs less money than replacing belongings after a break-in. And if you don't have to repair or replace a sub-standard lock that breaks every few years, you'll save money in the long run.
Once you're ready to upgrade, make sure you choose what's right for you. Get started with this shopper's guide to door hardware and try our interactive Product Selector at Schlage.com.