A year's worth of window box ideas to inspire every season.
By emily.bailey
Use these tips for planting the perfect window box at any time of year and check out some of our favorite ideas that will have your home looking as gorgeous in December as it did in April.
Gardening to boost your curb appeal for the entire year can be challenging. Few plants will survive the heat of summer and the chill of winter. One way to keep your home looking nice no matter the season is to plant window boxes. Their smaller size makes it easier and less expensive to swap out the flowers according to the weather and even upcoming holidays. Use the tips below for planting the perfect window box at any time of year and check out some of our favorite window box ideas that will have your home looking as gorgeous in December as it did in April.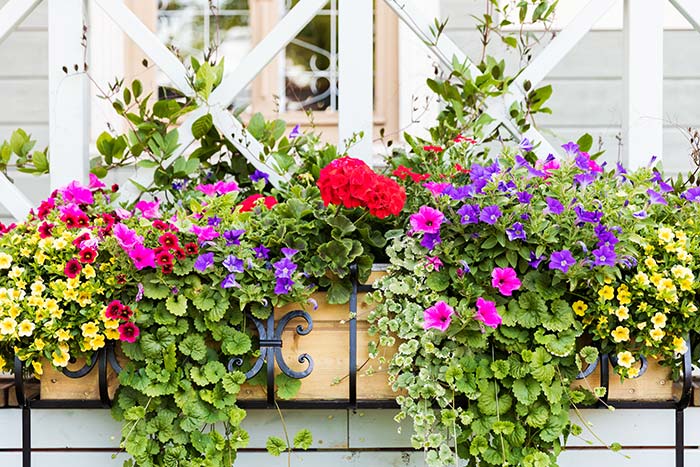 Tips for a successful window box
Pack in the plants. The fuller your window box, the better it will look. Choose plants of varying heights and remember the formula: thriller, filler, spiller. Choose one or two varieties that will really make a splash with color, vibrancy or size. This is your showstopper or thriller. Then choose another to fill in the gaps – your filler. And finally, your spiller is a draping plant to add drama and dimension.


Choose plant colors that complement your home's exterior, including the outside walls and shutters. You can opt for a variety of flowers for high visual interest or go monochromatic, which can be especially beautiful in the colder months.


Metal and plastic window boxes tend to be low- to no-maintenance. However, you'll want to treat wooden boxes with a sealant to protect them against moisture.


Window boxes are more exposed to the elements than plants on the ground. That means, among other things, that the soil tends to dry out more quickly. Add an organic material such as sphagnum moss to help the soil retain moisture. Water your window boxes daily and add liquid fertilizer weekly once the plants are established.
What to plant in spring window boxes
Just as you would with any other area of your garden, you'll need to switch out the plants as the seasons change. In the spring, try succulents such as kalanchoe and pencil cactus. These and some other varieties can be started in the fall as houseplants and then transplanted to your box in the spring.
Springtime is also perfect for adding loads of color. Daffodils do well in window boxes as long as the container is deep enough to accommodate their roots. Petunias, tulips, begonias and asparagus fern are other popular options.
In addition to plants, look for some fun accessories such as Easter eggs or a decorative birdhouse to welcome the warmer weather with a bit of whimsy.
What to plant in summer window boxes
Summer window boxes might be your chance to go a bit tropical. Plants like yellow hibiscus should weather the heat and keep their color well. Also consider petunias and geranium. English ivy and sweet potato vine are good options for your spiller. For some height, look to non-flowering plants like purple dracaena and snake plant.
You typically see fewer window box accessories in the summer so that your plants can really do the talking. But if you're looking for a little something extra, try American flags around the Fourth of July. This will be especially eye-catching if you go with a red, white and blue theme with your flowers, too.
What to plant in fall window boxes
The key to a successful fall window box is choosing varieties that will stand up to colder nights. Flowering cabbage and kale are good filler plants. Celosia, also known as cockscombs, add a nice punch of color as do ornamental peppers, mums and marigolds. Purple fountain grass offers some height without blocking your windows too much, which can get annoying as the days get shorter. Maybe choose trailing ivy as your spiller.
Fall might be our favorite time for window box accessories. Small pumpkins and gourds leave no doubt as to what season it is. Pine cones are a nice complement to live plants in the fall and carry over into the winter. Plaid bows like you'll see below are a nice soft touch as well.
What to plant in winter window boxes
Don't pack everything up just because it's winter. Plan ahead to get your plants in the boxes before the coldest weather sets in. You need them to take root before the extreme temperatures move in for good. HGTV also recommends that you choose plants that are rated for at least one or two zones colder than where you live to help make sure they survive the winter.
Popular plants for winter window boxes include dwarf evergreens such as junipers, arborvitae and boxwoods. In many regions, creeping lantana is an excellent spiller choice.
Accessorize with berry branches, which add some color during the coldest months. String lights like you might use at Christmastime are also a nice detail, especially during the long winter nights.
Container gardening is a can't-miss strategy for boosting your curb appeal at any time of year. Find more tips and tricks and the Schlage blog, including how to grow your own fruit and vegetables in containers.