Celebrate any occasion with these door and wall décor for every season.
By emily.bailey
Porch signs, message boards, door wreaths. There's no better way to express yourself, add some holiday décor and be a little clever at the same time. Keep your message fresh with these DIY sign ideas for every season.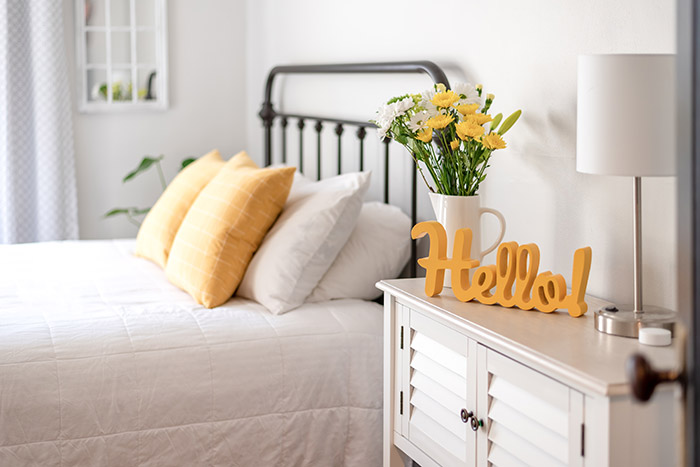 January: New Year, new sign
Simple is sometimes the way to go, especially in the midst of a busy holiday season. Glitter Inc.'s DIY farmhouse New Year's Eve sign is just the ticket. The wood board can be anything – a piece of store-bought plywood, an upcycled cabinet door, part of a wood palette – and the numbers can be painted to your liking. Choose a color that complements the surrounding décor or glam it up with some glitter paint.
February: Fortune at your door
Paper cuttings pasted to doors and windows are a traditional way to celebrate Chinese New Year. The image in the cutting represents a different wish for the new year – a peach for longevity or a peony for honor and wealth, for example. These can be pretty detailed if you aren't familiar with the art. An alternative could be a DIY banner. Hung at a home's front door, they're meant to greet your guests with a message of good luck and fortune. Keep it simple with red and gold paper, some ribbon for hanging and a steady hand for your calligraphy.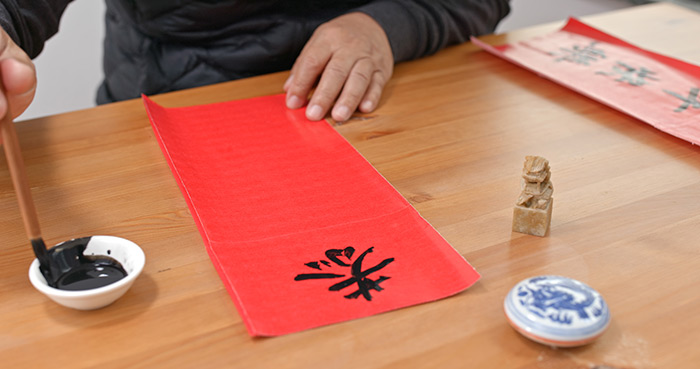 March: Welcome, Spring
A spring front porch sign that doubles as a planter? Yes, please. Giggles Galore gives us a guide for personalizing a wooden planter to hang in your entryway. We can't think of a better way to welcome guests and the new season.
April: Signs of spring
Want to break a few décor rules? Then start by adopting a loose definition of "sign." This DIY succulent frame from Balcony Garden Web hangs vertically on your wall, so we can't think of a better way to say and show you're celebrating Earth Day. We're sure you'll enjoy this indoor living wall year-round.
May: Eid Mubarak
Eid al-Fitr marks the end of a month of fasting for Ramadan. While the holiday typically includes prayers and a large meal with friends and family, décor that includes stars, twinkling lights, flowers and lanterns is common in some communities. Hello Holy Days shares its guide for making a garland of simple paper lanterns to include in your own celebrations.
June: Get growing
If you're prepping for those late-summer vegetables to go in the ground, be sure you have garden markers. The Inspiration Board made simple signs that not only help you keep track of what's planted where, but also to keep your vegetable garden looking chic.
July: First class Fourth of July décor
If you've fallen in love with macrame and the handicrafts that are so popular with Boho modern style, try this DIY wall hanging. Unlike macrame, you'll need a loom (you can make your own), but the extra effort is worth it when you end up with this American flag-inspired weaving from The House That Lars Built.
August: Studied door décor
Your kids might or might not be looking forward to going back to school, but this sunny wreath from Infarrantly Creative is sure to brighten your front door. Your guests might not even realize it's made from school supplies until they reach your porch. Hang it for your own front porch décor (and include it in those back-to-school photos) or gift it to your favorite teacher for their classroom.
September: Ready for fall
As the temperatures start to fall, you might be ready to get your front porch ready for fall. Decorate an exterior wall or your door with a DIY fall wreath like this one from Lia Griffith. We love the way she dressed up a store-bought twig wreath with felt leaves. It's the balance between natural brown hues and splashes of color that does it for us. Choose colors that complement your front door color and other décor.
October: Trick or treat …
… Smell my feet! Mommy's Bundle shows how to make a simple sign, using your child's footprint to stamp out some friendly ghosts. This would be great for Baby's first Halloween. We'd love to see some variations on this, too. Get everyone's feet involved for a ghoulish family or use a pet-friendly paint for some puppy paw prints. They might not look as ghost-like, but we're pretty sure they'll be adorable.
November: Faux mantel, real style
If you don't have a fireplace but love all that mantelpiece décor you find on Pinterest, a faux mantel like The Red Painted Cottage installed and decorated might be just what you need. Start by adding your favorite Thanksgiving- and fall-themed accessories. Then, when it comes time to hang stockings with care, you'll be ahead of the game. Find more stylish ways to fake a mantelpiece.
December: Celebrate to the letter
We made it all the way to December without any letter board ideas. Don't worry. Try one of these messages for your own Hanukkah celebration or if you've invited Jewish friends and family to your home for an inclusive holiday party. The Type Set Co. offers their message suggestions. We like "It is better to light a candle than to curse the darkness" and, for something a little cheekier, "Did someone say latkes?"