Creative and convenient holiday décor with everyday items.
By emily.bailey
Here are our favorite picks for unusual ways to use common household items for extra-special style and convenience this holiday season.
Searching for unique holiday décor? Instead of rushing to the store hoping for that one-of-a-kind piece, try looking a little closer to home. Sometimes, using furniture or accessories you already own in completely different and unexpected ways is exactly what you need. Here are our favorite picks for unusual ways to use common household items for extra-special style and convenience this holiday season.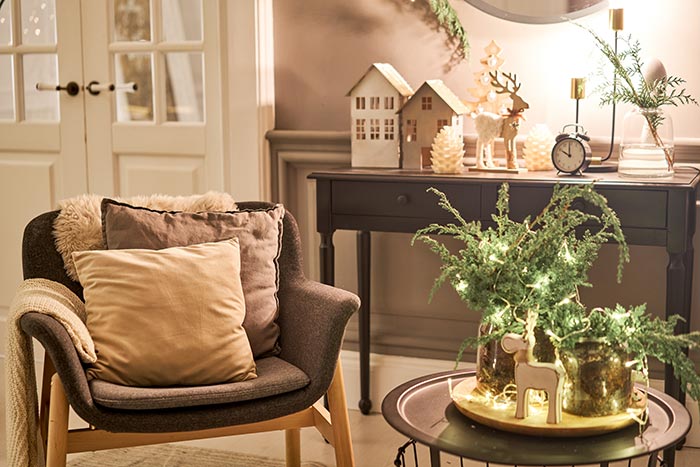 Rugs
Just about everyone has an area rug somewhere in their house. Putting one in your entryway to collect dirt and snow as guests come and go is an obvious choice. Don't forget some of these options, too.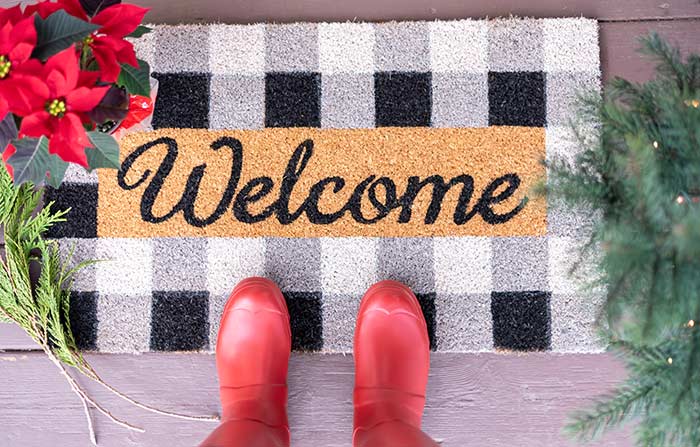 On the deck or porch
If you're having an outdoor winter gathering, a rug can help keep everyone's toes from getting too cold too quickly. A thick, durable outdoor rug provides a layer of insulation from the frosty ground. It also just helps to give your outdoor living space a more finished look, ideal when you're celebrating something special this winter. We love this cozy look from Two Twenty One with a Christmas doormat layered over a neutral rug.
Over the headboard
Try this decorating hack in your own bedroom or the guest room for those overnight holiday visitors. A decorative rug draped over the headboard, especially if the headboard is on the plain side, can give a cozier vibe to the space. And, because you can choose a rug with holiday colors and patterns – whatever your tradition's colors and patterns are – it's an easy way to add some festive cheer without taking up a lot of space. That means it's perfect for those small rooms where adding one more piece of décor makes the room feel cramped.
As a duvet cover
Instead of turning up the heat on a cold night, be more energy efficient by just throwing on an extra layer. A soft rug can double as a duvet cover or throw, whether on the bed or the couch. You'll commonly see this with sheepskin rugs.
As wall art
Think of this as the more sophisticated version of draping tie-dye in your college dorm room. With the right design or weave, a rug can becomes tapestry, adding color and warmth to your walls. Depending on its size and thickness, the rug can also improve insulation for more warmth and sound dampening, a plus in our book when it comes to snuggling in on a cold winter's night.
Instead of a tree skirt
Whether you're just starting out and forming new holiday traditions with your family or you want something a little out of the ordinary, use a rug in place of a typical Christmas tree skirt. We especially love this idea if you go for a non-traditional tree, such as one decorated in pastel colors or with all vintage ornaments. Match the rug-skirt's style to the colors and theme of your tree for a cohesive and unique look.
Mirrors
Hanging a mirror in narrow and small spaces like an entryway has always been one of our favorite décor hacks. It can make those rooms feel larger and airier than they really are. It's no different if you're using a mirror to amp up your holiday décor.
On your fireplace mantle
A mirror on the mantlepiece is a prime opportunity for making a room feel extra big and bright, just what you want when welcoming guests to your home for the holidays. A tall mirror can make the ceiling feel higher, while one that reflects the view from a window makes the room feel more expansive. We also think the mirror itself is perfect real estate for adding holiday decorations. Choose a frame with a shimmering finish, maybe even matching it to your silver menorah or the brass in a picture frame. Drape it with evergreen garland or those popcorn-and-cranberry strands you made with the kids.
Behind bright décor
Whether on your mantle, a side table or anywhere else in your home, a mirror placed behind holiday decorations adds depth to your display. A lantern with a candle or two is nice, but when it's reflected many times over, the twinkle feels brighter and the shimmer more magical. If you create a miniature village Christmas scene, a mirror in the background makes a single street appear fuller, the same way a large wall mirror makes it look like there are more guests at your party. In this way, mirrors are the perfect holiday hack to make it look like you pulled off more than you did.
Over the buffet or bar
Speaking of holiday hosting hacks with mirrors, hang one over your buffet table or bar. This draws guests in by reflecting your scrumptious spread. The mirror can also help define the space when you've added a small bar to your living room, for example. The décor subconsciously tells people, "Top up your bubbly here."
In the guest bedroom
If you have more people in your home than usual, you know that shuffling them in and out of the bathroom can cause some tension. Hang a mirror over the dresser or prop a full-length mirror in the guest room. That way, one guest can check finish their hair and makeup while another is in the shower. Everyone gets their privacy without the bottlenecks.
In the kitchen
A mirror in the kitchen might sound strange, but the key is placement. We spend a lot more time cooking during holiday times. A mirror behind the stove or over the sink in place of a backsplash can help you stay focused on your dishes and still be able to see friends and family gathering behind you. If you have a traditional, closed floorplan, you might also be able to hang a mirror so that you can keep an eye on the kiddos in the living room while you cook, without dashing back and forth.
Trays
Go ahead and load up a tray with pancakes and coffee for a special holiday breakfast in bed. But don't forget these uses for a tray anywhere in the house.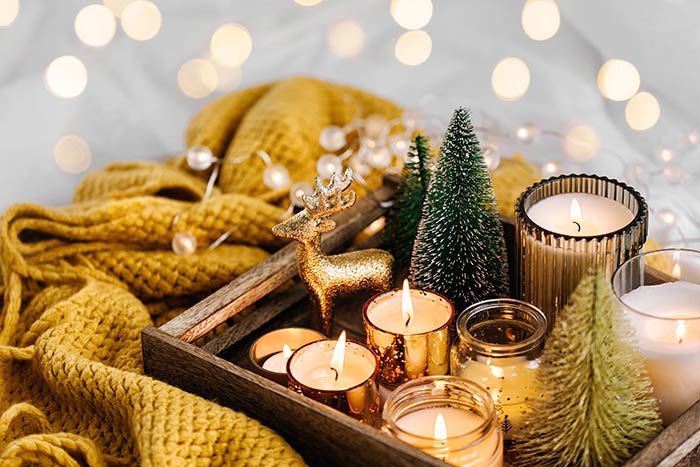 As a mobile bar
We're not talking about serving your guests from a tray like the waitress at a local restaurant. Instead, stock a tray with the treats and drink fixings guests will need to serve themselves. The benefits of putting this all on a tray is that it makes it easy for you to replenish as the night wears on. Take the whole tray to the kitchen to refill chip bowls or plates of hors d'oeuvres instead of doing a balancing act in front of everyone. Plus, if the party moves to another room – from the kitchen to the dining room, from the patio to back indoors to get warm – it's no sweat to move your bar without missing the celebration.
As a centerpiece
It's hard to go wrong with a nice flower arrangement for your tablescape, but if you're looking for something a little less ordinary (and maybe shorter so you can see guests across the table), consider staging holiday décor in a shallow tray instead. It could be a collection of evergreen twigs and pine cones mixed with some red berries for color, or a miniature forest of bottle brush trees, for example. The tray helps corral décor so your display looks intentional and refined. And if you need to move it in a hurry to make room for the main dish, you won't spend 10 minutes rearranging lots of little décor pieces.
In the kitchen
Countertops can get messy and cluttered, but a tray can help keep that under control. Use a tray to wrangle similar items like a few mugs, spoons and sugar for making coffee. If you have guests, it could be a tray loaded with granola bars and fruit so that they don't feel like a burden asking for a snack. It could also be cleaning supplies – washcloths and soap – or cookbooks and décor.
In the bathroom
A small tray is a nice way to collect and arrange all those baubles you or your guests need throughout the day. Use it as the staging ground for jars of cotton balls and Q-tips, your soap dispenser, tissues or little bars of hand soap. It will help keep your countertops organized and clean, a good look whether it's the holidays or just a Thursday.
In the entryway
Everyone needs a tray just inside their front door. Use a shallow tray – a bowl, basket or clay plate your kid made in art class also works, to be honest – to put your keys, phone charger, sunglasses, winter gloves and anything else you might need to grab when you leave the house again. You'll be glad for this organizational hack when you aren't still searching for your car keys 20 minutes after you were supposed to be at the kids' holiday recital.