Home improvement projects to complete in December.
By emily.bailey
Thursday, December 2, 2021
Don't let important home improvement tasks slip through the cracks during a busy holiday season. Find your list of essential repairs and improvements here.
The holiday season can get hectic. Don't let important home improvement tasks slip through the cracks, though. They'll not only keep your home feeling cozier through the cold, but you'll likely have fewer repairs to make later on. Download and use this
December home improvement checklist
to help you stay on top of things.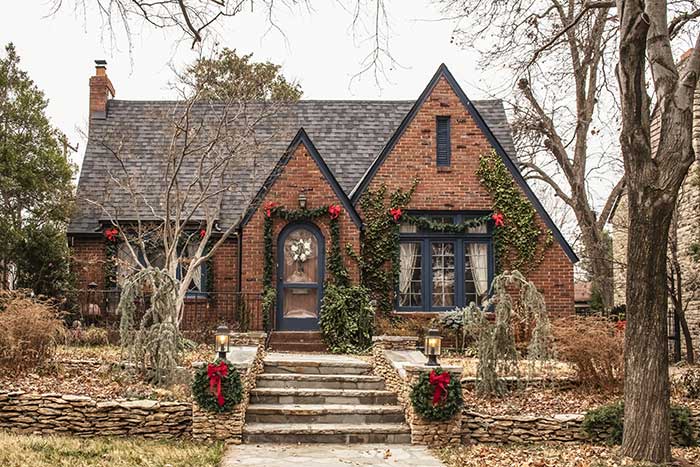 Indoor home checklist
When the fire is so delightful, check these indoor jobs off your to-do list.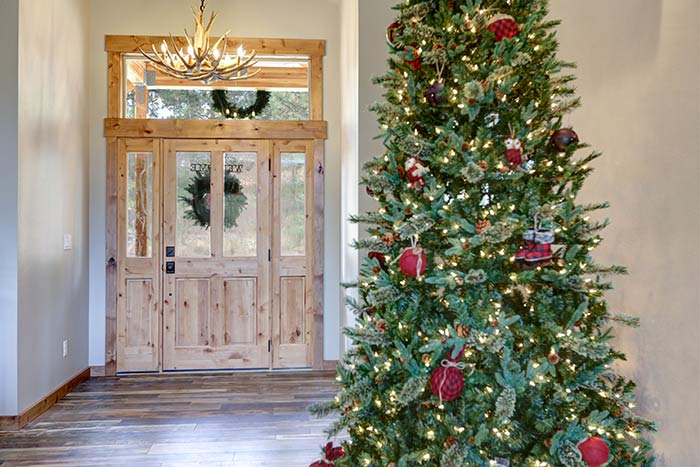 Update emergency kits
If you've used anything in your first aid kit recently, replace it now. Check expiration dates while you're at it. If losing power during a storm is a concern, also include a flashlight with extra batteries, a portable phone charger, bottled water and nonperishable food in your emergency kit. Since it's December, spare blankets and warm clothing are good ideas, too. Assemble a kit for both your home and your car.

Seal windows and doors
Drafts can ruin even the coziest mood. Try these tips for finding gaps in door and window frames and repair them to keep your home warm and your HVAC working efficiently.

Improve insulation
Oftentimes, we think of insulation in the walls, which is important for warmth and sound control. Don't forget your attic, basement and crawl spaces as well as some appliances. A water heater blanket can help reduce heat loss by around 25 percent, keeping your showers more comfortable, efficient and cost effective.

Create an entryway for winter
When family and guests enter your home, do they have a place to put their coats, hats, gloves and boots? Update your entryway closet for quick and easy storage. Add a boot tray to protect your floors. If you don't have a dedicated entryway, use these tips to fake a mudroom for winter.

Refresh the guest room
Especially if you plan to have overnight visitors for the holidays, they'll need someplace comfortable to relax. Provide fresh bedding and towels, make snacks and drinks easy to find so they don't feel like a burden asking and supply extra goodies – toothbrushes, hygiene products, pillows – in case they forgot something. If you don't have a guest room, try these ideas for converting an office space or hobby room into an oasis for visitors.

Create a gift-wrapping station
It could be as simple as a basket with tape, scissors and ribbons. Or it could be as extravagant as a separate room with pull-out shelves full of rolls of paper and packing material. The point is to organize some space and storage that make it enjoyable to wrap gifts for loved ones instead of leaving you feeling like a scrambled mess.
Outdoor home checklist
We like to keep our outdoor to-list short in the winter, so stick to the most important.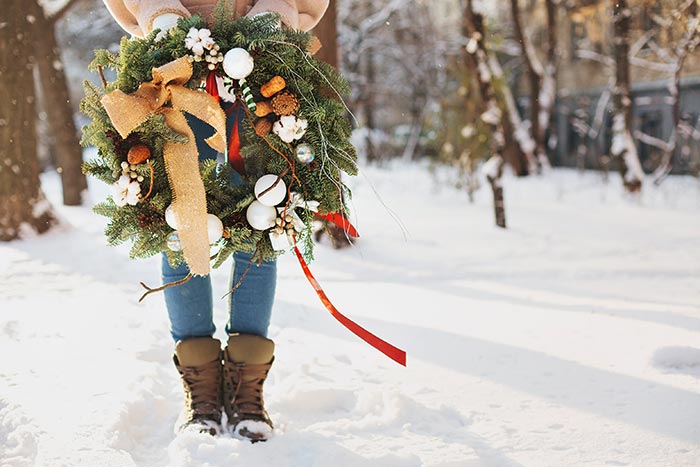 Remove snow and ice
It's an ongoing battle for some of us, but it's worth it so that we don't slip and fall or suffer structural damage to our home. Keep driveways and walkways clear and maybe shovel a path for your mail carrier.

Prevent ice damming
When ice builds up around your roof line, it can dam up the snow and cause leaks as everything melts. There are two ways to avoid that, assuming it's safe for you to reach. First, using a roof or snow rake, remove the snow after each storm. Second, you can break up the ice dam itself to prevent the snow buildup in the first place.

Install a home security camera
December is a great time to find these on sale, and with holiday deliveries tempting porch pirates, a bit of extra security will go a long way toward giving you greater peace of mind. You might try a Ring Video Doorbell, which can be connected to other security devices like the Schlage Encode™ Smart WiFi Deadbolt, or choose a motion-activated camera on your garage, mailbox or side gate.

Landscape based on your region
What you can pull off in your garden in December depends on where you live. Unless you're pretty far south, this is the time to shore up landscaping to survive the freeze. You might lay mulch to protect the ground from the cold. If you need to protect plants from heavy snow and ice, build them a winter shrub shelter. Warmer climates should focus on fertilizing and composting, planting spring bulbs or even growing cool-weather crops like lettuce and peas.

Decorate the front porch
Holiday curb appeal is kind of a big deal at Schlage. Nothing puts your or your guests in the festive mood like a beautiful holiday wreath for your front door or a light display. If you like low maintenance, focus on garden containers that let you easily switch out certain elements to transition with the season. Your favorite plants can go from fall with pumpkins to Christmas with sprigs of red berries to New Year with shimmery metallic accents.
For the future
A bit of forward thinking can help make future projects and tasks run more smoothly … and help you be less stressed.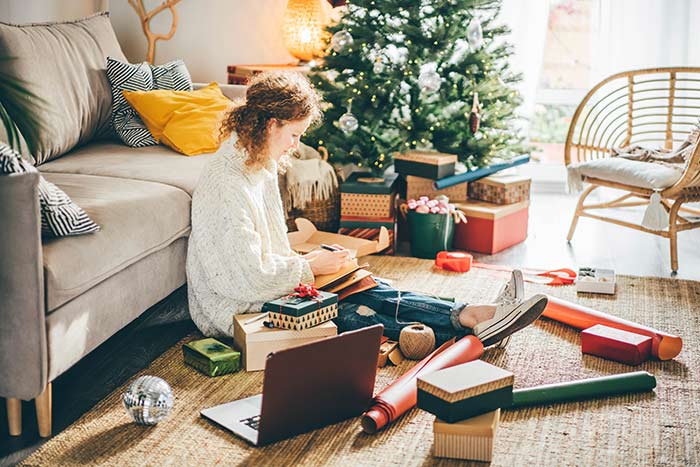 Have a holiday security plan
Holiday time is prime picking for thieves. Empty homes when people travel, valuable gifts under the tree and packages left unattended on the porch are all tempting to grinches. Use these tips to help keep your home safe and secure during holiday time.

Prepare for the new year
If you'd like to host friends for a New Year's bash, start planning that now. Get your guest list in order, test out some new cocktail or mocktail recipes, and stock up on supplies. If you're heading out to celebrate, make your reservations early.
For the greater good
Lend a helping hand to someone in need or just make them smile.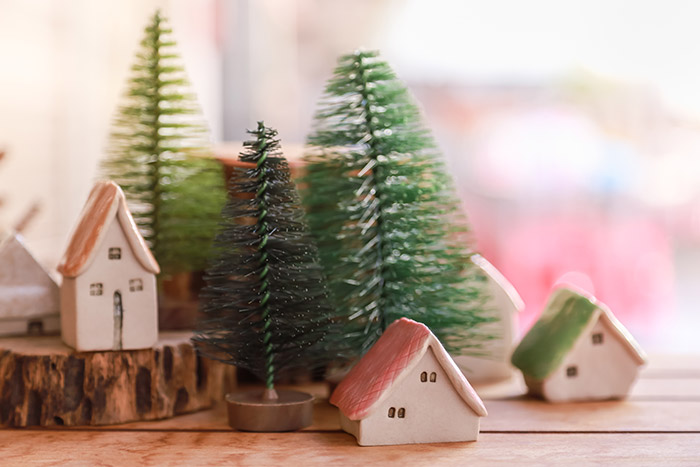 Celebrate green
The Environmental Protection Agency reports that Americans create 25 percent more household waste between Thanksgiving and New Year's Day than they do the rest of the year. Choose natural décor – live trees are actually better for the environment than artificial – use recycled materials for giftwrapping and control holiday lights with timers or smart plugs to put less stress on the electric grid. Check out these tips for a sustainable holiday season, too.

Adopt a family
Many workplaces, churches and community centers can connect you with a family in need. "Adopt" them by gifting clothes, toys or school supplies to make their season as bright as yours.
In case you missed it
It's easy to fall behind on home improvement tasks this time of year. It's OK if you didn't get everything crossed off your November home checklist. Here's a reminder of some of the most important jobs.

Secure railings, stairs and walkways
You want sure footing and a good handrail when the ground gets slick. Tighten screws, replace warped boards and level pavers.

Conduct an energy audit
Was that last electric bill a bit of a shocker? Conduct an energy audit yourself or call in a professional to identify ways to save yourself and your home some energy. The solution might be simpler than you think.
Time to buy
You can find some great deals on home goods, electronics and other equipment in December thanks to the holidays. Here are some of the items Consumer Reports says are great buys in December.
Appliances:
Air fryers, blenders, coffee makers, cookware, food processors, microwaves, multi-cookers, toasters, humidifiers, vacuums, carpet cleaners, cordless drills, snowblowers, steam mops
Electronics:
Cameras, cell phones, computers, fitness trackers, home security cameras, printers, smart speakers, wireless speakers, smart watches, sound bars, tablets, televisions, thermostats
Fitness equipment:
Bike helmets, ellipticals, treadmills