Reuse your online shopping boxes with these cardboard box craft ideas.
By emily.bailey
Tuesday, November 9, 2021
There are several ways we can reduce packaging waste, both through smarter shopping and fun DIY projects.
When you set the garbage out each week, how many boxes are going curbside? Do you recycle your plastic packing material, or does it end up with the rest of the trash? As we do more online shopping, especially in the wake of the coronavirus pandemic, there is greater concern about the environmental impact of all that packaging. Thankfully, there are several ways we can reduce packaging waste, both through smarter shopping and fun DIY projects.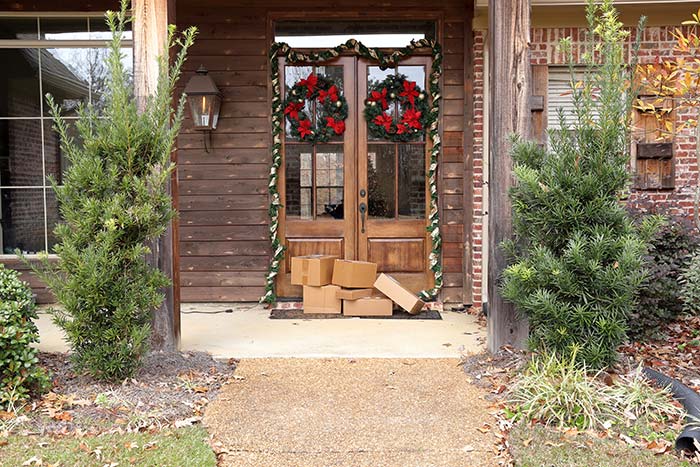 How much packaging waste is there?
In 2018, Fast Company reported that 165 billion packages were shipped in the U.S. They then estimated that that was the equivalent of 1 billion trees. Just two years later in 2020, Canopy Planet reported that number at 3 billion trees, resulting in 241 million tons of paper packaging. Similarly, an Oceana report claimed that Amazon generated 465 million pounds of plastic packaging waste in 2019, pre-COVID. Because less of these materials can be recycled than we actually think, most of it ends up in the landfill, incinerated or in the environment as pollution.
Reuse boxes with DIY projects and crafts
Even if you shop in person at a brick-and-mortar store, you'll deal with packaging, so we're not saying online shopping has to be avoided at all costs. It's hard to go zero-waste, no matter how or where you shop. It's a lot easier to find creative ways to re-use the plastic and paper packing materials you do bring into your home.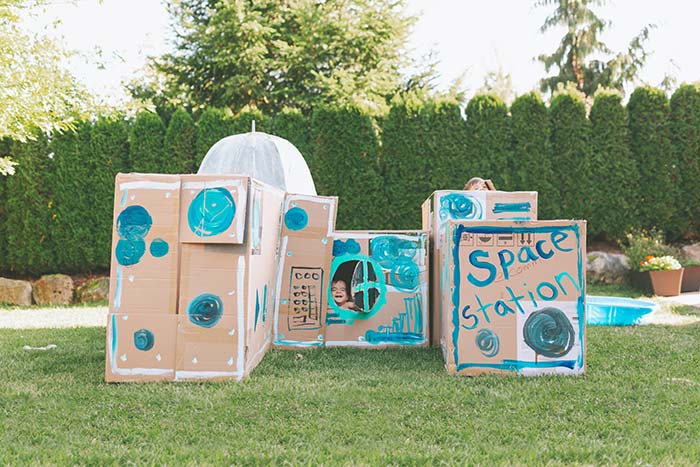 Entertain the kids
First up, give the kids a canvas. You've probably been to a restaurant with paper "tablecloths" so the kids can doodle while you wait for your food. Use the void-filler paper to do the same at home, either on the dining table or at their craft station.
Help the kids build a ship like Ikatbag, a car or even an espresso machine (maybe that last one's more for you). You'll love creating something together based on their favorite story or whatever their imaginations can dream up.
A
DIY cardboard playhouse
for the kids is another fun way to reuse your boxes. Tales of a Monkey, a Bit, and a Bean made this
geodesic house
, which we think is way more fun than a typical hut.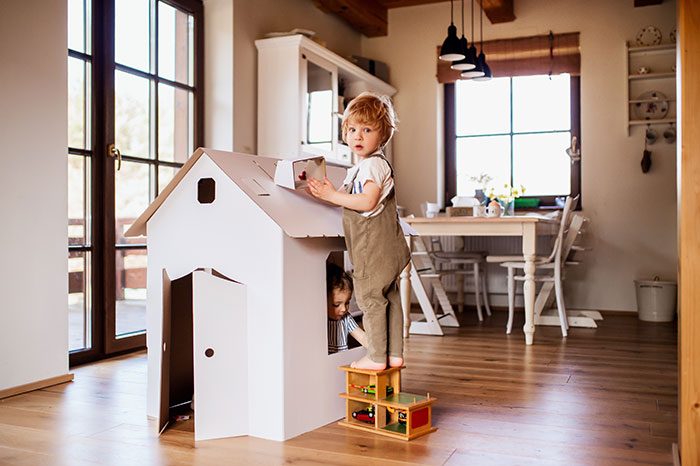 Throw a party for your pets
Some children have fur and four legs. Use your extra boxes to build a cat castle or other pet toys. Samsung's eco-packaging comes with templates and instructions for building pet houses and furniture. You don't need instructions, though. We doubt Fluffy will mind if their new favorite hideaway is a little freeform.
Another alternative comes from Dream a Little Bigger. This blogger shows us how to make a
DIY cardboard cat scratcher
using leftover corrugated boxes.
Three-dimensional holiday décor can be really tempting to pets, but ornaments can be dangerous if eaten, not to mention expensive if you need to replace your decorations and repair damages. Your Schlage writer here (hi, I'm Becky) has a cat that's too energetic for your typical Christmas tree, so I used some green filler paper to cut out a flat forest. I put all of the little trees on windows, in picture frames and on mirrors.
I also used different colors of paper – void-filler, tissue paper and anything else we had in the closet – to make a faux fireplace and stockings for both The Boys. It was less of a temptation than 3D décor and if they did destroy it, I wasn't out any money. The typical American household produces about 25 percent more waste between Thanksgiving and New Year's, so any way you can find to have a more sustainable holiday season is good in our book.
Make it look good
Take the guesswork out of where you want your frames on a gallery wall. Trace the frames on some of that big void-filler paper, then tape the templates to the wall. You'll get a better idea of spacing and arrangement. You can also hammer straight through the paper and then rip it down, so you know your pictures will end up exactly where you want them without leaving a bunch of unnecessary holes in the wall. This also works for centering a mirror over a vanity or dresser.
Instead of letting boxes pile up in your closet or garage, decorate them and use them as storage. Use removable wallpaper, contact paper, paint, whatever you have on hand to give the cardboard a more attractive, personal touch. Then use smaller boxes as a
pen holder for your desk
, larger ones for magazines or files, kids' or pets' toys, or mail. This can be a great way to corral all those surplus supplies, whether they're for crafting, toiletries or cooking spices.
The easiest way to keep your home looking nice is to avoid messes in the first place. When you have a DIY project planned, use cardboard boxes and plastic from packaging to keep spills and debris contained. If you're upcycling a table, for example, flatten the box and use it to protect the ground from dripping paint or stain.
Find ways to produce less packaging waste from the start
What if you want to create less waste in the first place? Here are some ideas to get you started on the path toward reducing your carbon footprint.

Buy less. Think good and hard before you hit the "buy" button. When you decide you don't really need another pair of black leggings, you save money and use less packaging.


Reduce your orders. This isn't about buying less; it's about buying once. Instead of placing an online order every day – so tempting when shipping is free – save items in your cart and place a single order each week or so. The environment will benefit if everything comes in one box, not to mention the smaller impact of transportation emissions made by a single trip.


Have it shipped together. You've reduced your order, but that doesn't help much if it still comes in 15 different boxes on various days. Even if it takes a little more time to be delivered, ask that your shipment come in the fewest number of boxes and in the fewest number of trips possible.


Request for your item to be shipped in its original packaging. Oftentimes, we get a box in a box. Reduce cardboard waste by asking for the shipping label to be stuck directly on the item. This is most common for larger purchases, like a vacuum cleaner. You'll sometimes see this listed online as frustration-free packaging.


Choose sustainable companies. Shop online from businesses committed to using less packing material or those that only use sustainable alternatives.


Audit your subscription services. Make sure you're actually using those automatic deliveries. Putting the kitty litter on subscription or getting meal delivery services delivered to your porch can be super convenient. If you aren't using them, though, you're wasting money and putting more strain than necessary on the environment. Those ice packs that come in your meal service box are especially costly. If you end up throwing half the meals away, reconsider your subscription.
Being green doesn't have to be hard. With a bit of research and planning you can easily make your home environmentally friendly and energy efficient. Find more sustainable living tips at the Schlage blog or get new project ideas on our Pinterest DIY Recycle & Upcycle board.