Home improvement projects to complete in November.
By emily.bailey
Wednesday, November 3, 2021
Use this list of DIY and maintenance tasks for November so you don't overlook anything your home may need before the holidays and winter.
More time indoors, plus an increase in guests coming and going, plus the rise of the germy season all mean we need to pay more attention to our home's upkeep. Use this list of DIY and maintenance tasks for November so you don't overlook anything. You'll find helpful tips for inside when the weather's bad, for outdoors when you feel cabin fever setting in and more. Download the
November home improvement checklist
, too.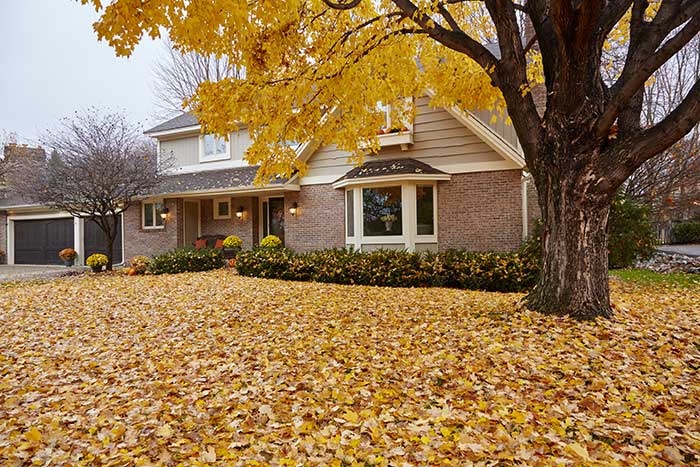 Indoor home checklist
This month's indoor to-do list focuses on bathrooms and kitchens, but we couldn't leave you without at least one tip to make your home more beautiful.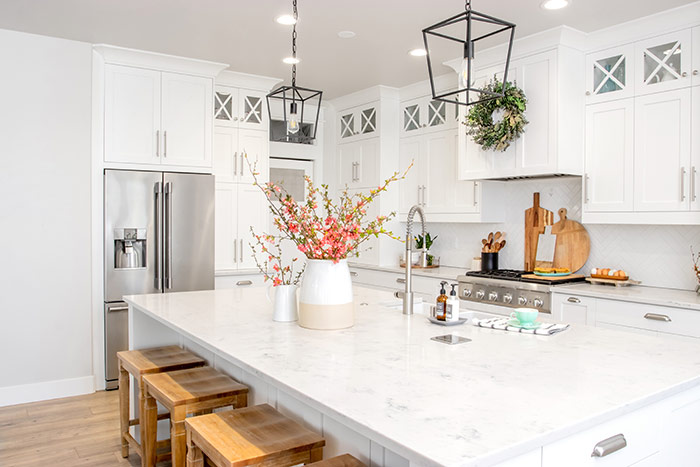 Inspect and repair plumbing
Thanksgiving is traditionally the busiest day of the year for plumbers. You can reduce the chances you'll need one by making sure your plumbing is in top shape now. Look for leaks, repair a dripping faucet or a constantly running toilet, fix a drain or garbage disposal that's running slowly.

Repair bathtub caulking
Cracked and peeling caulking can cause slow, hidden water damage. You might never notice all the moisture that seeped into your home's frame until it's too late. Replace grout and caulking to avoid this problem.

Holiday prep the kitchen
Organize your pantry again, tossing anything that's expired or will go uneaten (we all have the best of intentions with that trending healthy snack food). Also clean your oven and range hood to keep it working efficiently before holiday meals. Finally, inspect small appliances like coffee makers, toasters, instant pots, air fryers and blenders. Clean them thoroughly and look for damage. If you see any frayed wires, missing or loose parts, or damage to heating elements, it's time to replace them for safety's sake.

Clean the dishwasher
You're running soapy water through it all the time, but you still need to clean it regularly. Some experts recommend doing it monthly. This will help eliminate odors, keep it running efficiently and reduce water spots on your dishes. Try this guide from Home Depot to learn how to clean a dishwasher.

Plant bulbs
Yes, this is an indoor to-do. At this time of year, you can force bulbs in pots so they're ready when spring rolls around. Some varieties like narcissus and amaryllis will bloom in the winter so you'll have them in time to add to your holiday décor.

Conduct a smart home audit
As we connect more devices to our wireless network and each other, we need to make sure they remain secure. Practice good data privacy by making sure your WiFi is password protected, create unique and hard-to-guess passwords for each of your devices and accounts, and use two-factor authentication when possible. Don't stop there, though. Check out our blog on how to secure your smart home.
Outdoor home checklist
Safety first. This goes for all year, but especially on the cusp of winter.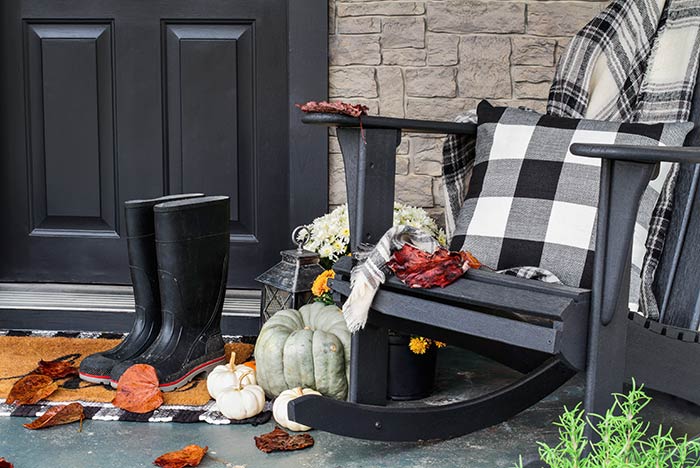 Secure railings, stairs and walkways
When snow and ice move in, you need paths, stairs and porches won't cause you to trip and slip. You also need secure handrails. Make sure everything is nailed or screwed in tight, replace warped boards and level pavers. Even if you live in an area without extreme weather conditions, it's still a good time to inspect these areas. It doesn't have to be icy for Grandma, someone with mobility issues or you with your hands full of groceries to stumble.

Re-gravel walkways
You probably lost some gravel during the spring and summer from runoff. Add a couple more inches of gravel to boost your curb appeal and help keep guests from tracking mud into your house. Try not to wait until the last minute to place your order with the landscaping company or home improvement store.

Check outdoor lighting
Daylight savings time ends in November, so it's about to get darker earlier. Make sure you still have working lights on your porch, outside the garage and along walkways. Don't forget about your backyard, too. String lights can be enjoyed through a window, even when it's too cold to be outside, not to mention deter intruders with that extra illumination.

Inspect the sump pump
Sump pumps are meant to keep your home from flooding, so you want to make sure it's working efficiently before the rains pick up. Make an appointment to have it maintenanced now.

Rake the last of the leaves
You'll want to collect those leaves before the first snow, but don't think you have to throw them out. Leaves can be beneficial to your garden as mulch, in your compost bin or as an insulator for potted plants in the winter.

Get landscaping in order
Lay mulch to help control moisture in the soil. Clean and store plant containers you won't be using for a few months. If you have indoor/outdoor potted plants, bring those inside before the first frost. And if you haven't already, turn off your sprinkler system or adjust it for different weather patterns so you aren't wasting water or causing your pipes to burst.
For the future
Part of keeping your life from feeling hectic is taking the time to plan ahead. Here are two tasks that will help you keep calm and enjoy the season.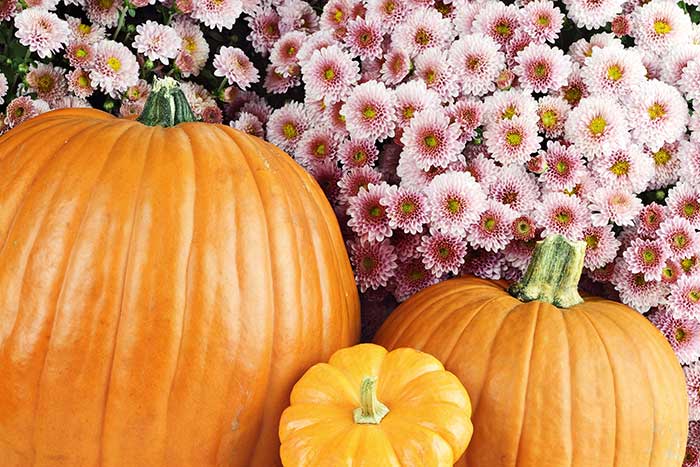 Prepare for the holidays
So many different holidays, so many traditions, so much stress … unless you plan. Start mapping out what activities you're going to take part in, whether as the host or as a guest. Then figure out all the logistics that go with it. Do you need to plan meals? Purchase gifts for kids or the hostess? Clean your home? Create a guest room? Stock up on snacks and books to hibernate alone? Invest in a white board and create a command center so everyone knows what's on the agenda, who's in charge of hostess gifts and track other logistics that can steal the joy of the season.

Collect winter safety gear
Before winter storms move in, locate or purchase shovels, ice scrapers, snowblowers and power generators. Restock your emergency kit with winter items such as insulated blankets and spare gloves and hats. Don't forget to include some, if not all, of these items in your car as well as your home.
For the greater good
Don't leave others out in the cold. Your efforts will be appreciated by others around you. And we're pretty sure you'll feel better about it, too.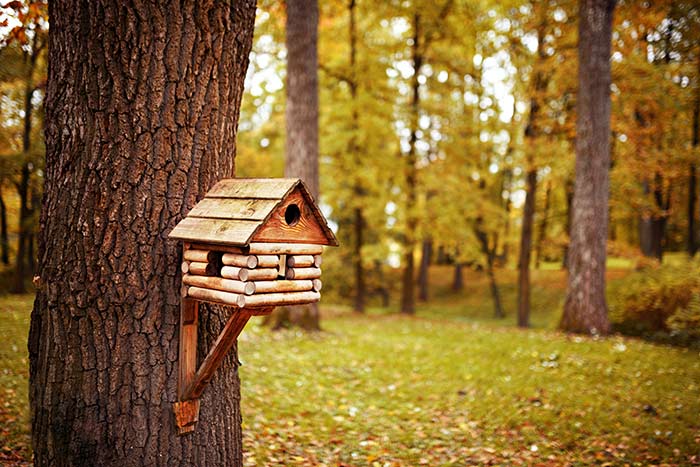 Conduct an energy audit
Yes, this can save you money, but it can also help the environment. An energy audit can identify areas of your home that need to work more efficiently – heating and cooling, water use, electricity – and give ideas for smart solutions to reduce waste and strain on the grid. Conduct a DIY energy audit or call in a professional.

Feed the birds
This is somewhat regional, but if you have migrating birds, put out some seed to help them fuel up before their long flight. Make a DIY birdfeeder and research what kinds of food your feathered friends like best.
In case you missed it
When you have to prioritize jobs between holiday plans, some DIY projects fall by the wayside. That's OK, but we recommend not delaying on these much longer.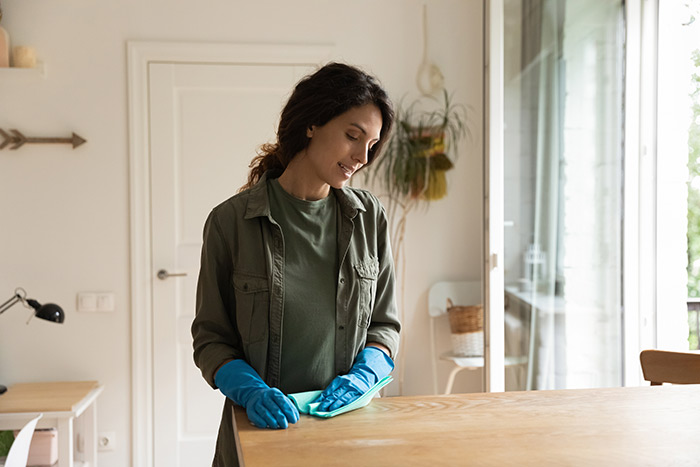 Disinfect high-touch surfaces
Thoroughly clean everything you touch frequently. This includes door hardware on all your doors – you probably have more than you realize – as well as cabinet pulls in your kitchen and bathroom, oven and microwave handles, and coffee maker buttons and switches. Also disinfect lighting switch plates, remote controls and personal electronics. Follow the manufacturers' recommendation for disinfecting as some cleaning chemicals can harm finishes and functionality. This guide to cleaning your door hardware can help keep it looking and working great.

Take holiday photos
If you planned to hire a professional photographer for your photos to put in your holiday cards, you might be out of luck. Unless they've had a last-minute cancellation, you'll need to DIY this one. You don't need a fancy camera, though. Stick your smart phone on a tripod or prop it on a few books, set the timer and have fun with the family. Try these holiday photo tips from interior designer and family man Nate Burkus, complements of The Spruce, to make your pictures beautiful and painless.
Appliances:
Air fryers, blenders, coffee makers, cooktops, dishwashers, food processors, microwaves, multi-cookers, ranges, refrigerators, toasters, wall ovens, steam irons, vacuums, washing machines and dryers, cordless drills, snowblowers
Electronics:
Blu-ray players, computers, fitness trackers, home security cameras, headphones, printers, smart speakers, smart watches, sound bars, tablets, televisions, thermostats, wireless speakers
Home goods:
Air mattresses, cookware, mattresses, smoke and carbon monoxide detectors, flooring
Are you still hanging on to fall or are you looking forward to winter? Either way, Schlage can help you make the most of the season. Find DIY ideas and hacks, décor trends and tips, and so, so much more on the Schlage blog.