How to set up a home bar for your best holiday hosting.
By emily.bailey
Wednesday, November 17, 2021
When it's time to welcome guests for holiday entertaining, try one of these versatile home bar ideas.
If you're hosting a get-together, especially at holiday time, you're going to need a bar. Now before you say, "But I don't know how to mix drinks" or "I have kids, so I don't really do the home bar thing," remember that you can serve any number of treats. In addition to cocktails – or instead of them – your bar could offer hot chocolate and coffee, punch for partygoers of any age and snacks to munch on. When it's time to welcome guests for holiday entertaining, try one of these versatile home bar ideas.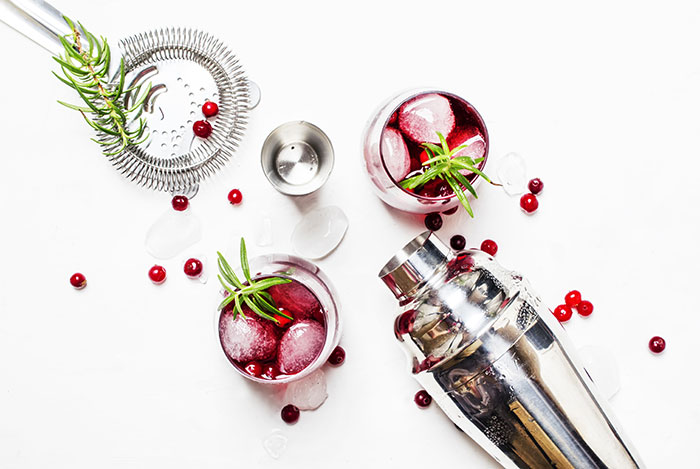 Home bar ideas we'll say cheers to
How you set up a home bar – specifically whether you choose a drink trolley, bar cart, cabinet, tray or a decked out wet bar – is up to you. The important thing is that you provide guests with some refreshments. In fact, 58% of Americans in a study by Joybird said that a fully stocked bar is a must-have for hosting a party. That's nearly double the No. 2 answer of fresh flowers.
Bar cart
What do we love best about bar carts? They're small, which makes them perfect for when you're short on space or don't want them dominating the festivities. They're also mobile. With a wheeled cart, you can take your food and drink mixings wherever the party goes, whether in the living room, dining room or out on the deck. You wouldn't want your guests to feel tied down.
Those advantages, however, can sometimes work against you if you don't plan well. You'll want to choose your ingredients wisely so that the cart doesn't feel overcrowded. Your guests will shy away from mixing their own drinks if there's no place to set down their glass while they're shaking and stirring. To help with this, choose a cart with at least two levels. Put the most important ingredients, napkins and a bit of décor on top, and extra glassware, coasters, ice and water beneath.
Let the essentials, like glasses and bottles, double as part of the décor. That could mean investing in nicer dishes than you already have or finding colorful, festive versions of your everyday utensils. A vase of flowers can be a nice finishing touch that helps keep your cart from looking like a tray standing like a wallflower on the edge of the action.
Don't be afraid to
decorate your bar cart for the season
or to match your party theme, either. Think leaves or an arrangement of dried flowers in the fall, evergreen or miniature faux snow-covered trees in winter and anything glittery for New Year's.
Bar cabinet
If bar carts feel a little like yesterday's news to you, try a bar cabinet instead. Apartment Therapy called them "poised to become the next big home decorating trend" because they lend a cozier feeling to our homes and give us even more opportunity to personalize our space.
With that in mind, you can use a cabinet or hutch you already own, purchase a bar cabinet that matches the rest of your home's décor or upcycle your latest thrift store find. Whatever you choose, think about customizing it with new paint or stain, updated legs and hardware, or swapping out the door facings. A Beautiful Mess shared an IKEA hack, turning the
Ivar cabinet into a home bar
, which would be easy to replicate and add your own twist.
One of the upsides of a bar cabinet is how discrete it can be. Because they can look like any other cabinet, they're great everyday décor, regardless of whether you're planning a party. And because they typically have doors, these bar cabinets let you keep your fixings out of sight and away from curious kids if that's a concern.
Like carts or the other home bar ideas below, you can decorate your bar cabinet for the occasion. To make it even more versatile, no matter the season, use a tray to keep items on top organized, to carry drinks to guests or to make pulling your ingredients in and out of storage easier. Remember that
hosting should be fun
, not nerve-wracking, so let your décor and furniture help reduce the stress.
Small bar hacks
If you entertain often and want something with bigger impact, consider a more permanent built-in bar. You don't need a dedicated bar room, just a small nook, under-utilized cabinet or even an empty wall. The key for any of these is to choose a location that makes sense. For example, don't set up a home bar in the basement if your parties all unfold in the dining room. And don't put it in a hallway that could obstruct the flow of traffic as people mingle.
When converting a nook or closet into a home wet bar, treat it like you would a kitchenette. If space and utilities like plumbing and electrical allow, install a small sink and drink chiller. You'll also want some storage, either in the form of simple shelves or cabinets. To display your glass and bottle collection, use glass doors or open shelving. A decorative backsplash or feature wall helps complete the look, too.
For those of us who don't have an obvious space for a home bar, look for a blank wall. Then install a counter or use a bar cabinet to stock your supplies. To make sure guests know for sure where the bar is, use an accent wall or mural to create the illusion of a separate space. A painted arch, a panel of wallpaper or a large piece of artwork can all serve as backdrops for your serving station. You might even paint a single portion of a
large built-in bookcase
like this one on Houzz.
Like the bar cart and cabinets, don't forget to decorate and accessorize your new bar area. Some extra lighting, a gorgeous wine rack or stand to hold mugs, maybe a letter board sign or some books can give your new bar an air of sophistication.
What else do you need to host a good party besides a well-stocked home bar? Find more home entertainment must-haves in the latest Schlage gift guide. Get them for yourself or gift them to a friend so you can throw the perfect celebration, from Thanksgiving to New Year's and beyond.