Don't get left out in the cold: 7 cheery Christmas tree alternatives.
By emily.bailey
Monday, November 15, 2021
Here are seven ways to capture the magic of the season even if your Christmas tree traditions look a little different.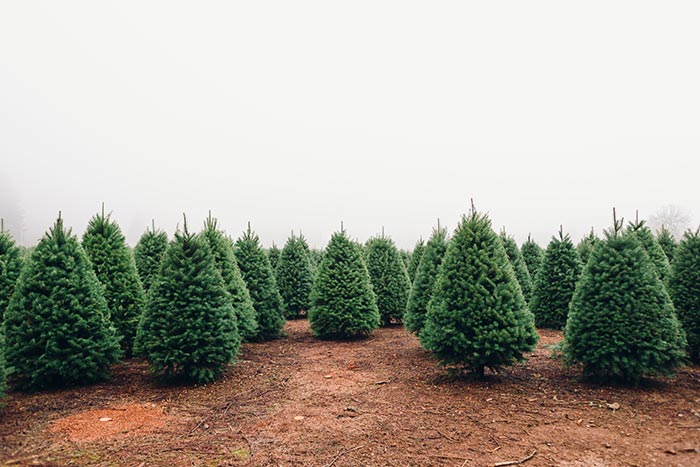 Just as we're all chomping at the bit to rekindle our favorite holiday traditions, it seems 2021 may throw one more curve ball at us. Christmas trees are expected to be in short supply or more expensive this winter. Here are seven ways to capture the magic of the season even if your Christmas tree traditions look a little different.
1. Start looking early
According to the American Christmas Tree Association, drought and wildfires across the country this year have impacted the growing season, leaving us with fewer trees. Additionally, supply chain problems resulting from COVID-19 are making it harder to transport the trees we do have, whether real or artificial. So if you're determined to get your traditional tree, pick one out early as there might not be many to choose from. Some tree farms will let you reserve your tree as early as October. You probably want to avoid waiting for sales, too. Retailers are expected to raise the cost of trees by 20 to 30 percent this season to offset their own costs, so sales just might not happen.
2. Think small
You went to the store or tree farm and all the 7-footers were gone. Pick out a couple of small ones and make your own yuletide forest. As Balsam Hill puts it, "Small Christmas trees are a charming and practical way to add a fresh twist to your décor" that "do not scrimp on holiday cheer."
If you're grouping your trees together, stick to a single theme or color scheme to keep your décor from looking hodge-podge. You can also coordinate it with other elements in the room – Balsam Hill replicated the plaid in the tree ribbons with the throw pillow as well as reds in the tree ornaments, pillow and berries on the mantlepiece décor – for an extra touch of refinement.
On the other hand, if you're spreading your trees throughout the house, such as putting one in each bedroom, it's a great opportunity to be more creative and customize them to each family member. You might even let the
kids decorate their own
.
3. DIY an alternative Christmas tree
There has never been a better time to browse Pinterest and the blogosphere for alternative Christmas tree ideas. Some of our favorites include this DIY rustic birch branch tree from Apartment Therapy, a ladder tree like from Funky Junk Interiors, which we think would be a great addition to farmhouse Christmas décor, and, from the makers of those guilty-pleasure movies, Hallmark Channel's tulle trees.
4. Revitalize with ornaments
Maybe you were planning to replace your artificial tree this season but it's just not in the cards anymore. In that case, focus on ornaments to cover up bare or raggedy-looking spots. Be extra intentional about your design. Pick a theme – something like only white and blue, all stars or vintage. You also could splurge on some new store-bought ornaments you just love the look of, make ornaments with the kids or craft something special to represent an important moment from the last year. Check out these DIY first home ornaments for a few ideas.
5. Skip the tree
Instead of decorating a tree, what about an evergreen wreath? When we had to downsize to a small countertop tree the cats wouldn't harass (too much), we ended up with boxes of leftover ornaments that just wouldn't fit. A wreath, decorated much like you would the boughs of a tree, was another way to display our favorites without risking feline destruction. You can use this same strategy whether you're making due with a smaller-than-usual tree or skipping one altogether this year.
If you're worried about where you're going to open presents on Christmas morning without a tree, look for a different focal point in your home. Maybe this year you all gather 'round the fireplace. A
faux mantelpiece
with stockings could become a gathering place in any room of the house. Or maybe you opt to go light on presents and gift each other an experience – a meal at the fancy restaurant you've been wanting to try, taking the kids ziplining – or a donation to a favorite charity.
6. Go outside
If you have an evergreen tree in your yard, you might be in luck. Before you think we're suggesting you chop down your own landscaping, just consider decorating it like you would an indoor tree. Be sure to choose outdoor ornaments that will stand up to the elements and lights that are graded for outdoor use. You might also take a page from Goods Home Design and decorate with edible ornaments for animals.
Sure, it might be a little more difficult to get that "presents under the tree" feeling, but at least you can enjoy the festive view every day.
7. Remember what's important to you
In A Charlie Brown Christmas, Charlie Brown thought he'd ruined the holiday by picking a scrawny tree. By the end of the cartoon, though, we'd been reminded there are more important things than the size of our tree or the things we buy. It's a message that's as true today as it was when the holiday favorite aired more than 50 years ago. If the Charlie Brown tree makes you feel warm and nostalgic, you can make your own.