5 steps to the best holiday curb appeal.
By emily.bailey
Wednesday, November 24, 2021
Start spreading the joy at your front porch with these tips to boost your curb appeal for the holidays.
It seems the holidays start earlier every year. We can't get enough of the festive feeling and we can't wait to share the magic of the season with our favorite people. Start spreading the joy at your front porch with these tips to boost your curb appeal for the holidays.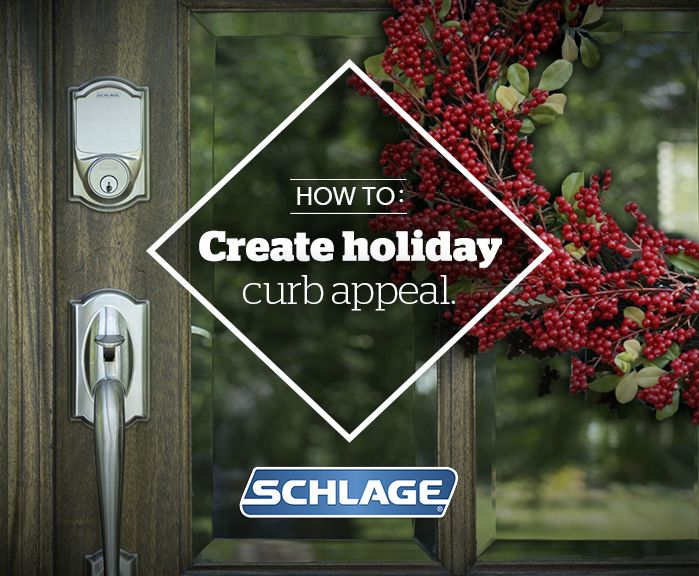 Greenery for holiday porches
Your landscaping doesn't have to go totally dormant just because it's cold. Front porch holiday planters with winter-friendly greenery like boxwood and spruce trees can add a pop of color to your entryway. Mix in winter berry, tie a ribbon around the planter or add ornaments to the arrangement for even more vibrancy.
Garland is another great go-to and can be even simpler than that holiday planter. Hang it around your front door or windows or wrap it around porch posts. Whether for your garland or planter, consider also adding pinecones for a crisp, fresh smell.
Lights for long, festive nights
Glittering outdoor lights year-round have become more popular in the last few years, but they really shine (pun 100% intended) during the long winter nights. When deciding where and how to hang holiday lights, focus on your home's architectural details. Line the roof, windows, an arch or porch overhang, even a winding walkway to highlight the everyday beauty your home already has. And don't forget to brush up on these tips for designing the perfect holiday light show.
If climbing up in the eaves and scaling trees to hang lights isn't your idea of a happy holiday, consider other options like luminaries to line your porch steps and complement the rest of your patio décor.
Windows for winter magic
Decorating your windows can create an ultra-traditional look for your holiday curb appeal. A single candle – choose LED for safety – in each window might be all the décor you need for a sophisticated street-side view. A wreath on each window, like Dixie Delights, is another classic choice.
Or you can be totally playful with holiday window decorations. Window clings that catch the light, maybe the Grinch peaking from around the casing, a winter scene with elves and polar bears for the kids' windows. And the best part might be that this décor can all be done from inside where it's warm and protected from the elements.
Holiday decor for the front door
Every guest that comes to your home is going to see your front door, so make sure it's welcoming. Wreaths are a popular choice for door hangings and come in all styles, from traditional green branches and berries to bright colored ribbon. A DIY holiday wreath like this one from Country Living can be a great craft to do with the kids on those cold winter afternoons. Just keep an eye on them when they're using the glue gun.
A holiday porch leaner or sign might be your answer when decorating a large porch or if you don't want to hang something on the door itself. These can be bought online in any size, with any saying. They're so simple, though, we wouldn't blame you if you wanted to make your own.
Door mats are another smart touch. Not only can it help anchor your décor and bring everything together, but it's also fantastically functional, helping you keep your home clean as people come and go. There are all kinds of options, from festive phrases to images of, reindeer, snowmen and more. For an extra level of refined style, layer your mats. Place one of a natural material like coir, which will help trap the dirt and slush, over a larger patterned rug, perhaps one that's plaid or in a color matching the rest of your holiday décor.
Smart locks for party season
Spending time with family and friends is one of the best parts of the holiday season, but hosting often means juggling lots of tasks and responsibilities. Make it easier on yourself and your guests by installing a smart lock. Let those trusted visitors come and go securely by giving them their own code, especially if they're staying overnight. There's no more hiding a key under a rock, which isn't very safe, and it's so much easier for everyone to finish up that last-minute shopping in secret when you don't have to keep track of who has a key and who needs one.
When you pair a connected smart lock like the Schlage Encode™ Smart WiFi Deadbolt with other smart devices in your home, you might find that hosting just got even more convenient. For example, when all your guests have arrived, ask Alexa to start the holiday party. Then any events you've scheduled as part of your holiday party scene – playing music, adjusting the lights, even locking the door – are triggered at once without you running around the house and ignoring your guests. Check out these 50 holiday Alexa commands for more ideas.
Lastly, if you're the one headed out of town, a smart lock can help you trust that all is calm while you're away. Using a compatible app, you can make sure your door is locked, see if someone like the pet sitter has used an access code to enter the house or receive a notification if there's a disturbance at the door. Pair your Schlage smart lock with another device like the Ring Video Doorbell, and your options get even greater.
For more front porch holiday decorating ideas, check out our Pinterest or learn more about our smart locks at Schlage.com.