Treat yourself with these easy Halloween porch décor tricks.
By emily.bailey
Wednesday, October 6, 2021
With these easy DIY projects and Halloween porch ideas, you'll be ready for trick-or-treaters before you know it.
Is your front door looking a little scary? Does your front porch feel as if it's been pieced together like Frankenstein's monster, with décor that doesn't quite match? There's good news. Getting your entryway into shape for Halloween and beyond has never been easier. With these easy DIY projects and Halloween porch ideas, you'll be ready for trick-or-treaters before you know it.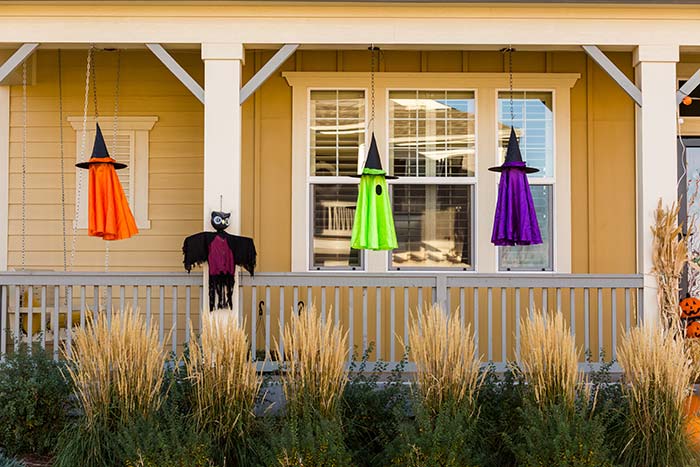 Door upgrades to sweeten your curb appeal
As much as we love to decorate for specific seasons, we also know it's important that your style carry you throughout the year. Your door is a perfect example. Choose the right front door paint color and a complementary door hardware finish to boost your everyday curb appeal. Then use that color scheme to make your holiday décor really pop.
An orange front door might sound a little scary, but we promise that if you pick the right shade, it'll be delicious eye candy. Think colors that are more pumpkin and less candy corn. A pumpkin-inspired orange should have some brown undertones, making it less in-your-face than some other shades. Pairing it with darker fixtures such as a Matte Black front door handleset can also help balance the color and add an element of modern sophistication to your whole home.
Updating your front door is an easy home improvement you can tackle in a weekend, even if you're painting. And if you decide only to upgrade to stylish door hardware, it's even simpler. With Schlage, all you need is a screwdriver and a few minutes to give door a new look. If you need more help, you can find
installation videos
for handlesets and all our other hardware at our How-To Center.
DIY décor to dress up your porch for Halloween
Once you have the door décor basics down, you can really start to have fun with your Halloween porch decorations. Here are five of our favorite ideas for the spooky season.
Teal pumpkins for your patio
A teal pumpkin on your front door means you're a food allergy-friendly home and have toys and trinkets to hand out instead of (or in addition to) something edible. Making it Milk-free has a couple of teal pumpkin decorating ideas, including turning one into an adorable mummy. Perfect for setting on your porch steps or stoop.
Welcoming skeletons
Lifesize fake skeletons have been popular in recent years, partly because it's so easy to position them in creative ways. Better Homes & Gardens shows them hanging off porch railings, but we also like that you can have them sit in the patio furniture you already own. Pose them looking out the front window, peeking from around a bush or hanging out by the mailbox.
More cute, less spooky wreath
Some families like a spooky Halloween, others prefer to keep it cute. Positively Splendid's ribbon wreath with itsy bitsy ghosties is exactly what that second group needs. Orange and black ribbon is classic for the season, but you can always change it up to complement your new front door color or other porch décor. If you went for that orange door, try green ribbon for contrast. Have a red door? Maybe you want black and white ribbon instead of green to keep it from looking too much like Christmas.
One more note: this DIY wreath is super easy. Simply tie the ribbons onto an embroidery hoop, no gluing or sewing necessary.
Spiders galore at the door
We typically try to avoid a spider invasion in our homes, but you'll love this arachnid attack. One Good Thing used Styrofoam balls, pipe cleaners and some black paint to make a porch full of bugs. These are all identical, but there's no rule that says you couldn't make them in different sizes and put them everywhere – in a wreath, hanging from a covered porch or light fixture, or tucked in with your potted plants. The kiddos might have extra fun with them if you add googly eyes.
Halloween hello with a sassy mat
A DIY Halloween doormat is the perfect opportunity to show some attitude. This tutorial from Jojotastic requires a bit of paint, stencils and an inexpensive mat. What message you leave or picture you create is entirely up to you, whether it's "Strangers have the best candy" like Joanna, simply "Boo!" or some cobwebs and ghosts drawn on. Take it a step farther and cut your mat into a new shape. Instead of rectangular, try bat- or pumpkin-shaped. Just make sure you choose your mat material well. You don't want it to unravel before your trick-or-treaters arrive.
Sometimes it would be nice to be able to wave a witchy magic wand and have your latest project instantly finished to perfection. But this is one you'll enjoy savoring and completing on your own. Check out our full selection of Schlage handlesets today or find more magical inspiration on Pinterest.