14 ways home improvement can make you a better neighbor.
By emily.bailey
Wednesday, September 8, 2021
Some DIY projects can help create a stronger community, not just your own home and family. Here are 14 of the best ways to be a good neighbor.
"Be kind to others." It's a mantra many of us have tried to practice more intentionally in recent months. You volunteer, bake cookies for the kids' school fundraiser and recycle. But what about upgrading your home? It's true. Some DIY projects can help create a stronger community, not just your own home and family. Here are 14 of the best ways to be a good neighbor.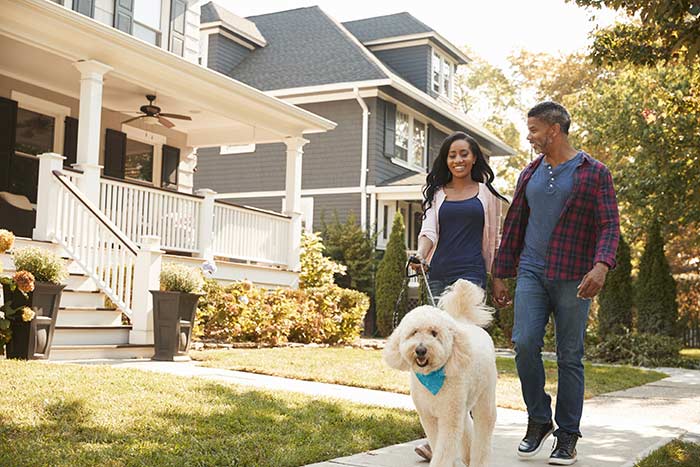 Curb appeal
Help everyone enjoy having something beautiful to look at as they come and go through the neighborhood. Give your home's exterior a fresh coat of paint or repair damaged siding and brick. Don't forget your garage door, too.
Have fun accessorizing, but remember to keep it tasteful, too. Pink flamingos on the front lawn can be polarizing and a surprisingly quick way to make an enemy of your neighbor. When in doubt, practice moderation with your outdoor holiday décor. For everyday curb appeal, upgrade your mailbox and house numbers.
Lastly, maintain your driveway and give it a good power washing on a regular basis. Repair your walkways so visitors have easy access to your front porch. If the city or your HOA is responsible for sidewalk maintenance, you can still do your part by reporting major damage and requesting repairs.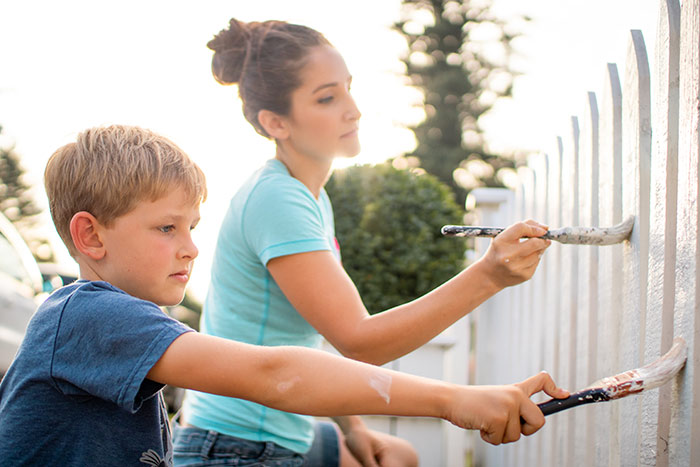 Landscaping
Choose plants that look good, either because they fit the style of the neighborhood or add gorgeous pops of color. Don't limit yourself to flowerbeds. Consider container plants for your porch, flowers for window boxes and maybe vining plants around your street-side mailbox. Also choose plants that are safe for everyone. If there are lots of dogs in your neighborhood, you might choose plant varieties safe for pups. Lots of kids? Prickly or thorny plants are best kept to a minimum or fenced in the backyard.
Maintain your grass or, if it's more sustainable for your area, try other types of groundcover that require less watering.
Plant trees and keep them trimmed so that they don't cause damage to your neighbor's property. Remember that root systems don't pay attention to property lines, so be mindful about where you plant the tree to start with. Trim branches so they don't scratch your neighbor's house or fall on their roof in a storm.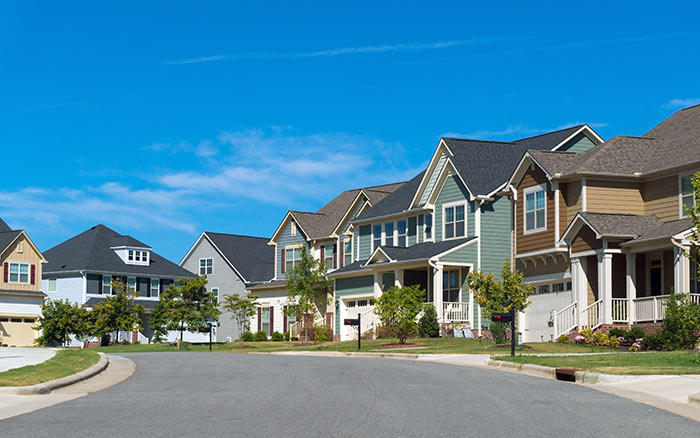 lighting
If you've been following the Schlage blog for a while, you know that landscape lighting is an important part of making your home safer. It provides fewer dark spots for intruders to hide in and makes it easier for you and guests to find their way to the door without stumbling. Add some lighting, whether it's an upgrade to a front porch lantern or solar-powered lights along your walkway, to make your home and the neighborhood safer and more inviting.
Be conscious of the lights' positioning. The Schlage writers have a friend whose neighbors installed a motion-activated security light on their detached garage. Every time it flips on, it illuminates our friend's bedroom. Make sure your lighting doesn't create a nuisance with where it's directed. And while you're at it, refine the sensitivity of the sensors. Most can be adjusted so that a raccoon won't set it off, but something larger like a person will.
privacy fence
The general belief is that a privacy fence is so you don't have to deal with your neighbors. But installing one can be a friendly courtesy, too. If you enjoy backyard entertaining and your neighbors prefer to keep to themselves, a fence that deadens sound could be appreciated. Plus, when you install an attractive fence – rich-toned woods, bamboo, even decorative concrete – your outdoor privacy screen becomes a work of art.
basic maintenance
Keeping up with general maintenance pays off for you and your neighbors in many ways. First, when you stay on top of upkeep – of your yard, your home's facade, your deck and fencing – you won't become that house that everyone on the block whispers about. "Why can't they just mow more often? It looks so bad." With maintenance that improves the appearance of your home, it can create a stronger sense of community when people feel more welcome dropping by to say hello. It also improves everyone's property values.
Second, some maintenance on your own home can also help protect the houses around you. For example, runoff from your clogged or broken gutters can damage your neighbor's home if water is directed to their foundation. It can also create messy mud pits or wash away mulch from their landscaping.
diy courtesy
As you're taking all these home improvement steps, be conscientious about when and how you do the work. Try painting in the morning and saving the loud power tools for later in the day when they won't wake your neighbors.
Clean up your mess as soon as possible, especially if you've completed an outdoor DIY project. Your neighbor might love that you installed a beautiful new deck, but if they have to look at piles of scrap wood or tools long after the project is finished, they will be less enthusiastic about your effort.
more ways to be a good neighbor
Spot them on a ladder when they're cleaning their gutters and windows or painting.


Share tools and supplies. If you borrow something, return it to your neighbor promptly and in good condition.


Offer assistance if you know how to do something they've never tried. Don't be offended if they turn down your help.


Bring them water or snacks when they need a break during a project. If they're renovating a kitchen, make them a casserole so they can enjoy the occasional home-cooked meal.


Offer to watch their kids so they can work uninterrupted.


Invite them to celebrate a completed project. If you just redid your deck, have them over for a BBQ. If you remodeled an entertainment room, ask them over for a game or movie night.


Pick up trash when walking the dog or while taking an evening stroll with your family. Only set your trash out on a collection night instead of letting it pile up curbside for days.


Offer to keep an eye on their homes, pets and plants when they go out of town. Help them stay safe while on vacation.
Looking for more ways to have a positive impact on those around you. Try these 31 ways to use your DIY skills for community service.