Spruce up your entryway with these easy DIY projects.
By emily.bailey
Thursday, August 26, 2021
Although it may be the smallest area of your home, your entryway deserves the same attention to detail you give to any other room. A functional entryway will keep your life organized and wow your guests each time they step through the door. To help you follow the
seven must-follow rules of a welcoming entryway
, we gathered up our favorite DIY entryway projects. You're sure to get the look you want for a price that's even better.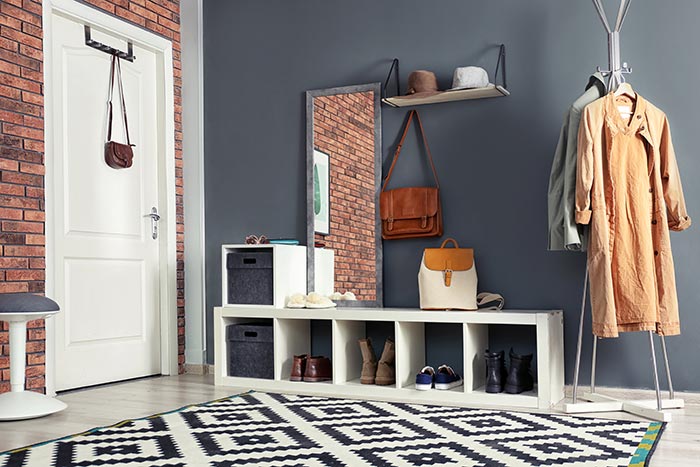 1. Fake it to make it with hooks and crates
Staying organized is easiest to do when you have a designated place for everything. If you have a limited amount of space or have to fake an entryway, this DIY project from
Jenna Burger Design
is perfect for
you
!
2. Upholster a bench with ease
3. Turn a coat closet into an organized niche
Has your hall closet become a catch-all rather than a functional storage space that truly makes life easier? Make it work for you by turning it in to a beautiful entryway nook with this closet hack from
Hooked on Houses
.
4. Create a central command center
A wall organizer with chalkboard is the perfect place to stash small items and keep an eye on the calendar for the whole family. The file folder helps you keep track of homework, mail and other paperwork. And the IKEA bookshelf? Use it however it fits your life best, whether it's as a shoe rack, a place to display knickknacks or something else entirely.
Simple as That
shows us how it's done.
5. Be beautiful and functional
For those of us who are still feeling the Modern Farmhouse love, this one's for you. Galvanized tubs help keep everyone organized, while the decorative touches contribute to the overall style of the room.
Cherished Bliss
used a giant chalkboard for looks, but you could easily make it a
command center
or use that wall space for coat hooks or floating shelves instead.
6. Build your own stylish console table
This DIY fretwork console table is the perfect modern touch to a more traditional entryway. Get all the details on materials and process in this tutorial from
View Along the Way
.
7. Banish boring boot trays
Keep your floors clean and skip the salty stains from snowy boots with this creative and eco-friendly boot tray. Wine corks glued to a custom-made tray not only look good, but the material will help absorb moisture and stop puddles before they happen. Cheers to
Earnest Home Co.
for the idea!
We love this for an open floor plan! The entryway footprint itself is fairly small, but because it immediately opens to an expansive room with high ceilings, most foyer décor would look out of proportion.
Home Mix
built panels just right for the large wall, and the hooks keep it functional.
Find more DIY projects for your entryway, and every other room in your home, at the Schlage blog.