Stay sharp at back-to-school time with these homework station ideas.
By emily.bailey
Help keep your child on track and energized for the upcoming school year with these back-to-school homework station ideas.
Raise your hand if you're looking forward to the kids heading back to school this fall. Whether they're continuing with a hybrid schedule or will be in the classroom full time, they still need a place at home to complete their assignments. You and your child can design the perfect desk that will help keep them on track and energized for the upcoming school year.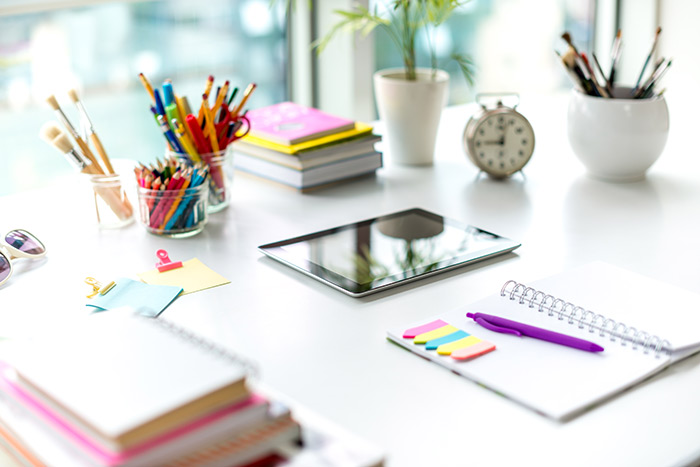 Space exploration
Where you put your child's homework station is just as important as the desk and chair it's made of. Think about the environment they need to be most successful. If they're easily distracted by the dog running around, you cooking dinner and someone else watching TV in the other room, put their desk in their room or somewhere else away from all the activity. If that's not possible, try dividers or privacy screens.
On the other hand, if they have trouble staying independently motivated, keep their station where you can see them and help them stay on task.
Designating a specific homework station can help your kiddos get in the right frame of mind to finish their assignments. Sometimes simply sticking a desk and chair in the corner isn't enough. Designating a specific homework station can help your kiddos get in the right frame of mind to finish their assignments. If you don't have a dedicated room for their studies, it might be as simple as painting an accent wall to create the illusion of a separate space.
While these examples are both arches, there's no reason that you couldn't use different shapes, colors or even textures or scenic murals.
Inspired work
If you want their homework station to be somewhere the kids like to be, make sure it matches their personality. Especially if their desk is in their own room, let them choose the artwork, action figures, colors and other design elements. This is a prime opportunity to let them express themselves and carve out their own space, an important part of building a sense of belonging and individuality, according to child psychologists.
Do encourage them to keep their space organized, even if they've decorated to their heart's content. Too much clutter, especially if the items aren't school related, can be distracting.
Timing is everything
A calendar is a must for most families during back-to-school time. Incorporate one over your child's desk or as part of your family command center. It could be a traditional wall calendar like the freebie from your home insurance agent, a chalkboard or a dry erase board.
If the expectation is that they'll work until dinner at 6 p.m. or their assignment is to read each night for 30 minutes, they need a clock. This is one area where fun and functional often go hand-in-hand. Let the time and creativity fly.
Smart storage
Most kids' desks are on the smaller size. After you put a lamp on it, then a can of pencils and markers, their laptop or tablet and a textbook, do they still have room to write in their notebook? Help solve that problem by storing some of these items on the wall.
Floating shelves are an easy way to add organization and storage, especially in a smaller space like a child's bedroom or the corner of another, multipurpose room.

Pockets can help your child stay organized. Try one designed specifically for this kind of storage or a
shoe organizer
you hang on the back of closets doors. Stuff the pockets with writing utensils, scissors and other craft supplies, chargers and any other small items they need on hand.
We love peg boards for just about any room, from the garage to the kitchen to the craft room, and now your child's homework station.
Pegboards, hooks and pockets only go so far. Make sure your child has enough space to stash their school belongings and keep them from taking over the entire room. A desk with a few drawers to slide notebooks when they aren't needed could be enough. Try file cabinets – look for the small, colorful ones designed for dorm storage – or cubbies like the KALLAX bookcase from IKEA.
The classic rolling caddy is another great option, especially if the space is a homework station by day and dining room by night.
knowledge is power
Make sure your child's workstation has enough convenient electrical outlets. Kindergarteners might not need much, but your teen probably has a computer and lamp they need to plug in, along with a phone and a million other gadgets.
A desk with built-in power or USB outlets makes it easier to keep everything charged. If the desk also has a niche to keep cords contained, the workspace will look neater and you might even reduce the chances that your busy bee accidentally unplugs something.

There's more you can do to help everyone ease their way back into the school routine. Start with these 5 smart back-to-school hacks at the Schlage blog.