Home improvement projects to complete in July.
By jennifer.thomas
Vacation season is in full swing, but there are still a few projects you can do around the house. Use this guide to the most important indoor and outdoor home improvement tasks you can accomplish in July, as well as a few ideas to help you start planning for the future. Be sure to download the
July home improvement checklist
, too.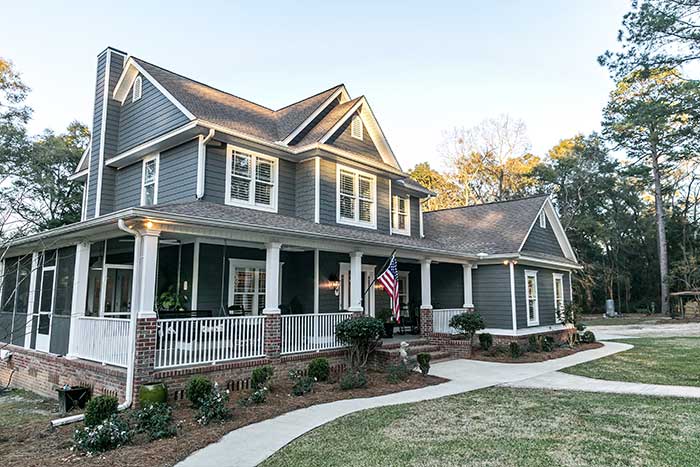 Indoor home checklist
Most of your home maintenance opportunities are outside this time of year, but these indoor tasks can help keep you and your family safe.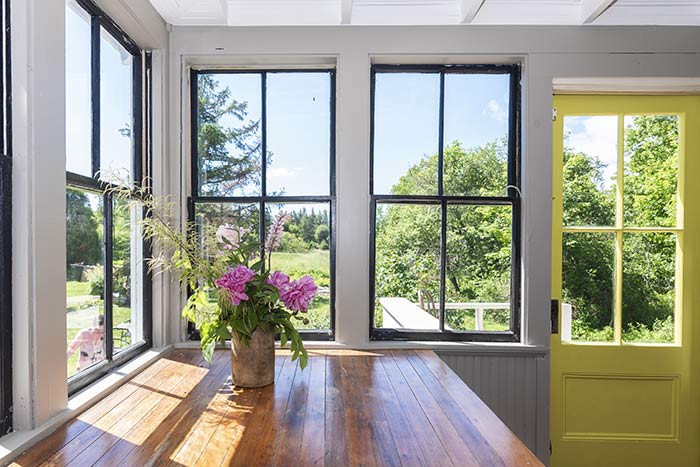 Check safety devices and replace batteries. This includes smoke and carbon monoxide detectors as well as fire extinguishers, radon detectors and

smart locks

. Make sure they're still working and install new ones as necessary.


Reseal countertops. If you have a porous natural stone countertop like marble, granite or quartz, you want to seal them regularly to prevent staining. Your countertop material will dictate how often you should reseal it and with what materials, so do your research beforehand. We usually think of kitchen counters with this DIY, but don't forget your bathroom and laundry room.


Care for pets. Especially if you're spending a lot of

extra time outside with your furry friends

, make sure they have easy access to water and shade. Some animals have a harder time regulating their body temperature naturally and you don't want them to overheat. DIY a dog water station for your porch, make them a comfy bed and plant

non-toxic plants

for a bit of shade. July is

Dog House Repair Month

, too, so go wild and celebrate with some pup-friendly reno.


Care for pets' toys. While you're sprucing up Fido and Fluffy's home base, take some time to clean their toys. It's probably been a while and let's not even think about the germs that have been passed from slobbery jowls to chew toy. Cleaning pet toys can sometimes be as simple as popping them in the dishwasher, but follow the manufacturer's instructions to be safe.
Outdoor home checklist
Put on some sunscreen. It's time to spruce up your curb appeal in ways that will make your home safer and more comfortable.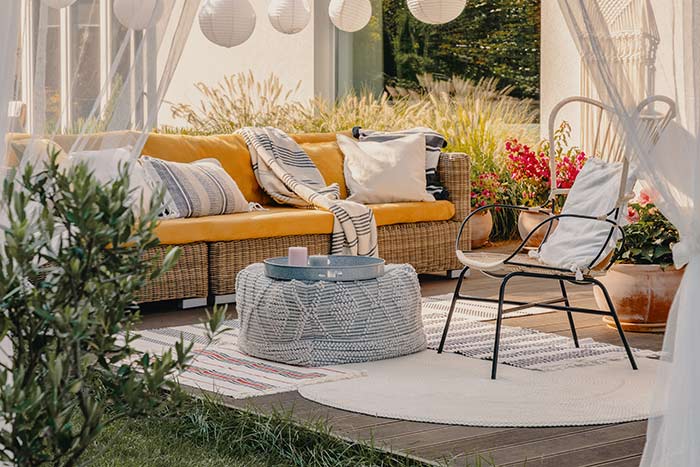 Reduce landscaping fire hazards. As grass and other plants dry out during droughts, the risk of fire increases. Remove dead brush from your yard. If you're using an outdoor fireplace or firepit, take extra care to avoid jumping sparks and have an emergency water bucket nearby. Of course, follow your area's fire regulations and warnings, too.


Save water. When a drought hits, it's tempting to water your lawn a little extra. If you do, run the sprinkler before dawn or after the sun sets. That will reduce evaporation, more water will reach the roots and you'll conserve water. Mulching can also help keep the soil from drying out too quickly. If you're ready to take more drastic measures, replace your grass with something that's more

drought tolerant

like stones and hearty groundcover.


Repair or replace fences. If your fence takes direct, intense sunlight, you might notice that it's starting to change colors or warp. Fix cracked boards, re-stain it if necessary or upgrade to a fencing material that holds up better to the elements in your area.


Clean porch lighting. There's a good chance that the bulbs have attracted and zapped a few bugs during the summer. Remove the remains, dust away cobwebs and wipe down any remaining dirt. It will help your curb appeal and let more light through.


Make some shade. There are lots of way to get a break from the sun. In our

June home improvement checklist

, we recommended porch curtains or a privacy lattice. Of course, you can also plant trees, install an awning on your deck or add a patio table umbrella.


Add exterior home security. July is usually a good month to find deals on

home security cameras

. Take advantage of the discounts and upgrade your security. Cameras are popular for front porches to deter package theft and to see who's at the door as well as near the garage. You might also consider one for your pool, a backyard gate or even indoors if you want to keep an eye on pets or kids while you're out of the house.


Add even more exterior home security. A new deadbolt, either mechanical or smart, is an excellent place to add more home security. You might also want to add a security system. Whatever you choose, look for ways you can connect all your devices. Some

smart locks are compatible with doorbell cameras

and security systems to make protecting your home even easier.
For the future
There's still plenty of time left in the summer, but that doesn't mean you can't start dreaming about the future.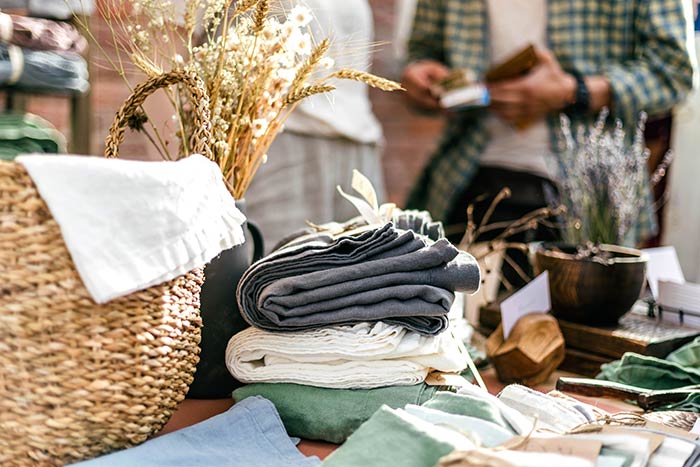 Start planning to sell.

Selling your house in winter

is easier than you think. Sure, you approach curb appeal differently and mudrooms become bigger selling points when the temperatures are lower, but the market will likely be more in your favor, too. Use this time to declutter the house and have a garage sale with unwanted items. Decide how you're going to tackle

home improvement projects to improve resale value

and call for mover estimates. Use the

Schlage Moving Checklist

for more tips.


Prepare for college days. If you have a child moving into college dorms this fall, start a list of what they might need. Think of it like packing light for a vacation. Half of what you want in your suitcase – or dorm room – won't fit. Make a list, refine it, set a budget and keep an eye out for good deals. Use this guide for

decorating small spaces

to get you started.
For the greater good
Try these ideas to serve your community while having a ton of fun at the same time.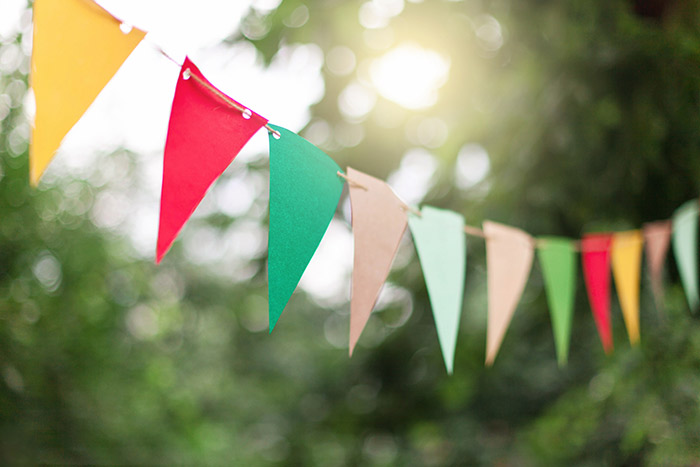 Host a block party. This is a great way to meet your neighbors and build a stronger community. You'll be more likely to keep an eye on each other's homes, improving security, when you know each other better. They might also have that power tool you've been hoping to borrow. Plus, who doesn't love a fun block party?


Celebrate Independence Day. Put out the flags,

decorate your porch for the Fourth of July

, enjoy some fireworks, but don't forget to give back. Volunteer at a local fireworks show or festival, or

send a care package

to a member of the military.
In case you missed it
You can still catch up on a few DIY and décor projects you might have missed.
Set up a swim station. Baskets and racks for wet towels and swimsuits can help keep your gear and your home from getting mildewed and smelly. A tray to collect sandy or damp footwear will also help protect your floors.


Paint your home's exterior. Paint cures better when temperatures are higher. Take advantage of the predictable weather, but be smart about painting in the heat, too. Like any outdoor DIY project during the summer, start early in the day and take a break when it gets too warm.
Time to buy
It's Christmas in July! This tends to be a good month to find deals on all kinds of items you need for the house. Here's what Consumer Reports picks as the best purchases to make in July.
Appliances: Dryers, washing machines, dehumidifiers, microwave ovens, ranges, refrigerators, dishwashers, steam irons, grills


DIY: Paints, wood stains


Electronics: Home security cameras


Home goods: Strollers, insect repellents, sunscreens
Need more ideas for DIY projects to tackle over the summer? Get inspired at the Schlage blog or Pinterest.