13 tips to help you safely remodel your home during pregnancy.
By emily.bailey
Although not all DIY projects are safe for pregnant women, many are, especially if you take extra precautions to keep you and your baby safe.
Life doesn't stop just because you're pregnant. It might even feel like it's speeding up with all the things you have to get ready for Baby's arrival. Your to-do list is suddenly filled with remodeling tasks like
getting the nursery ready
, finishing a DIY project while you have the time or simply continuing a favorite crafty hobby. Although not all DIY projects are safe for pregnant women, many are, especially if you take extra precautions to keep you and your baby safe. Try these 13 tips for safe home improvement when you're expecting.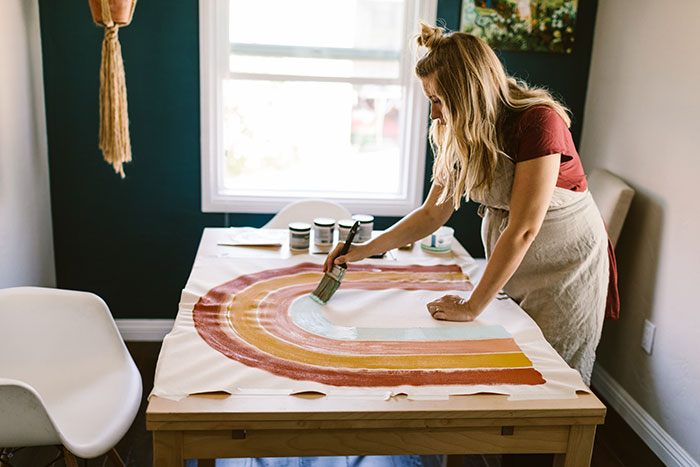 Home improvement materials you can use when pregnant
You can paint when you're pregnant. Just make sure you're using a water-based paint. Choose acrylic or chalk paint for your and your baby's health. Oil- and lead-based paint can be particularly dangerous due to volatile compounds, so those should be avoided. Let someone else remove old paint and use turpentine, however. Again, they contain dangerous compounds you won't want to breathe or come into contact with.


Fumes are also a factor when using polyurethane, a type of varnish that protects wood from scratches and other damage. If you need to use polyurethane, use it in its liquid form, not spray, and do so outdoors where you'll have better ventilation.


When you're gardening, use natural fertilizers and skip the pesticides and herbicides. You're trying to avoid the risk that comes with accidentally coming into contact with or ingesting chemicals.


Be smart when crossing everyday cleaning tasks off your to-do list. Choose cleaning products that are organic, or stick to the classics like regular soap and water, or baking soda and vinegar. Try to avoid anything with ethers or phenols, mold and oven cleaners, and bleach. Again, it's all about not inhaling harmful fumes and chemicals.
Home improvement projects you can do when pregnant
While there's nothing that says all power tools should always be avoided during pregnancy, it's important to weigh the risks. If you cut yourself using a saw, for example, the repercussions could be greater if you lose a lot of blood while pregnant. Even if you're confident using tools and are a seasoned DIYer, it might be better to leave certain projects to someone else.


According to some, one power tool you should always avoid using while pregnant is a table saw. The primary danger isn't in being cut but rather in kickbacks. Injuries from table saws most often come from the wood being thrust back toward the user, and because it's at belly height … well, you probably see where this is going. Let someone else operate the table saw for these nine months.


You talk to your baby and play it classical music to stimulate their brain, right? If Baby can hear you, they can also hear loud noises from power tools such as saws, drills and sanders. It's generally believed that these loud tools for short periods of time are harmless. Extended noise at high decibels could harm your baby's hearing, though, so take it easy. Work in short intervals to be on the safer side.


When you're expecting, there's lots of new furniture to put together – cribs, changing tables, shelves for their growing library. Go ahead and lend a hand in assembling some of the smaller and mid-sized furniture. Try to avoid any heavy lifting, though, especially as you get closer to your due date.


We hadn't really thought of this one at first, but it makes sense. Laying new flooring, especially if it's hardwood or tile, could actually be good for you. Doctors often recommend light exercise, including some bending and easy lifting. You'll get both of those when laying new flooring. Just beware of any chemicals used in the process. This is particularly true if you're installing new carpet or cleaning existing floor coverings.


Stay grounded. In other words, stay off ladders. Your center of gravity is changing, so your balance isn't what it used to me. Stick to DIY projects at ground level to avoid dangerous falls.
Other tips
For some of us, the most enjoyable part of a renovation is demo day. Unfortunately, mommas will have to skip this step. When knocking out walls or ripping out fixtures, it's hard to know what you'll find. Mold, asbestos, dust and other debris can be harmful to anyone, but especially your baby. Rusty nails, broken glass and other sharp objects common during demolition can also be particularly dangerous.


Be extremely diligent about using your safety gear, no matter the project. Goggles, gloves and a dust mask are some of the basics you should always have on hand. You might also want to wear long sleeves to help keep chemicals off your skin. Proper footwear is always a must. Use our

guide to DIY safety gear

to get started.


Your body is going through lots of changes and you might not be able to work like you did before you were pregnant. Especially when you're doing something physical like DIY, be sure to drink extra water. Take more breaks than normal and when you feel fatigued or over-tired, call it a day. Listen to your body, and if you feel nauseous or develop a headache, stop working. Above all else, talk to your doctor. Before you take on any project, ask your medical provider about what's safe to tackle and any extra precautions you should take.