10 tips for introducing pets to your new baby.
By emily.bailey
What's the best way to introduce a new baby to your pets? The main things to remember are to plan ahead and to be patient. Raising tiny humans and animals can be one of the most fulfilling experiences of your life. To really enjoy the ride, use these 10 tips for preparing your pets for your new bundle of joy.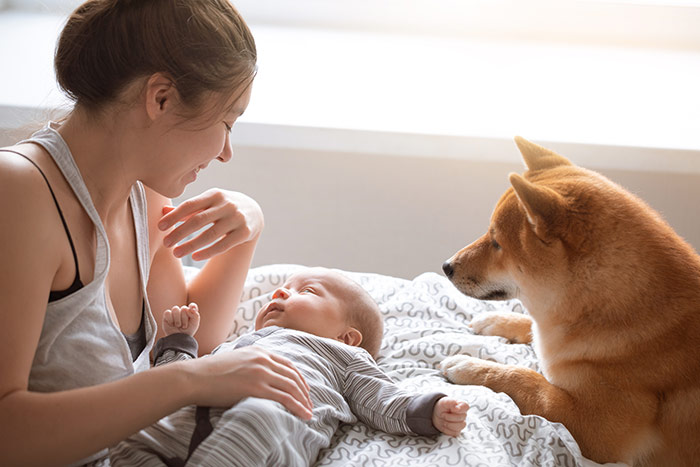 1. Visit the vet
Before you bring Baby home, make sure your pet is healthy and up to date on all its shots and vaccinations. If you haven't spayed or neutered your pet yet, consider doing that now.
2. Train pets before Baby arrives
If they aren't already crate trained, start changing that early. Also, train your dog to not jump on small children or you while you're holding your newborn. You don't want them begging for food, either. Work with your pet to positively train away bad behavior before your new arrival. If you're concerned about aggressive behavior, hire a professional to help. Proper training – for both you and your pet – is not only safer, but it also makes life easier.
3. Get your pet used to being around children
Try introducing your pet to friends' kids in small doses to help them learn how to act around tiny humans. They'll smell different than your own kiddo, but at least your fur baby will have a start. Cats especially might need some time to adjust to all those new baby sounds, too. Their hearing is super sensitive, so either get them around other kids or find a "baby sounds for pets" playlist online.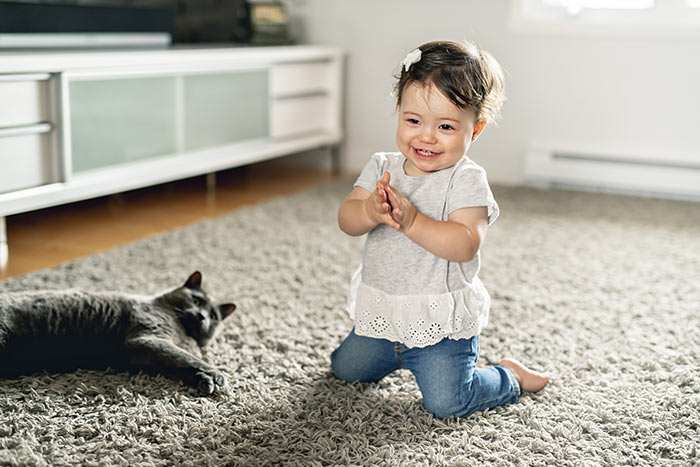 4. Help your pet adjust to household changes
Some pets get anxious when you start moving furniture around. I once had a cat you began marking everything the minute I started to pack for a move. As you introduce new things like baby furniture to your home, give your pet time to sniff and check it out. You can also use this time to train them not to go near the crib or other Baby Only zones.
5. Childproof and pet-proof your home
Some studies show that children who grow up with pets tend to be healthier than those who don't. That being said, you don't want Junior digging in the cat's litter box. Move the box somewhere safer – go in stages, so you don't confuse Fluffy – and consider adding a pet door to a closet or laundry room, if necessary. Another good solution? Swap out your regular door for a stylish and functional Dutch door. And have a way to store pet supplies and toys if you're worried about Baby getting a hold of them and sticking them in their mouth.
You'll also want to protect Baby's things from your pets. Again, storage bins and baskets will help keep them from chewing on pacifiers and bottle parts. Supervise everyone during playtime, especially if Baby has a noise-making toy that Spot just can't resist. You don't want them destroying your child's entertainment or, worse, nipping fingers to get to it. Remember what foods are poisonous to your pets, too. Some are ultra-nutritious for little humans but, even if they're organic, are filled with ingredients that are dangerous for animals.
6. Ease them into their first meet-and-greet
The New York Times recommends re-introducing your pet to Mom first, then Baby. When the "babies" do meet, make it on neutral territory, such as out on the sidewalk. You might even crate your pet so they get a chance to sniff each other out but through a barrier.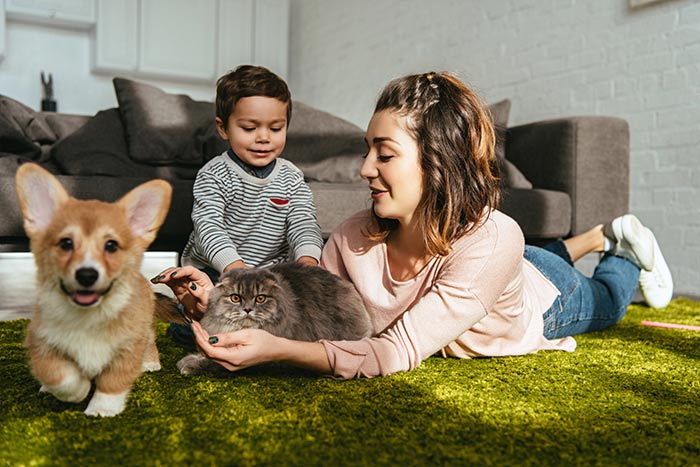 7. Schedule pet time
You're going to have your hands full when you bring Baby home. Be sure to make a bit of time each day to lavish some love on your pet so they don't feel neglected. It could be a nice walk or just some couch snuggles.
8. Stay calm
Pets can read your body language. If you're feeling anxious, either during the initial meeting or every time Baby and Fido cross paths, they're going to know it and respond accordingly. If you stay calm, your pet is more likely to stay calm, too. And if it isn't all smooth sailing from day one, don't fret. It will take you time to settle into your new routine with Baby, and your pets are no different.
9. Train your children
Teach your kids how to play nicely with and care for pets. Show them how to be gentle, not tugging on tails or ears, poking at jowls or otherwise tormenting them, no matter how well intentioned it is. As your children get older, you might teach them not to give them human food.
10. Prepare to make memories
Your family is growing and you're going to want to remember these moments. Once your baby and pet have had time to adjust to one another, schedule a photoshoot. Hire a professional or recruit a friend to snap some shots on your phone. If your pet is okay with costumes, you might even like to coordinate your babies' outfits. Cue the Halloween fun!
At Schlage, we love our pets, maybe even than door hardware. But there's no reason you can't have it all – a beautiful baby, a cuddly pet and a gorgeous home. Keep your animals happy and your home looking great with these easy
steps for cleaning with pets
. You might also like our tips on
keeping pets safe during the holidays
, all at the Schlage blog.