Best plants and gardening tips for outdoor privacy.
By emily.bailey
When you're looking for an outdoor retreat without losing curb appeal or feeling boxed in, try these plant privacy walls you can grow yourself.
We love spending time outside in our backyards and on porches. The fresh air, sunshine and family time can't be beat. Many of us are less enthusiastic about prying eyes, whether from neighboring houses or passers-by. When you're looking for an outdoor retreat without losing curb appeal or feeling boxed in, try these plant privacy walls you can grow yourself.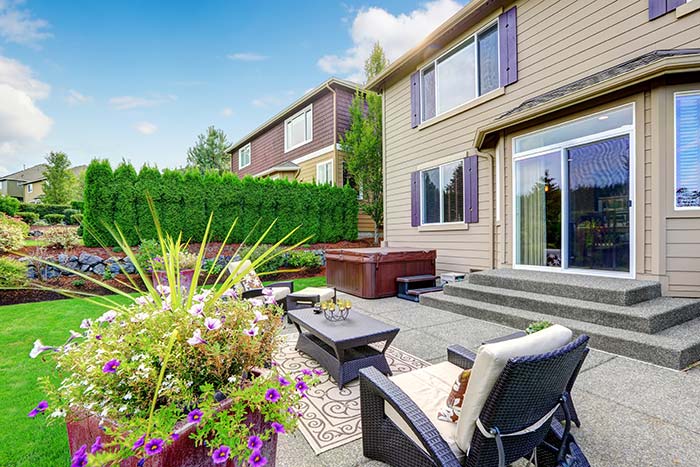 Go all natural
For backyard privacy that feels more natural than a fence or that creates the illusion that you're relaxing in a nature preserve, choose tall plants for your garden. Of course, look for varieties that thrive in your region, but you might consider some of these popular plants for equal parts beauty and privacy.
Ornamental grasses
For coverage high and wide – many varieties can grow as tall as eight feet and spread to about six – ornamental grasses are dependable plants for privacy. Zebra grass grows well in most zones and, because its foliage is multicolored, a nice addition to your curb appeal. Fountain grass and pink hair grass are other options. The kiddos might also get a kick out of their fuzzy spikes, great for a sensory garden as well as privacy.
Bamboo
The most important thing is to choose your bamboo varieties wisely. Some are invasive and difficult to control. To help avoid that, choose a clumping variety, which grows taller versus out over wide areas. Also, choose a type of bamboo that will survive in your climate zone. Red Dragon, for example, can take temperatures as low as -20 Fahrenheit, so you even cold-weather homeowners can enjoy privacy. You'll need several bamboo plants, spaced a few feet apart. The denser the plants – don't worry about overplanting bamboo – the greater the privacy.
Palms
We especially love palms for adding privacy to smaller patios or porches. It doesn't have to be some huge, coconut-producing variety. Look for Areca, Lipstick or Needle palms instead. Because most palms don't winter over very well, you might grow them in a container and bring them indoors when the temperature gets too low. Now, can't you just imagine yourself lounging in a comfy chair or hammock, surrounded by tropical fronds?
Fast-growing trees
None of these options will give you privacy overnight. You can speed things up a bit by choosing fast-growing plants and trees. Arborvitae, also known as Thuja, is one of the most popular varieties due to their hardiness and low maintenance. Leyland cypress and many other evergreens are solid picks, too. If you aren't a fan of having trees close to the house, plant them along your property line in place of a fence.
Get creative with containers and climbers
A container garden is another great way to add privacy to a deck or patio. Not only will the plants help shield the sun or your neighbors' attention, but so will the pots or whatever structure you hang them from. Hang plants high and let them drape, or start them low and let them climb.
Vertical veggie garden
Vertical gardening is your go-to for privacy, style and function. This DIY container garden from HGTV meets so many needs with one piece. Screen out your nosy neighbors, add some greenery and grow your own vegetables, all at the same time.
Pocket garden
Like a more traditional vertical garden, a pocket garden uses a fabric sheet with pouches, similar to those shoe organizers you hang on the back of your closet door. Use the pocket garden for any small plant, including flowers, herbs or some vegetables. You can then hang it on a fence, trellis or similar structure for a beautiful privacy option.
Hanging plant wall
One of the best things about this plant privacy wall is in that you can upcycle many of the materials to make it yourself. Reuse old shutters or pallets, for example, or frame some chicken wire or lattice panels. Once you have your structure in place, hang small potted plants using hooks or rope. The combination of plant varieties and arrangements is endless. This is customized DIY at its finest.
Suspended window boxes
Are they window boxes or hanging planters? There's no need to choose. Use sturdy chain to suspend the boxes from a covered porch or pergola, and fill them with plants that drape over the edges. Think ferns, trailing snapdragon and sweet potato vine. The Spruce has even more ideas for spiller plants for container gardens.
Potted climbing flowers
With climbing or vining flowers like jasmine or clematis in pots, you add beautiful color to your curb appeal and privacy at the same time. Repurpose tomato cages or use a stake or trellis to give your flowers something to creep up. With a few containers side-by-side, you'll have a gorgeous and colorful living privacy screen. Climbing roses are a great addition to an existing fence, too.
Keep security in mind
However you choose to increase privacy around your backyard or porch, remember to keep security it mind. We often recommend keeping bushes near your front door trimmed back to limit the number of hiding spaces for potential intruders. Remember, if you can't see your neighbors through your privacy screen, your neighbors can't see if a stranger is trying to enter your house.
To help improve your home's security, regardless of privacy screens and plants, be sure your door is in good shape, free of warping, cracks and other damage that could weaken it. You also want a secure deadbolt. If you choose a smart lock for your entryways, you can even keep an eye on your security from anywhere and pair it with other security devices such as video doorbells and security systems.
Looking for more ways to add privacy to your home? Or maybe you're just hoping to spruce up your curb appeal for the warmer months? Visit the Schlage blog for more DIY tips and tricks that will help make any home feel like a haven.