New mom in your life? How to offer help without the headaches.
By emily.bailey
Before Baby makes its first appearance, ask Mom how you can help. Try these tips for being the perfect guest when there's a newborn in the house.
Congratulations on the new little bundle of joy in your life! It's no surprise that Mom is going to need some help and recovery time now. Good thing she has someone like you to lend a hand. Before Baby makes its first appearance, ask Mom how you can help. The family might appreciate if you came to stay for a bit, but you'll need to make sure you're the perfect house guest – helpful but not overbearing, nearby but not crowding. The rest of the family will thank you for it and you'll keep your own sanity, too. Try these tips for being the perfect guest when there's a newborn in the house.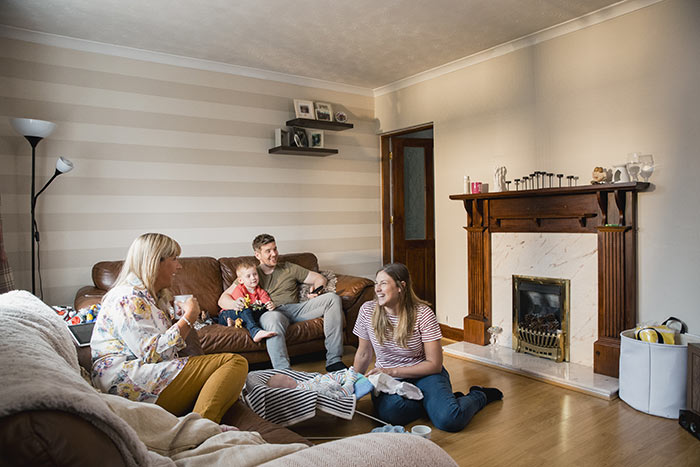 1. Learn the family's schedule
All schedules will likely go straight out the window when Baby first comes home. Some old routines will have to be let go for simplicity's sake, and that's OK. But as the perfect house guest, you can be a life saver by helping with inflexible obligations and responsibilities like getting older kids to school on time.
Before the baby's arrival and your visit, ask the parents how you can help keep those must-do tasks on schedule. Knowing their schedule is the only way you can chip in with carpooling or make sure a uniform is washed before the next Little League game. If the family doesn't already have a command center, you might make a small, temporary one to help you keep everything straight.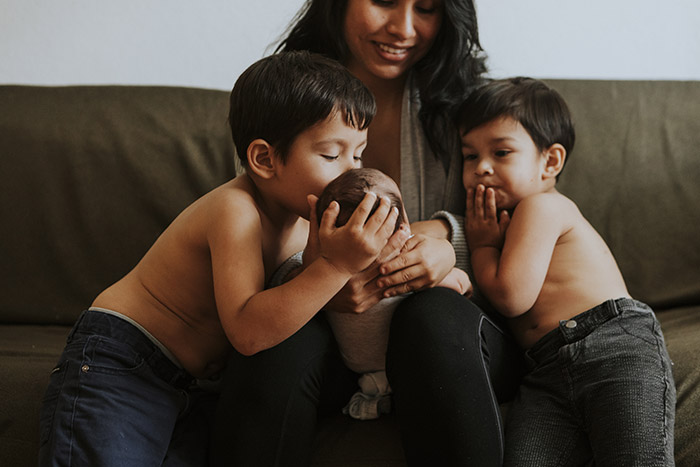 2. Establish your own schedule and ground rules
Just like Mom needs to take care of herself so that she's healthy enough to take care of Baby, you need to practice a bit of self-care so you can be there for the rest of the family. If you need gym time to feel normal and healthy, do your best to continue that habit. If it's a moment of quiet with your coffee each morning, carve out time for that. As cute as they are, babies can be stressful. These moments of personal time can help keep everyone from snapping at each other in a sleep-deprived state, and when the household knows the schedule, they'll be less likely to take it personally when you want to be left alone.
It might help to set a schedule for others in the house, especially if you're caring for other children. When the kids know lunch is at noon, they won't have to bug you every 20 minutes asking. When everyone understands that there's quiet time at 3 p.m. (or 10 a.m. or 7:18 because Baby's going to do what Baby's going to do) so Mom can nap, Mom can actually get the peace and quiet she needs.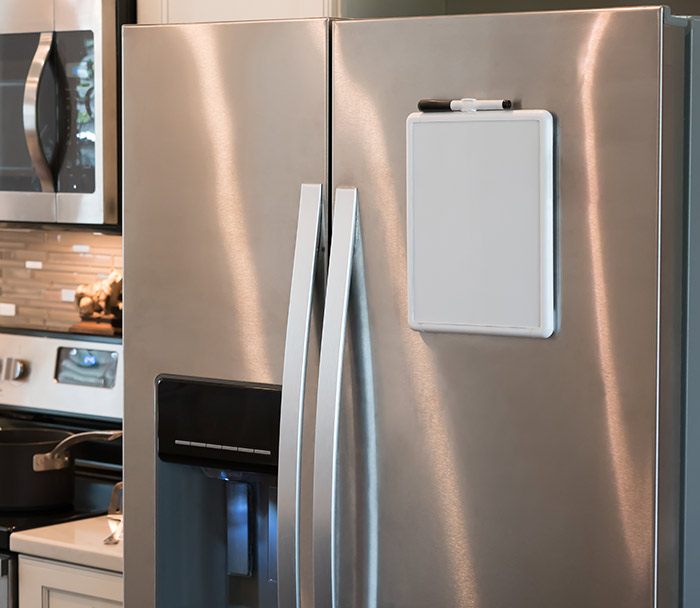 3. Use a dry erase board.
A dry erase board is a great way to help everyone remember those schedules we just mentioned, not to mention leave little notes, reminders and instructions. This might be especially helpful if you aren't staying at the house full time but dropping in and out as needed. Try these ideas for using a dry erase board to improve time management and organization.
Sometimes it seems like you're all just ships passing in the night – one person is sleeping while the others are awake, someone's coming home from work just as someone else is starting their day. Make notes of things you need someone else to do ("Feed the dog at 8:30"), pick up ("Get bread at the store") or know ("I appreciate your help").
Display the week's dinner menu. You might even add who's in charge of cooking on which night or what ingredients need to be added to the shopping list. If you're cooking for unfamiliar people – maybe feeding your friend's five year-old isn't part of your usual routine – use the board to make a game of creating menus. Including them in meal prep could be a good way to keep toddlers busy when there's a newborn in the house.
You don't necessarily need a dedicated dry erase board to stay organized when you bring home baby. Depending on the type of surface, the washing machine can serve the same purpose. Just keep a dry erase marker in the laundry room and use it to leave yourself washing instructions, especially if you're unfamiliar with that washer and dryer. This could also be where that command center lives. Just let everyone know important messages can be found on the front of the dryer.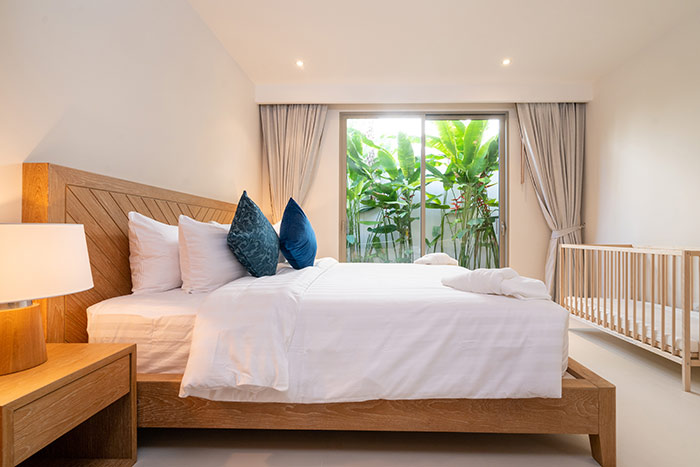 4. Set up a guest "room"
We all learned during COVID that it is possible to have too much quality time and a bit of healthy distance is, well, healthy. This might be a bit tricky, especially if the dedicated guest room just became a stylish nursery.
Assuming it's ok with the family, create a cozy niche in the basement or living room, just for you. Other than a place to sleep, all you really need is a place to sit, some good lighting if you need to work or want to read in your downtime, and perhaps a bit of storage. If your "room" is in a common space, fold and stow your bedding and personal belongings out of the way during the day, such as in a storage ottoman or basket by the couch.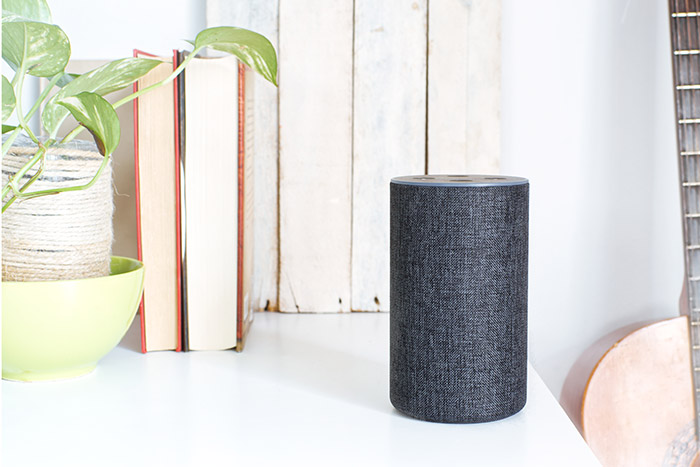 5. Take advantage of technology
Babies have been born and raised without the help of technology for millennia, but we say, if you got it, use it. Whether you're a gadget novice or just unfamiliar with the tech in Baby's house, make an effort to use it to its best advantage. You might be amazed at the convenience and peace of mind it creates.
Alexa is actually great with babies. While you can always make the typical requests like asking about the weather, try customizing it to the growing family. Instead of just asking her to play any music, say, "Alexa, play lullabies." Instead of asking her to turn the lights to party mode, say, "Alexa, good night nursery" to dim the lights for Baby's nap. Or better yet, use the Alexa app to do these things from the other room without disturbing Baby.
Multiple voice assistants can be used as an intercom system. Let's say Mom is in the living room with a sleeping or nursing baby and needs some help. She's desperate for a glass of water but can't get up right away. Now she can just ask Alexa to drop in on the device in the guest room or kitchen and ask you to bring her a drink, no yelling across the house required.
Especially if you're staying for more than a day or two, you'll love having a smart lock to easily come and go. Rather than getting and keeping track of a spare key, use a code at the door. Suggest using the last four digits of your own phone number as your unique access code to make it easy for you to remember without being too obvious to others. With this extra level of security and convenience, you'll have no trouble running to the office to grab a work document in the morning, picking up groceries in the afternoon and retrieving Suzy from ballet in the evening without getting locked out, ringing the doorbell or disturbing the family.
If you're worried about remembering all the tricks to the family's smart home – what's the guest WiFi password, what's that smart lamp called, how do you raise the smart blinds – ask them to make a cheat sheet. Do everyone a favor and make the request long before Baby arrives, though. Don't wait until Mom is sleep deprived, cranky and sore.
The first days at home with a newborn should be something special. Because we know it can also be overwhelming, we've shared more tips for bringing home baby. These childproofing hacks and home improvement projects for growing families are ways for helpful houseguests to make everyone's life easier.