Home improvement projects to do when you're expecting.
By emily.bailey
A new lifestyle and updated routines mean that you're going to need new ways to add convenience and safety. Try these home improvement projects to help you get ready for the new baby.
With a baby on the way, your family is about to get bigger and better. Shouldn't your home also get better? A new lifestyle and updated routines mean that you're going to need new ways to add convenience and safety. Try these home improvement projects to help you get ready for the new baby.
Nursery
When you're excited about bringing home Baby, there's nothing more fun than nesting in the nursery. Start with some the basics like painting and installing smart baby monitors. Use water-based paints for safety and paint early to give it plenty of drying and ventilation time.
While we're talking about ventilation and airflow, consider installing a ceiling fan. A 2008 study published in the Archives of Pediatrics and Adolescent Medicine found that an infant's risk of SIDS could be reduce by 72 percent if they slept in a room with a ceiling fan. You might like a little cool airflow as well, especially if you're nursing in the summer.
Look at your windows, too. If the windows or frames are damaged, won't open or won't secure tightly, it's time to replace them. This is not only a security issue, helping to keep intruders out of your home, but also can reduce your heating and cooling costs, protect fingers from windows that slam shut unexpectedly and more. Choose window treatments wisely, too. If you have blinds, go cordless to reduce choking hazards.
The nursery can be a good place for a baby gate, especially when you're introducing pets to your infant. But if you aren't looking forward to wrestling with an ill-fitting, ugly gate, try installing a Dutch door instead. You can open the top half, effectively creating a stylish baby gate. The kiddos and their toys stay contained inside without you losing sight of them, and everyone else, including Fluffy and Fido, stays outside. Check out these DIY Dutch doors on a budget to get started.
Lastly, don't forget about storage. For such little people, babies have a lot of stuff. Install drawer dividers to wrangle all those tiny socks and onesies. Because their clothes aren't very long, use all that closet space by adding hanging shelves or multiple racks.
Kitchen
Outside the nursery, the kitchen is one area you'll probably be spending the most time in. There are meals to prepare for the grown-ups and bottle washing galore for Baby. As the kiddo starts toddling around, you'll also want to be ready for their sticky fingers to get into everything.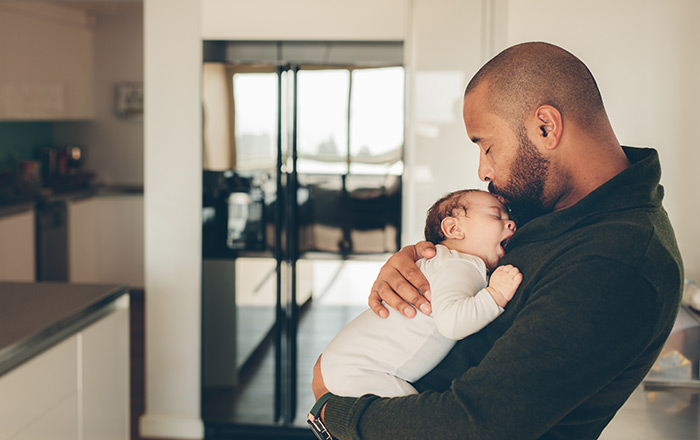 Let's start with a big-impact kitchen renovation idea for bringing home a new baby: improve your sightlines. Open floorplans lost some of their appeal during the coronavirus pandemic, but there is still something to be said about being able to prepare your meals and while keeping an eye on Baby in the other room. Consider removing walls, creating a pass-through or simply rearranging appliances, if possible. Note that, while there are plenty of DIY projects you can safely tackle when you're pregnant, demolition isn't one of them. Recruit others for that step.
A full kitchen reno isn't for everyone, though, especially if you're watching your finances before your expensive bundle of joy shows up. We also have some budget-friendly ideas for Baby. Install safety latches on cabinets and appliances. You'll want to protect their tiny fingers and keep them from getting into the refrigerator, oven or under the sink where you keep cleaning supplies. Similarly, there are covers for stove knobs so your kiddo can't turn on a burner.
Find a way to hide the trash. A pull-out cabinet could be your answer to not only having a more beautiful kitchen but also to keeping Junior out of the garbage.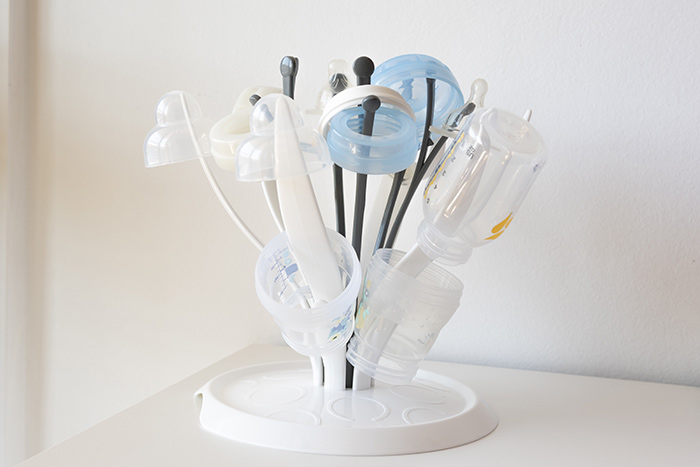 Kitchen organization when you're expecting is huge. You're about to have tons of new gadgets and accessories – bottles and bottle warmers, pacifiers, pump accessories, food storage – and it's all going to be tiny. Put a dishwasher basket on your baby registry and invest in bins for your pantry to keep from losing parts and your mind.
Make extra room in your refrigerator and freezer while you're at it. Baby is going to have a liquid diet for a while. And if you're breastfeeding and pumping, you'll need space to freeze your surplus. Again, bins can help you stay organized and avoid wasting precious nutrients for Baby.
Bathroom
Like your kitchen, bathrooms have a lot of potential for mishaps. Use safety latches on cabinets and even the toilet seat. Install anti-scalding devices on sink and bathtub faucets. An anti-scald valve prevents hot water from leaving the tap. Lowering the chance of burns means greater peace of mind during bath time, whether you're protecting Baby, an older family member or someone with sensitive skin.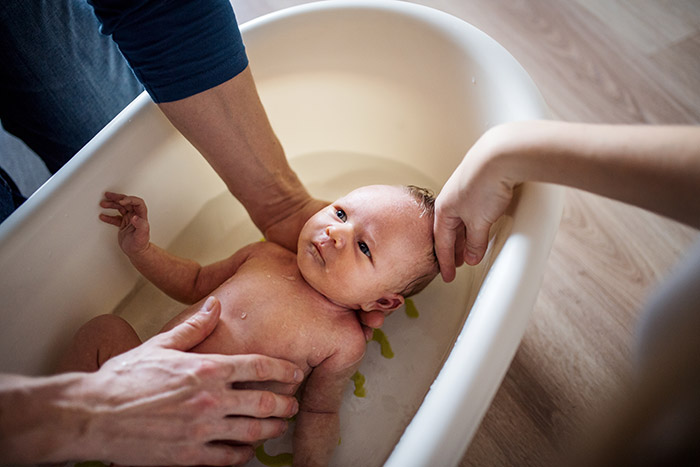 And if you're feeling a bit more extravagant, we have a few more ideas. Consider updating your bathtub to something more kid-friendly for starters. No one wants to bathe a toddler in a giant jacuzzi tub. Give your back a break.
You might also like heated flooring. Trust us when we say bath time, and eventually potty training, will be more enjoyable for everyone.
Laundry room
The amount of dirty wash is about to expand exponentially. Lots of little clothes that have to be changed multiple times a day due to spit-ups and any variety of accidents – all of them wet and with weird stain – blankets, bibs, burp cloths, washcloths, cloth diapers. So. Much. Laundry. You need some upgrades to make life easier.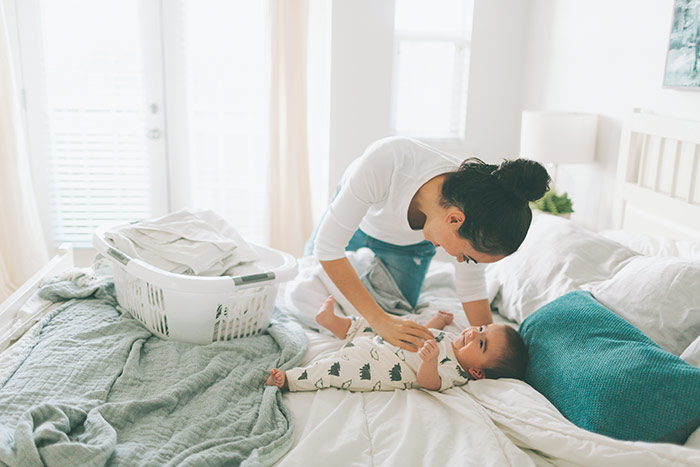 Now might be a good time to invest in a more efficient washer and dryer to save energy and water consumption. If you choose appliances with smart features that can automatically adjust washing and drying time and send notifications to your smartphone when it's done, you can also spend more time with Baby and less time checking on the laundry.
Set up a sorting and folding station. This could be multiple hampers or baskets – you should have a few good hampers anyway, especially in the nursery – or additional countertop space. If you don't have room to add dedicated counters, try this budget hack from Down Home Inspiration.
You'll also need safe storage for detergents and anything else you want to keep away from Baby. This could simply be a high shelf or cabinets that lock. We especially like this compact cabinet, which includes a bit of storage space as well as a fold-down ironing board and hooks. Anything that folds up and away can be a great solution when you're tight on space but need to store supplies, line-dry those adorable little outfits or need a temporary table for folding.
The rest of the home
Obviously, you and your baby won't stay in just one spot, so it's important to prepare your entire home for their arrival. Some of our suggestions are about safety, other are all about adding convenience. Your life is about to get a bit more … interesting, after all.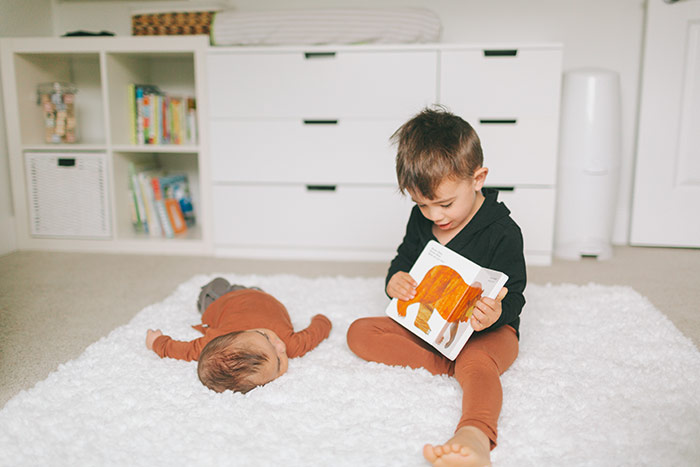 First, examine your home with a critical eye for safety. Test for lead paint, especially if you have a house older than about 1980, as well as mold and air quality. Make the appropriate updates. You might need to paint, treat mold and mildew, or invest in an air purifier.
All those safety monitors you have in your house? The carbon monoxide, smoke and gas detectors? Make sure they're functioning properly and replace their batteries now. You might even want to upgrade to smart smoke detectors, which will send alerts to your phone and, depending on the model and smart home compatibility, sometimes even contact emergency personnel for you.
Check your stairways and railings, both inside and out. You never want a tripping hazard, but it's even more important when you're carrying Baby or have your hands full with all their gear (and when you're dead-on-your-feet tired and less observant). Fix any rickety or uneven stairs, maybe install anti-slip tread and resecure loose hand railings.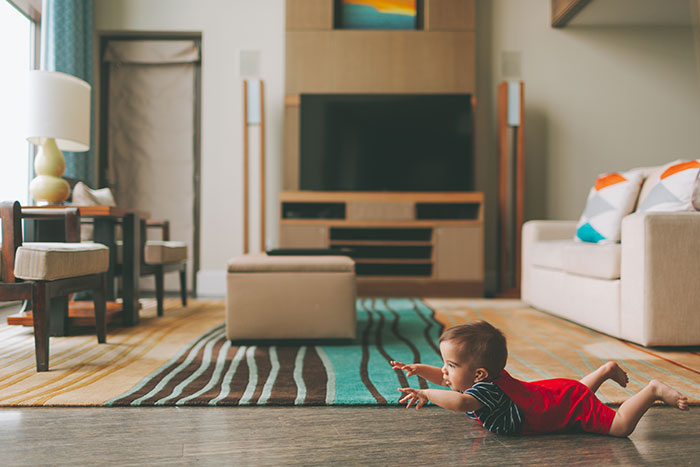 When they're fresh home from the hospital, they won't be very mobile, but eventually Baby will start crawling and exploring. Be ready for that day by securing bookcases, TV stands, dressers and any other furniture that could tip. You can find brackets for securing furniture to the walls at most home improvement stores.
For a dose of safety and convenience, install smart lighting. Do it all over the house – the nursery, the kitchen, your bathroom. When you can see, you're less likely to trip. Think of all those new toys lying around. And soft lighting, which you can often control via a smartphone app, means you can make it to the bathroom or nursery in the middle of the night without blinding yourself.
Sync your lighting with a smart home hub and create Scenes or Routines. Tell Alexa to start the Baby Bedtime routine to dim the lights, play lullabies, turn the temperature down to 70 degrees – Baby sleeps best between 68 and 72 Fahrenheit – and turn on the smart baby monitor, all with one command. Doesn't that sound a lot nicer than running around while you're trying to get your little one down for a nap?
There are so many opportunities to make your home welcoming for your new baby and the family who wants to visit and help. We didn't even get into door locks for toddlers or childproofing your home. Find these tips and more at the Schlage blog.