Choosing the right security grade for your exterior deadbolts and locks.
By emily.bailey
Here's what you need to know to choose the most secure, and stylish, deadbolts and locks for each door of your home.
When it comes to exterior door hardware, quality matters for both security and style. You need to choose a lock you can trust to help keep your belongings and loved ones safe. A great bonus is if it happens to enhance the curb appeal of your home, too. Here's what you need to know to choose the most secure, and stylish, deadbolts and locks for each door of your home.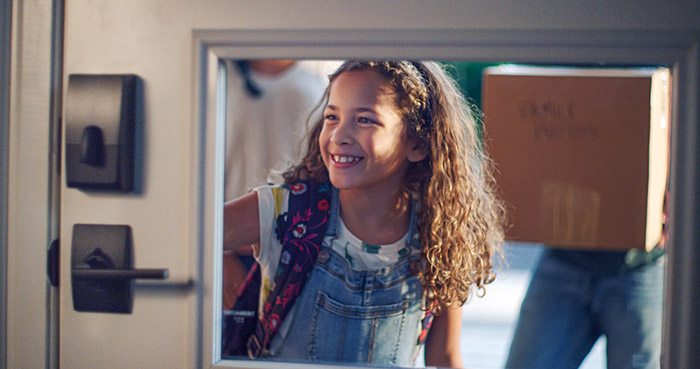 What are door hardware grades?
The grades from door hardware testing are a great way to determine if a lock meets your security needs. Look for hardware that has been tested against the highest industry standards, like the BHMA residential grading system.
BHMA is a group of industry experts that grades residential door hardware performance in the categories of Security, Durability and Finish. A grade of 'C' is good, 'B' is better and 'A' is best. When you see something is AAA, that means it received the best grade possible in all three categories.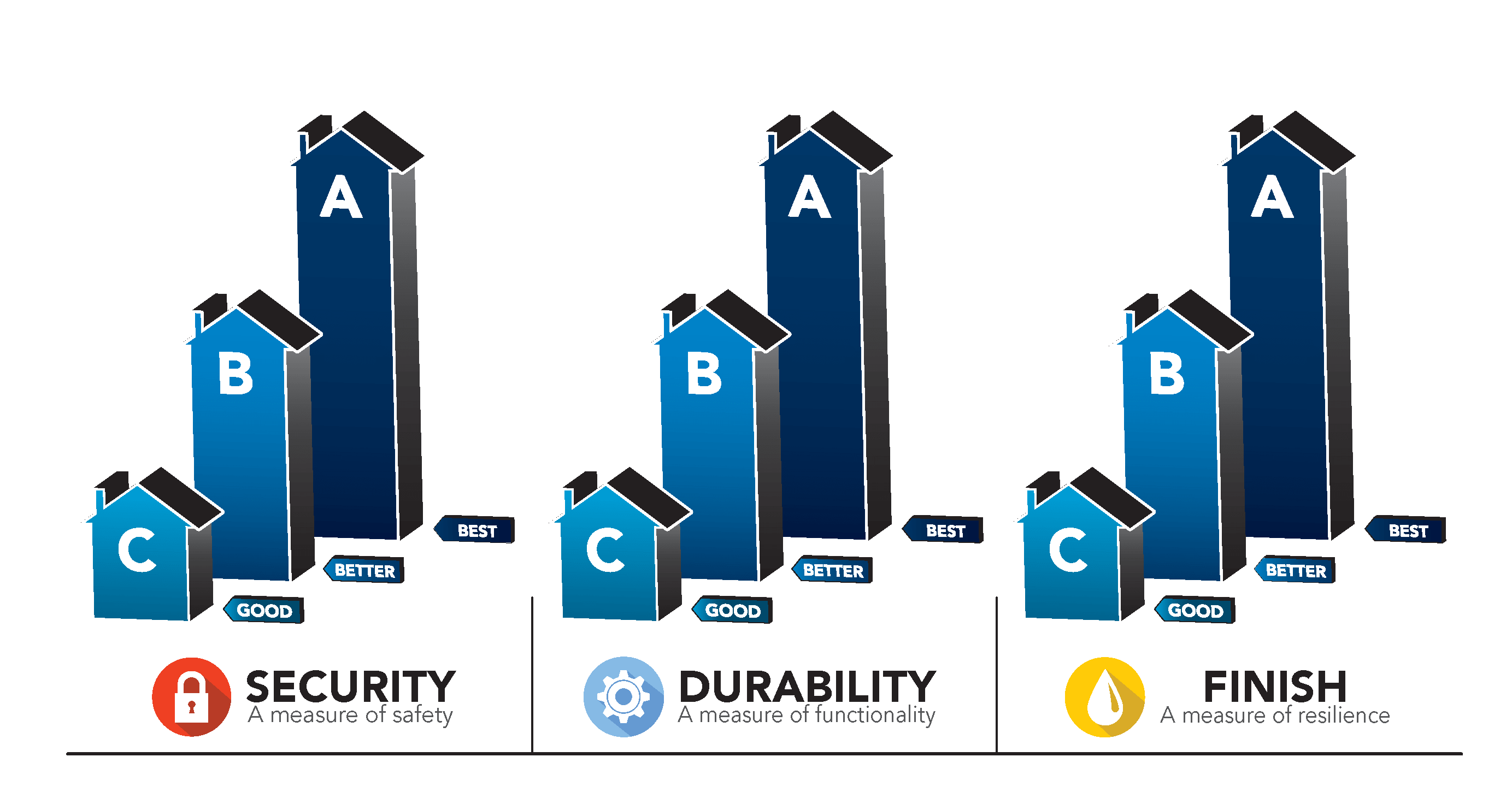 Now that you understand how to find the best possible grade (AAA) for deadbolts and locks, you can start to figure out what the best exterior door hardware is for each of your home's doors and for your lifestyle.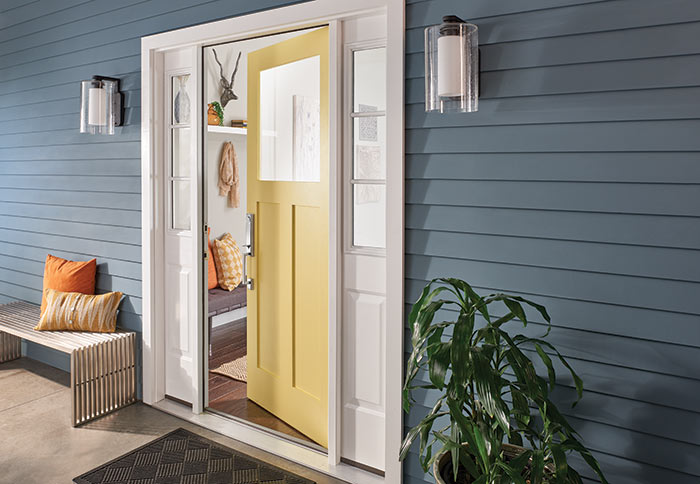 Most break-ins – 34 percent, according to some reports – happen at the front door. That means improving security at your front entry is a good step toward improving the security of your home overall. Choose a deadbolt that's been tested for quality against bumping, picking and forced entry and received the highest BHMA rating in Security.
The front door is also your opportunity to make a lasting first impression. Greeting your guests with a chipped or faded handleset might cause them to think that other details in the home will be neglected. Instead, choose a deadbolt and handleset with a style and finish you love and that will last.
Do both these features – security and style – come in one neat package? They certainly can. Schlage mechanical deadbolts and F-series handlesets are graded AAA in residential Security, Durability and Finish. When you want to make your home your sanctuary, someplace you feel both secure and comfortable in all ways possible, you know you can turn to Schlage.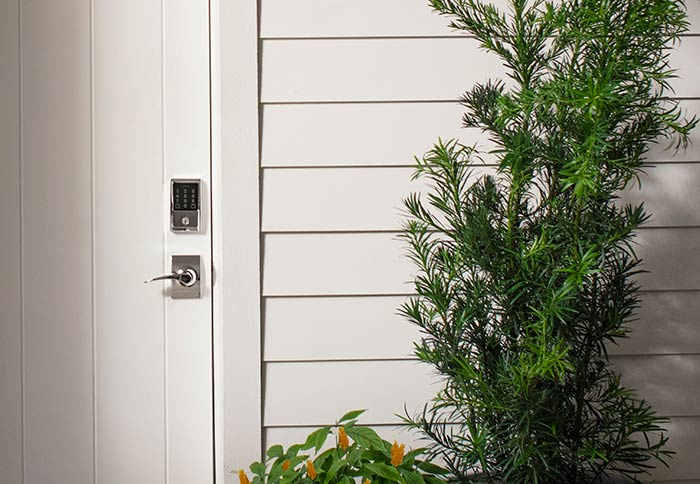 Like many homeowners, you may find that your back door or side entrance are the most frequently used. Finish and security still matter here, but you may want to look for a lock that also adds greater levels of convenience. A smart lock or electronic deadbolt at the back door ensures that trusted family, friends and service providers who need access to the home have it without you needing to hide a spare that can be easily found by intruders.
If you're looking for a smart lock with a AAA grade, you'll want the Schlage Encode™ Smart WiFi Deadbolt, Schlage Sense® Smart Deadbolt or Schlage Connect® Smart Deadbolt with alarm.
Interior and exterior garage doors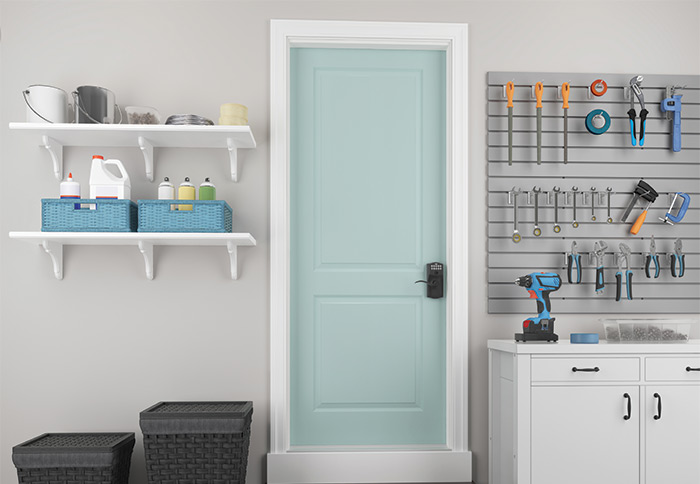 Convenience definitely matters for garage doors, whether interior or exterior. As we get closer to summer, we often find ourselves coming and going more frequently. Our outdoor DIY project list is growing and summer activities are picking up. Make it easy to get out the door to start the fun or get tools from the garage by choosing a AAA-rated keyless lock that adds convenience and an extra layer of security.
The Schlage Touch™ Keyless Touchscreen deadbolt and lever are perfect for garage doors and are rated AAA in Security, Durability and Finish.
For more information about door hardware grading and finding the most secure deadbolts, visit the Schlage Security Center.