How to throw a royal garden party on a common budget.
By emily.bailey
Since most of us don't have the royal resources to pull that off, here are Schlage's hacks for hosting a royal garden party with an everyday budget.
There are backyard bashes, and then there are garden parties. Generally considered swankier events, garden parties have historically been soirees of the social elite. The
Queen of England hosts two annually
where she serves over 27,000 cups of tea, 20,000 sandwiches and 20,000 slices of cake … at each. Since most of us don't have the royal resources to pull that off, here are Schlage's hacks for hosting a royal garden party with an everyday budget.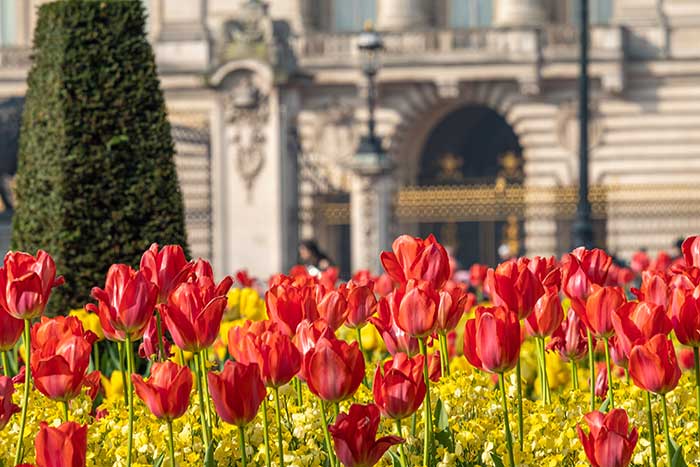 Location
Royal Version:
The Queen hosts her parties at Buckingham Palace, which with almost 40 acres of gardens is the largest private garden in London, and the Palace of Holyroodhouse, home to seven greenhouses, in Scotland.
Your Version:
Even if you don't have Buckingham Palace at your disposal, your own backyard can be the perfect location. Vertical gardens with climbing plants can give the illusion of a walled English garden, for example. If your flower beds aren't in hosting shape yet, try containers. Most home improvement stores will have some pre-made baskets and pots in the spring and summer. Choose blooms that suit your taste or in colors that fit your party theme, then arrange them to help transport your guests to another world full of fancy hats and fascinators. In addition to plants, consider adding a water feature – Buckingham Palace has a three-acre lake, after all – lighting like candles or lanterns, and outdoor heaters as needed to give your home that palatial garden feeling.
Invitations & dress code
Royal Version:
The Queen's garden parties are invitation-only, and potential recipients have to be nominated for an invitation by local governments, civic groups and faith organizations. Guests are expected to adhere to a strict dress code with morning coats for men and day dresses for the ladies.
Your Version:
Skip the nominations, even if you are an epic party planner, and simply send an e-invite or mail a handmade masterpiece. Make sure guests know it's a garden party. No one wants their sink their new heels into the dirt because they didn't realize they'd be outside. If you want a dress code but don't want to seem pushy, ask guests to choose attire based on a theme, such as floral dresses for a flower-themed garden party. Especially if you're asking friends to dress outside the norm, send your invitations a few weeks in advance.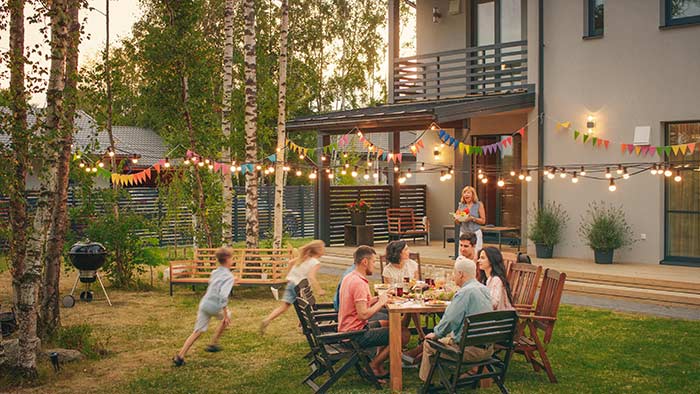 Food & drink
Royal Version:
Jam pennies and ham and mustard sandwiches are reportedly among the Queen's favorites. There's also a strict no-alcohol policy at her garden parties.
Your Version:
If you don't know – and don't care – what a jam penny is, stick to something you already know, love and can prepare easily. The last thing you want is to be fussing with tiny sandwiches when you should be socializing with your guests. As for drinks, a traditional garden party calls for tea. For your version, large batches of lemonade or cocktails can be refreshing for summer parties, and they require little extra effort on your part.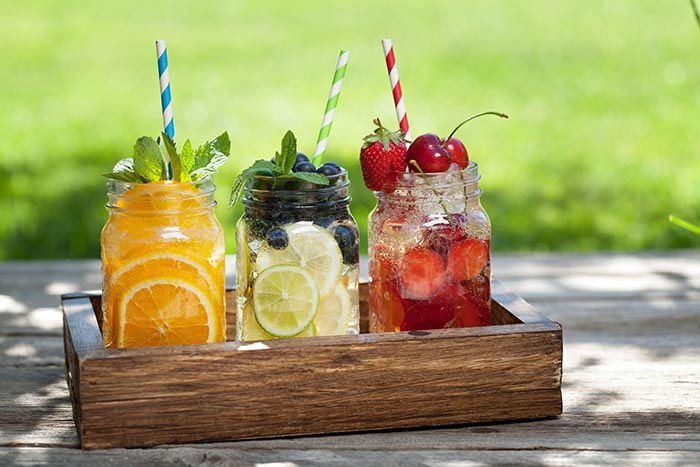 No matter your taste, consider these garden party dining tips:
If the weather's hot, avoid foods that will spoil quickly in the sun.


Buffet-style serving saves you time and allows for guests to mingle more.


Whether cocktails, mocktails or a pot of Earl Gray, stock a bar cart for all your guests' libation needs.


Freeze water balloons and put them in the drink cooler. Cans and bottles will stay cold, and guests won't have to dig for beverages in the slush.


Keep bugs out of drinks and off food.

Mesh domes

for platters or

cupcake wrappers to top drinks

are a few budget-friendly options.


There's no royal decree against a potluck garden party, so don't be afraid to ask friends to chip in.
Tablescape
Royal Version:
The Queen comes prepared for her garden parties with lengths of tents, and we can only imagine the elaborate floral arrangements, china tea cups and silver platters heaped with treats you might find under them.
Your Version:
You can always go with one big table, family style, but don't discount lounge seating, especially if you want your guests to mingle casually. Pillows and blankets on the grass might also work for you. With these smaller conversation hubs, be sure guests have someplace to sit their drinks and plates.
When it's time to decorate. Flower arrangements are tried-and-true for garden parties. You might make them your centerpiece or include them in name tags if you have assigned seating. Martha Stewart suggests an herb centerpiece – they can be just as fragrant – for when you want a more original look.
Entertainment
Royal Version:
When the Royal Family arrives at their garden party, a military band plays the national anthem.
Your Version:
Create a playlist on Spotify or another favorite music service. If you have an Alexa-enabled Bluetooth speaker outdoors, you'll be able to easily control the ambience from your phone or with just a quick word to the voice assistant. Make sure your playlist sets the appropriate mood, whether you're going for upbeat and fun or more calming.
If your guests include children, or even fun-loving adults, a few simple yard games might also be a good idea. And if party favors are up your alley, House Beautiful suggests a flower-arranging station that not only fits the flower-themed garden party, but also gives guests an activity and a gift to take home. Plus, you don't need to hire a florist or toil away at making bouquets yourself beforehand.