Upgrade your outdoor space with these 8 easy tips.
By emily.bailey
Here are eight tips to help get you started so that you can turn your backyard into the oasis you and your family desire.
When we redo a living room, we put a lot of thought into it. We sit on countless couches at furniture stores all over town to find just the right one. We thoughtfully pick out each piece of art for the walls, fret about paint colors and analyze how durable different types of flooring are. Do you put the same effort into designing and decorating your outdoor space?
2021 is the Year of the Yard. According to a survey from the International Casual Furnishings Association earlier this year, we don't just want a deck or porch that looks good. We also want one that fits our lifestyle. When asked, 53 percent of those surveyed said they want to create an enjoyable and functional space. The ability to entertain (36%) and creating a private retreat (34%) were also at the top of the list.
When we expect our outdoor space to be such a big part of our everyday lives, why wouldn't we work just as hard on its design as we do any room indoors? Here are eight tips to help get you started so that you can turn your backyard into the oasis you and your family desire.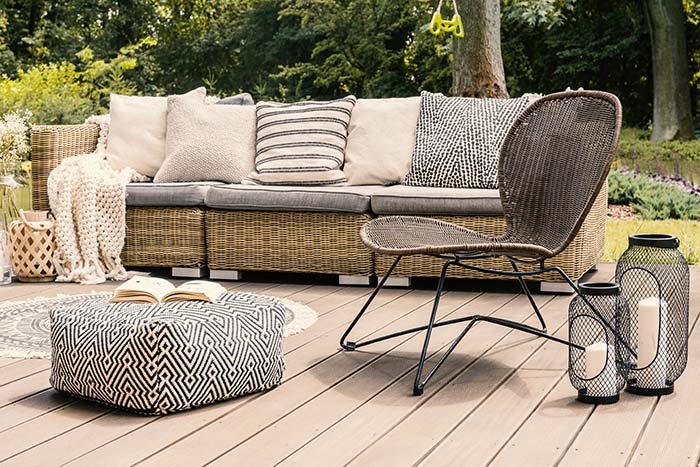 1. Decide how you want to use your outdoor space
For some, a kitchen is purely functional. For others, they want a kitchen that's a gathering place for family and friends to hang out and munch on hors d'oeuvres. Just as you would when remodeling a kitchen, figure out how want to use your yard or deck. Is it all about relaxation with hideaway nooks or do you need open space for play? Is it a place for the dogs to get out and "ruffhouse" or are you more into gardens full of delicate beauty? Once you've decided what you need the space to do for you, the rest of your decisions will be much clearer.
Before you start digging or erecting any kind of structures, it pays to check with local officials and HOAs about zoning regulations or permits. The last thing you want is to have to tear down your hard work, pay fines or inadvertently hit a water or electrical line because you didn't cover your bases early on. This is especially true if you live in an historic neighborhood.
2. Make a style plan
You can throw out a couple lawn chairs and call it a day. Or, you can showcase your style, just like you would inside your house. Choose a décor theme or trend to help keep you focused when choosing outdoor furniture and plants. For example, if you want to feel like you've escaped to a Tuscan villa, look for Old World-inspired décor such as lanterns, stonework, palms or topiaries, and wrought-iron accessories. If you're more into cozy casual, soft cushions, outdoor rugs and water features will be more fitting.
3. Shop your own home
We often recommend repurposing items in your own home to achieve a budget-friendly style lift. The same goes for your outdoor space. If you have planters on your front porch, maybe bring them to your back deck instead. The same goes for outdoor rugs and other furniture.
You might even see if you have indoor furniture you can bring outside. The International Casual Furnishings Association found that 40 percent of Millennials plan to add a sofa or sectional to their outdoor space. That doesn't necessarily mean you bring your living room couch outside, but in many instances, you can apply a weather-resistant coating to cushions, paint and finishes so that they'll hold up better to Mother Nature.
4. Upcycle and DIY furniture and décor
While you're shopping your own home, see if there are any items you can give new life with a little elbow grease. Maybe that chipped teapot becomes a rustic farmhouse planter. Maybe you build a latticework trellis for extra shade and privacy. Perhaps you transform an old door into a porch swing. Upcycling goods you already have or building your own is an excellent way to cut down on waste and to put your personal touch on your home.
5. Add convenience where you can
Especially if you're upgrading your outdoor space so that you can retreat and relax, you'll need to look for ways to add convenience. You might love to garden and find working in the dirt to be therapeutic. But if you always have to haul your tools around from the garage, this once-calming hobby could lose its charm. A small garden shed nearer to where you use those tools can be a lifesaver. If your goal is to entertain more with backyard parties, think about furniture that doubles as storage and seating, a functional outdoor kitchen or bar, or extra power outlets for speakers and lighting.
6. Focus on sustainability
You wouldn't put unsafe or sharp materials in your child's new playroom, so why would you choose materials for your yard that are harmful to plants and animals? When planning your garden, focus on native plant species. Flowers that are found naturally in your region not only put less stress on the ecosystem, but they also encourage helpful bugs like bees and butterflies. You might like to plant trees that attract your favorite birds or leave stumps, which can be the perfect natural home for a range of critters. Houzz also suggests leaving gaps in your fence as kind of "green highway." Too many manmade barriers can disrupt animal migration patterns and movement. Leave a path for our furry friends.
If you're installing a new deck, look for composite wood decking, which is more sustainable than many other more traditional materials. Finally, when choosing lighting or fountains, choose solar-powered alternatives to ease the strain on the electric grid.
8. Keep it secure
You wouldn't think twice about putting a strong deadbolt on your front door or making sure the door hardware in your home can hold up to everyday life. You shouldn't think twice about securing the back door to your patio or deck, either. And just like you want to add convenience for relaxation and entertainment, you can get convenience from your security as well, especially when you choose an electronic or smart lock.
We recently heard from a Schlage customer who installed a Schlage keypad lock on their back patio door. The deadbolt's keyless entry and auto-lock feature allowed them to work in the yard without worrying about their home's security or getting locked out, even as they moved from the backyard to the garage in front, inside for water and back again. Plus, when they have friends over, they can deactivate the auto-lock feature to easily enter the house with grilled food, to grab more drinks or to use the restroom, no code necessary and no need to stop the party.