7 smart tips for trusting your home to pet sitters.
By emily.bailey
How do you make your pet sitter feel welcome without compromising digital security? We're sharing seven ways to safely give guests smart home access.
When you have someone gracious enough to house sit or pet sit while you're away, you want them to be comfortable. Part of that is giving them access to the technology in your home and making sure they know how to use it. But how do you make them feel welcome without compromising digital security? Since March 2-9 is National Pet Sitters' Week, we're sharing seven ways to safely give guests smart home access.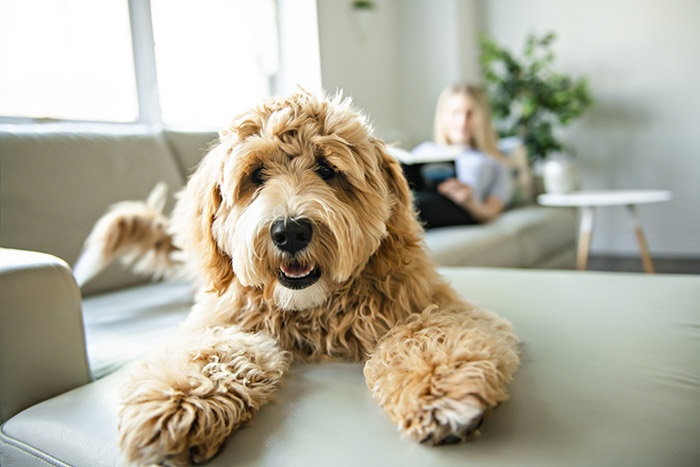 1. Be careful who you trust
If you're entrusting your furry friend (or plant pal) to a house sitter, you probably aren't too worried they'll run off with your TV. That being said, only share credentials for your WiFi, smart lock and other smart home devices with those you trust wholeheartedly.
Be judicial with what you give guests credentials for, too. If you don't want them to be able to change the smart thermostat, you don't have to give them those permissions.
2. Set an access schedule
When you do give your house sitter access to devices, check to see if you can schedule that access. For example, Schlage smart locks let you decide when the unique code you've created for your guest will work. If they're staying from Friday to Tuesday, you can set the code to expire automatically on Wednesday.
Not all devices will have this convenient scheduling functionality. If this is the case, we recommend setting a reminder for yourself to manually discontinue your guests' access as soon as possible upon your return.
3. Create a guest network
You can also restrict access to your primary WiFi network but set up a guest network for visitors. This is a good way to protect your smart devices. Your house sitter will still have access to the internet but not the network that controls all of your devices. Think of it as your guest and your devices driving on two parallel roads that don't intersect. Your pet sitter can still watch Netflix and post on TikTok, but they'll have a harder time modifying settings of your smart home devices.
4. Share passwords with QR codes
Whether you grant main or guest WiFi access to your sitter, you can password protect your network. Instead of exchanging passwords they might forget, create an easy-to-scan QR code. Leave the QR code somewhere convenient like the refrigerator door.
You can use a site like QiFi to create your QR code. Some phones can also generate one automatically when you select the "Share" option in the Settings menu.
5. Add smart switches
You think you have all your automations set up perfectly, then that light you scheduled doesn't turn on. One reason could be that it's turned off at the switch. To avoid this, and to keep your automations working correctly when someone unfamiliar with your home is visiting, choose smart switches and buttons at the wall. These will ensure that your devices will work as you scheduled them, even if they're in the "off" position.
This is also a handy tip for family members who live with you. Little ones who can never give the right voice command or someone who's just in the lifelong habit of flipping a switch won't interrupt your automation if you choose the right physical smart switches.
6. Leave a helpful list
Leave a list of common voice commands and instructions. Even if your pet sitter is tech savvy, they might not be familiar with the names you've given your devices. No matter how many times they yell at Alexa to "Turn on light!" it just won't work if you called it "living room lamp." It's frustrating and opens the door for them to take matters into their own hands, disrupting your automations and possibly breaking something. You don't have to include every single device name and how-to on your cheat sheet, but make it comprehensive enough to cover anything they might use.
7. Pause your personal automations
Pause or turn off any schedules and automations that might disturb your sitter. This could include the "Wake Up" routine that automatically turns on lights and the coffee maker. Your sitter might appreciate a nice brew waiting for them … or they might be mad that everything woke them up before they were ready.
Smart home technology can add greater convenience and security to our lives, and our guests', every day. For more tips on getting the most out of your smart devices, check out our Technology and Home Security sections of the Schlage blog.