How to feng shui your entryway and curb appeal.
By emily.bailey
Wednesday, March 17, 2021
Even if you aren't sure you're able to change your home's energy, you can be confident that these suggestions will still give your curb appeal and entryway a boost.
We feed off the world around us. It's why we light candles to set the mood, bake cookies before showing a house or play relaxing music before bed. Many people turn to feng shui to enhance the energy in their home in hopes to transforming various aspects of their lives. It can be applied to any area of your house, but here we share some simple feng shui tips for your entryway.
Many elements of feng shui center on making a welcoming statement, inviting in positive life force energy as well as you, your family and guests. Even if you aren't sure you're able to change your home's energy, you can be confident that these suggestions will still give your curb appeal and entryway a boost. It's hard to say no to that.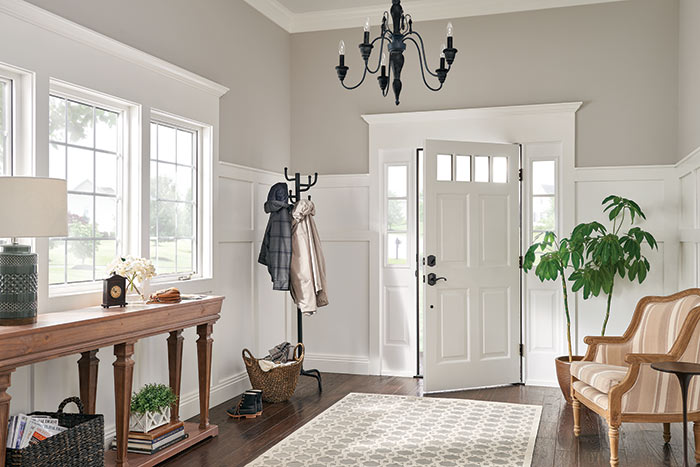 What is feng shui?
Dating back to ancient China, feng shui's long history and complete practices are a bit too extensive to dive into here. To get you started, though, it helps to understand that feng shui is the art of balancing your living environment – your home, workplace or neighborhood, for example – with the natural world. By balancing the five facets of nature – fire, earth, water, wood and metal – in your home and with the eight bagua – wealth, fame reputation, partnership, family, children, tai chi, knowledge and helpful people – you can improve the energy or life force of that space.
Lots of things can affect your life force, or qi (pronounced "chee"), including what your furniture is made of and where it's placed in the room, the plants you choose for your garden and the colors you paint your home. The thought is that with proper arrangement and attention to details, you can improve your qi, leading to greater happiness, prosperity and health.
How do I improve feng shui in my entryway?
Lighting, with its relation to the fire element, is hugely important when it comes to feng shui. This includes both natural and artificial light. Clean your fixtures and rid them of dust or grime. The same goes for your windows so that you can get as much sunlight as possible. You can also benefit from lights placed at different heights, such as with wall sconces, a chandelier and tabletop lamps.
Continue improving your entryway's feng shui by choosing the best paint colors. Ceilings should be a bright flat white to reflect more light. Other colors you introduce depend on what kind of energy you're trying to produce. Light blues and greens promote growth, healing and new beginnings. Pinks are about nourishment and youth. And light grays and whites promote clarity and precision.
Mirrors and rugs are common in many entryways. We love them for their pure decorative benefits, but they can also impact your qi. Mirrors will help reflect light, but you don't want to place it directly in front of the door. It's believed that any positive energy entering the house will essentially be reflected right back out before you can benefit. When choosing a rug or mat, steer clear of designs with birds or angels, which bring bad energy when stepped on, and choose instead something with a sandy or grassy feeling to replicate nature.
Just as important as adding décor elements is removing those that block positive qi. Make sure your entryway is free of clutter. Coats, shoes, mail and other miscellanea can keep the positive energy from flowing throughout the house. And, as The Spruce puts it, "your unconscious mind sees this clutter every time you enter your home. It's not very relaxing and it creates stress." You don't have to remove every item from your entryway, but keeping it organized will help.
You also want to remove dead plants. Because of its connection with nature, feng shui almost always improves with additional greenery, but only when it's still living. You also want to avoid prickly plants or those with pointed leaves. Instead, opt for round-leafed plants like a Jade plant, Chinese money plant for fiddle leaf fig tree.
How do I improve my porch's feng shui?
Curb appeal is important for making a good first impression on your guests. You might think of feng shui in terms of making a good first impression for your qi. You should be able to see your front door from the street. The main entrance to your home is considered the "mouth of qi" or a portal for positive energy to enter your home. You want it to be easy for guests, whether people or energy, to find their way inside.
If it's difficult to find the front door because it's actually on the side of your home or obstructed by an architectural detail in some way, light the walkway or add some other visual signal to make it easier to find the entrance. On a similar note, house numbers should also be visible from the street.
Part of improving the feng shui of your front door is maintaining it – repainting when it starts to chip, greasing squeaky hinges, replacing sticky locks – and the same goes for doorbells. They should be easy to find, use and in good working conditioning.
Before you even get to the front porch, however, think about how your walkway contributes to your qi. There should be a clear path to your front door with no trees, plants or other obstructions that block positive energy off from the entrance. Don't mistake "clear" for "straight," though. Some feng shui experts posit that a slightly curved path has more positive impact because it is more natural than one that's artificially straight.
Whether you're adopting the practices of feng shui or are simply looking to change up your look, Schlage can help. Find more tips for curb appeal on our blog or spark your imagination on Pinterest.