Celebrate St. Patrick's Day with these family-friendly ideas.
By emily.bailey
These kid-friendly St. Patrick's Day ideas, with everything from crafts and activities to simple DIY décor and delicious munchies, are just what the leprechaun ordered.
Need an alternative to the parades, green river cruises and pub crawls? Luckily for you, these kid-friendly St. Patrick's Day ideas, with everything from crafts and activities to simple DIY décor and delicious munchies, are just what the leprechaun ordered.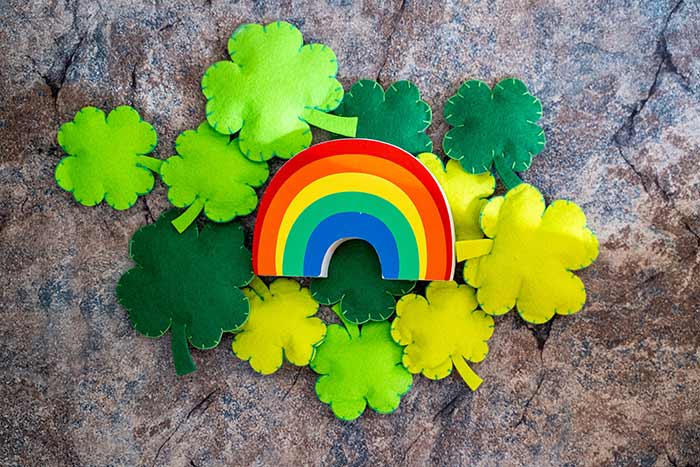 Crafts and entertainment for leprechauns of all ages
Even though St. Patrick's Day 2021 is in the middle of the week, you might need a project to keep the kids occupied and entertained. While you're working on dinner – we have some ideas below – they can be working on these simple St. Patrick's Day crafts and activities.
No more Elf on a Shelf. 'Tis the season for leprechaun traps. Recycle a shoebox, pull out the construction paper and pipe cleaners, and you're well on your way to a fun craft project for kids. Sweet Metel Moments has the

guide for your trap

.


Get the kids moving and exploring with a treasure hunt. We love that you can tailor this to any age, whether you have to do it indoors or out, and fill it with clues that fit any interest. Love Grows Wild has some free printables, and The Dating Divas gives clue suggestions for an

exercise-based treasure hunt

. Your kids can earn a Leprechaun Training Certificate at the end.


Don't wait until Thanksgiving for a gratitude project. Lisa Storms helped her kids make a Lucky Clover Patch where they can write what they're thankful for on shamrock cutouts.


If you're looking for a simple craft to gift, take a page from Lia Griffith. Her

leprechaun candy huggers

remind us of those little Valentine cards kids sometimes give at school. She even has a free downloadable pattern.


Read some tales from Ireland. The Irish are known for their vivid storytelling and legends. It's a great way to introduce kids to new culture and spend some time reading together.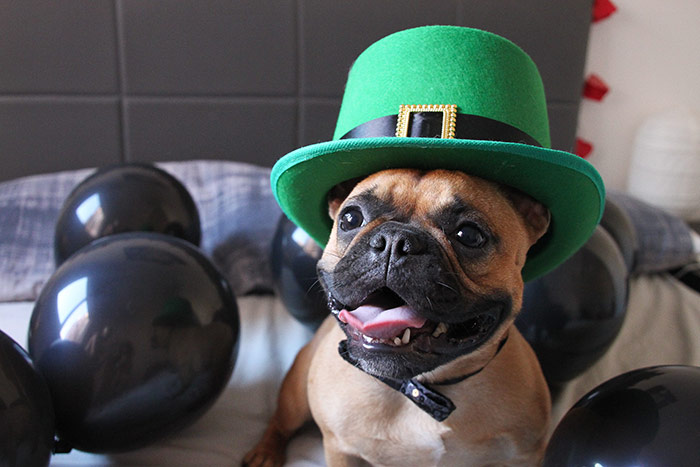 Décor for the day
Outsource your homemade festive décor to the kiddos, no matter how young. These ideas get their creative juices flowing.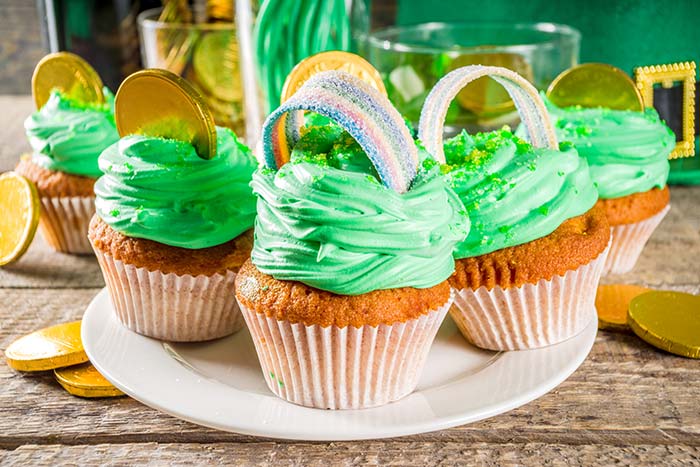 Food
It's not a party without some good food. Treat your wee ones without pumping them full of sugar with some of these (sort of) healthy St. Patrick's Day food for kids.
Do their bodies good with some green milk. Just stir in some food dye and call it done. It works for their morning glass of moo juice or in their cereal before you send them off to school.


Green snacks are where it's at. Slice up some kiwi and pack green grapes in their lunch. Throw in some cucumbers, broccoli or green peppers with hummus. Let them get their dip on with some guacamole. Or

dye a hardboiled egg

for some festive protein.


Corned beef and cabbage are traditional St. Patrick's Day fare, but we wouldn't be surprised if your kids put their foot down when you serve that. Try these

Irish beef hand pies

instead. Peanut Blossom says they're easy to make ahead and the cabbage melts into the filling, so your little leprechauns will never see the vegetables coming.


Keep the green food dye handy for your desserts. Add plenty of coloring for baked goods, especially if you're making them from scratch or using a boxed vanilla cake mix. Or go all-natural and sneak some veggies in while you're at it by adding spinach to your mix. This recipe from Renee's Kitchen Adventures shows us how to make

spinach cupcakes with Irish cream frosting

. We bet even your pickiest eaters won't know they're getting their leafy greens.


If you need some chocolate in your life (who doesn't?), try these

leprechaun hat s'mores

from The Cake Blog. We think making them with your kids would be as fun as eating them.
Visit the Schlage blog for even more kid-friendly activities you can do at home. Or check out our green décor ideas that would make St. Paddy proud.