Beat the winter blues with these simple, affordable mini home makeovers.
By emily.bailey
Thursday, February 25, 2021
If a micro makeover sounds like the boost you need to beat the winter blues, check out these tips and ideas.
Not every home makeover has to be a major investment in time and money. Sometimes a quick little refresh is exactly what we need to lift our mood and give new life to our homes. If a micro makeover sounds like the boost you need to beat the winter blues, check out these tips and ideas.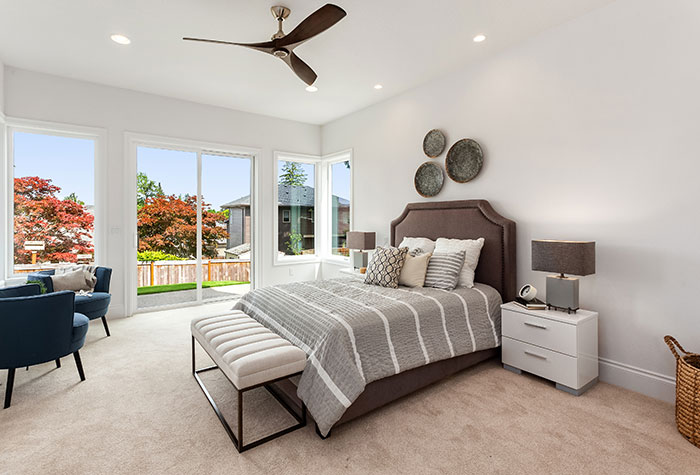 Tips for the perfect mini home makeover
Pick a theme. Do you want your home to feel more like spring? Do you want to create the illusion that you're on a vacation without leaving home? Do you want your kitchen to feel more like a restaurant (and get out of that eat-at-home pandemic rut)? Planning around a theme will guide you to the right look while also helping you stay within your budget, whatever it might be.


Shop your home. One of the appeals of micro makeovers is that we don't have to have a big budget to make a big bang. The best way to save money is to shop your own home. Use furniture and accessories from other rooms. A change of scenery can have a bigger impact than you might initially think. And remember that you don't have to use them in the same way, either. That bench at the end of your bed could make a perfect coffee table or ottoman for the living room.


Removing items can be just as impactful as adding them. Decluttering is a good way to make a space feel more open, but removing unnecessary items also lets the rest of your décor shine. The gems in the room are more likely to stand out when your eye isn't distracted by everything else.
Ideas for a mini kitchen makeover
You can't really rearrange your kitchen without a gut job, right? You can't move the plumbing in a weekend, and the refrigerator is only going to fit in that one spot where it already is. Micro makeover to the rescue. Start with lighting and plumbing fixtures. A new light fixture – something more to your taste or that matches your home's style – can make a world of difference. New bulbs might help, too, if we're honest. Sometimes a space looks sad simply because it's dark.
When you're choosing a light fixture, consider a new faucet and match the finish to the lighting. Replacing a faucet yourself is probably easier than you think, so this could be the perfect opportunity to get a touchless model or a commercial-style faucet for a more modern look. Matching it to other metallic elements in the room can help to pull the style together and give it sophisticated flair.
If you're game for a bit of a bigger project, resurface your countertops. We like tiled kitchen countertops, which can be placed right on top of laminate for relatively little money. Tiles come in different styles and colors, including some that are made to look like more-expensive granite. You can also paint laminate countertops or try peel-and-stick vinyl sheets.
Lastly, look at your
organization
. Are there items on your countertops that could be stored in a cabinet or gotten rid of completely? Are there items in your cabinets that would look nice on display? We're seeing a lot of homeowners hang their pots and pans as functional décor. If you have cutting boards that look particularly nice, display those like
Coco Cozy
. Hooks on the wall or cabinet side will do the trick, and so will a
DIY pegboard
.
Ideas for a mini bedroom makeover
Most of us want our bedrooms to be somewhere we can snuggle in and relax. What is more snuggly than soft, inviting bedding? Refresh your comforter or duvet – go for something light colored if you typically have dark or patterned if you have solid colors – for a new feel and look. If your pillows are too flat or lumpy, this could be a good time to make the switch. You might find they'll help you sleep better, too.
Beyond the bed, update your window treatments. Add or replace curtains. Like your bedding, you might choose something with a totally different look than what's already there. Try blackout curtains if too much light keeps you awake at night.
Consider new floor coverings as well. Carpet and area rugs can make such a big difference. One, they're cozy on cold toes in the winter. Two, they can add color and texture to a room, both of which are so important when it comes to style. And three, they can help dampen noise coming from the rest of the house. If others moving around in the evening or early morning keep you awake, soft flooring might be your answer to uninterrupted sleep.
Ideas for a mini entryway makeover
Micro makeovers are perfect for entryways. Small spaces don't always need massive overhauls to feel like you've made a difference. Perhaps our favorite tip is setting up the perfect landing strip. That means a shelf or side table to collect keys, mail and whatever else you have in your hands when you walk in the door. A landing strip is also great for a touch of seasonal décor in your entryway.
Depending on how much space you have to work with, choose a console table or even a floating shelf. These can sometimes be sourced from somewhere else in the house. The key is to choose something proportional to the space, usually fairly narrow. To keep it looking like a random table tucked by the door, accessorize it with baskets or other stylish containers. They'll help you stay organized while also looking sharp. Arrange baskets and décor on top of the table as well as below.
Ideas for a mini porch makeover
It's February so, depending on where you live, you might not be thinking of curb appeal just yet. Lay the groundwork for warmer days by adding some porch furniture. A bistro table is great for small spaces and small budgets. You might even have some indoor furniture that can re-purposed with a coat of all-weather paint. It could also be as simple as a bench, either for sitting on or holding other décor like pillows or holiday decorations.
Potted plants and container gardens are always in season. Even if your region is still quite cold, try evergreen cuttings or an arrangement like this one by Midwest Living that features pinecones, sweetgum pods and other non-living garden elements. You might start thinking about planting some of those spring bulbs as well.
Finally, because we're Schlage, we have to mention your front door. A new coat of paint can be a nice greeting when you come home each day. Choose a hue that matches the style of your home – a light blue for a Farmhouse front door, for example – or that makes the perfect style statement based on your taste. Whitegates, a U.K.-based estate agent company, found that wood doors, both in light and dark finishes, and black doors are especially popular right now. If you love a bold red or vibrant yellow, there's no reason not to go for it. Whatever you choose, balance the color with other accessories in complementary finishes. A Matte Black handleset and house numbers would really pop against that yellow door.
We hope this sparked some ideas for turning your home into the perfect haven for you and your family. Whatever you goal, budget and style, the Schlage blog and Pinterest have even more inspiration to get you started.