Best indoor plants for large spaces.
By emily.bailey
Tuesday, February 23, 2021
Step aside, dainty African violet. Make way, itty-bitty begonia. It's time to talk about big indoor plants.
Step aside, dainty African violet. Make way, itty-bitty begonia. It's time to talk about big indoor plants.
So often when we think of houseplants, we imagine small containers sitting on a kitchen windowsill or a miniature cactus on a bedside table. We love those little details that brighten a room in unexpected ways, but sometimes bigger is better. If you're looking for that jungle-like vibe in your living room, want to add some color to an entryway or simply need something to fill that awkward empty corner, then large indoor plants might be for you. But don't take our word for it. Check out some of our favorite Instagram posts with big #houseplants.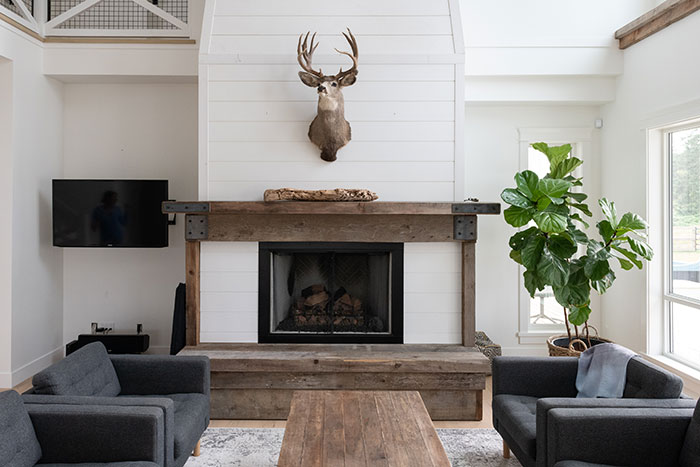 Calathea crazy » @she.wears.the.plants
Calathea are relatively low maintenance as far as houseplants go, but what we really love about them is their variety of sizes and colors. Some are all different shades of green, while others bring in white, reds and purples. You'll also find some that are shorter with broader leaves and others that are leggier and slimmer. That's what we call a plant for all tastes.

Green gurls » @plantkween
Going big is certainly not something @plantkween is afraid of, whether in life or when it comes to their indoor plants. Their larger-than-life style caught the eye of Vogue earlier this year when the magazine highlighted the benefits of plants during quarantine. "Setting up my office in my plant room has been one of the best decisions I've made thus far in reimagining and revisioning how I stay productive, calm, happy, and fully present in my werk routine."

Awesome orchids » @green.planetmk
Orchids often get a reputation for being delicate and finicky, but this giant looks anything but. Avoid direct sunlight and overwatering, and you're on your way to a healthy and beautiful orchid.

Surprising stems » @laylacelik
What we see here is a beautiful Alocasia zebrina, a member of the Elephant Ear family. Its popularity comes from surprising striped stems rather than flowers or exotic leaves. Reaching three feet in height at maturity, it's not the largest houseplant on our list, but that doesn't mean it can't add some pizzazz to any room.

Fine looking ficus » @janki.home
If you're looking for a fine example of indoor plants to brighten up an entryway, look no farther than @janki.home. The tall ficus on the left lends some vibrancy to this Bohemian Modern décor and white walls. And because it's relatively slim, it won't get in the way when you're coming and going.

Outside in » @cathykincaidinteriors
The large houseplants in this sunroom work for two reasons. First, along with the large windows, they really help bring the outdoors in. And second, they're excellent corner décor where additional furniture would feel cluttered and impractical. We can't stop looking at the potted tree in the corner that also draws attention to the architectural details of the high ceiling.

Slim and simple » @plantastic_mr_fox
Do you need a reason to love snake plants? We'll give you two. One, they're super easy to take care of, and that makes them perfect for new plant parents and those wanting something that won't take up a lot of time. "I just love how they look and they are so so easy to care for," says @plantastic_mr_fox. "I keep mine in the corner of an east facing room which gets low indirect light. I water and fertilise her once a month and she seems to be so happy with this."
Two, while on the larger side, they don't branch outward much. That makes the snake plant ideal when you're tight on space or want something in a high-traffic area but don't want to get snagged on leaves each time you pass through.

Climbing beauty » @lucidmonstera
Monstera is a common choice for houseplants, especially if you want to go big. But here we see that some varieties are anything but ho-hum. This two-tone climbing indoor plant definitely fits the bill, although be prepared to be an attentive plant parent to get this look. Says @lucidmonstera, "She came to me exactly a year ago with just two baby leaves and a tiny root. Throwing tantrums whenever she could through winter. Seriously, the attentions she asked and demanded were her best work yet back then. But hey, she's finally grown, behaving and flourishing like never before. I do feel like a proud dad (who's slicing onions?)"

If these plants have inspired you to start your own indoor jungle, make sure you know how to keep them happy, healthy and beautiful. Check out our guide to caring for indoor plants and more healthy décor tips at the Schlage blog.