How to save money by getting organized.
By emily.bailey
Organizing your home has many advantages, including boosting your finances. Get our tips for home organization and start saving more money.
Did you set the New Year's resolution to get more organized this year? Or maybe it was your partner who gently suggested the family work harder to keep a tidy house. No matter who set the goal,
organizing your home has many advantages
. A big one is boosting your finances. To help you keep your motivation, remember these ways that organizing your home can save you money. Then learn how to stick to your resolution with the organized shopping tips at the end.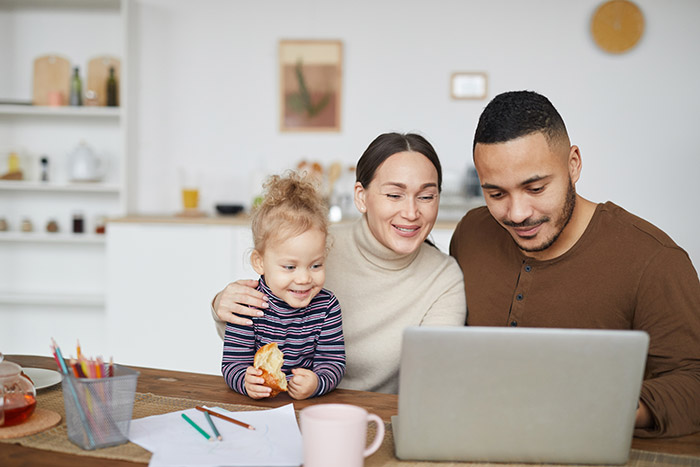 How can organizing my home save me money?
Maintaining our financial wellness plays a huge role in our overall health, not the least of which is helping us reduce stress, improve focus and give a greater sense of control over our lives. Sounds a lot like some of the benefits of getting organized, doesn't it? Here are some of the top ways staying organized can save you money.
Stop buying things you don't need. A

study in 2017

found that Americans spend $2.7 billion dollars a year purchasing duplicates of things they've misplaced. We all know the frustration of buying something we thought we'd lost or forgot we already owned, only to find it a few days later. You also won't buy food you don't need. The

U.S. Department of Agriculture

reports that Americans throw away 30 percent of their food supply, or about one pound per person every day. A well-organized kitchen helps us reduce waste because we know what ingredients we already have, and we can use them before they spoil.
Pay your bills on time. If there's a stack of mail by the door, another on the coffee table, one of the kitchen counter and another on your desk, it's hard to know what needs your attention. Get your mail organized so that you pay bills on time and avoid late fees and dings to your credit score.
Save time. We all know that time is money, right? That 2017 study reported that more than 60 percent of survey respondents were late to work or school in the previous year because they were searching for lost items such as keys, phones, shoes and wallets.
Don't waste money on storage. If your solution to household clutter is to stash it somewhere else, you're probably losing money. Instead of renting a storage unit for items you don't use, donate, sell or trash them. This process usually means making some tough decisions, but remember the satisfaction and benefits of an organized life. Even if you don't rent a storage unit, purchasing bins and other storage "solutions" for unnecessary items can add up, too.
Be more financially savvy. Instead of tossing receipts into the bottom of your bag, never to be seen again, file or scan them so you can find them when you need them. You'll be glad you did if it means getting your money back for an item you need to return or get reimbursed for. An organized system – either physical or digital – for bank statements and other financial records can also help you take control of your money and spend more wisely.
How can getting organized make shopping easier?
Many people have reported that when they're more organized, they shop less. We also know, though, that no amount of organization will keep you out of stores forever. So when you do need to make a purchase, try these tips to keep you on track both with your organization and money-saving goals.
Plan your menus. When you know what you're going to eat for the week, you'll be able to make a better grocery list. And when you make a better grocery list, you'll be less likely to overspend on food you don't need. Take an inventory of your kitchen when you're making your menu, too. You don't want to buy chicken if you already have some in the freezer. Having an organized refrigerator and pantry can help with that process.

Finally, be smart about your menu. If a meal requires special ingredients you don't normally have on hand, find multiple recipes using that same item so you don't throw extra away. You can also try what we call cooking in bulk. In other words, figure out how you can use that broccoli as a healthy side, in an Italian pasta bake and in soup. You'll waste less without feeling like all you did was eat broccoli all week.
Make lots of lists. The grocery list is obvious and we've already talked about that with your menus. But there are other types of lists that can help you stay organized and on budget, too. Keep a list of your bills so you don't accidentally miss one and incur late fees. Maintain a gift list year-round. If you always know what loved ones want for their birthday or a holiday, you'll be able to keep an eye out for deals and purchase items when they're at their best price. If you're doing a DIY project, make a list of all the materials and tools you need. Include quantities on your list, too. For example, if your goal is to update your doors and you know you want new levers, start a count. How many doors do you have? Of those, how many require passage levers? How many privacy levers? How many non-turning levers? A good DIY list means fewer return trips to the home improvement store, quicker completion times and less frustration.
Keep an inventory of non-perishable essentials. Think toilet paper, sandwich bags and

cleaning supplies

. Stock them in an organized pantry and then only buy more when they're on sale. Yes, you might spend a bigger chunk of change in one trip, but you'll save money in the long run if you only restock when those goods are at their lowest price. If you keep your pantry organized and have a solid inventory, you'll also know when you don't need to buy more, even when they're on sale. And that saves you money, too.
Create a budget and write it down. Some people think they only need to create a budget if there's an unusual expense on the horizon – an upcoming vacation, a major home improvement project, holiday shopping. We think it's a good idea to have a regular budget to track everyday expenses. You can then check it regularly. If you see you're overspending on groceries or have been splurging on entertainment, you'll know how to reel in your behavior and get back on track. It's hard to make those financial adjustments if you don't have a written or digital record of where your money is going, though.
The key to getting and staying organized is creating a routine and healthy habits. To help you with that, we created a list of quick organization tasks you can do each day to keep the clutter under control. Find that guide and more at the Schlage blog.