6 easy steps for keeping your home clean with pets.
By emily.bailey
Tuesday, January 12, 2021
Check out these six tips for a stylish and clean house, even when you have pets. And because your Schlage writers and editors are huge animal lovers, we also share real-life insider hints to make your life easier.
They're cute and cuddly and man's best friend and we love them. They're also messy. Whether you're a long-time pet owner or adopted your first rescue during quarantine, we could all use a little help keeping our homes clean with four-legged friends. Check out these six tips for a stylish and clean house, even when you have pets. And because your Schlage writers and editors are huge animal lovers, we also share real-life insider hints to make your life easier.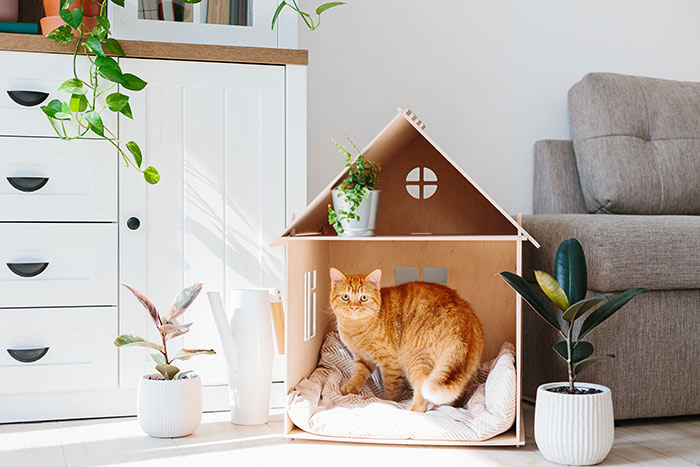 Corral pet supplies
To keep your home from feeling cluttered and dirty, invest in some storage for all your pet's gear. You can camouflage it by having it blend in with the rest of your décor, maybe by matching the dog's basket to the others holding hats and umbrellas in the coat closet. This might be a perfect opportunity to have some extra fun with your storage solutions, though. Choose dog tail hooks for holding leashes or a cat-shaped storage basket that's almost too cute to pass up. This nautical storage would be gorgeous and effective for stashing fish food and supplies.
It's not just about storage, though. Think about having a single location for all the supplies, even those your pet uses every day. For example, their food bowls, litter box and carrier might be corralled in the same room. Just like most people don't like to see their kids' toys strewn all over the house because it looks messy, you'll want to keep Fluffy's belongings collected.
Editor's Pick: Instead of having a giant tub of pet food sitting out all the time, I put smaller quantities in a ceramic jar near their bowl. It blended in with the rest of the kitchen and was handy for easy feedings. I picked the jar up at a thrift store, too, making it budget-friendly.
Groom pets regularly
When you groom your pets regularly, either by bathing or simply brushing, you'll limit the hairy trail they leave behind. Extra-fluffy pets and doggos that like to roll in the leaves also collect plenty of debris in their fur. Brushing and checking for bugs regularly will keep them from tracking it throughout the house and bringing pests indoors.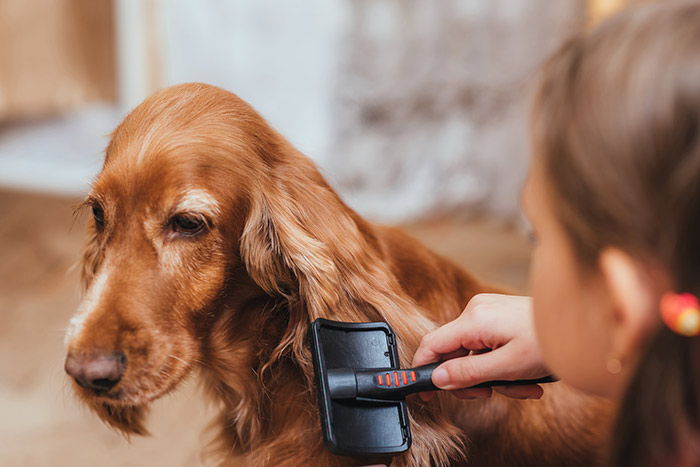 Editor's Pick: I love this grooming glove for cats and dogs. We hear it even works on rabbits. Tripawd Gus sheds a ton for shorthair tabby and it helps keep the tumbleweeds under control. He loves the feel of it, too.
Here's a second tip we learned too late. Plan to vacuum after brushing instead of the other way around. That way, any hair that escapes the glove or brush will get picked up right away and you only have to sweep once. And if you brush them before you get dressed for the day, you won't have to lint roll your clothes, either.
Create a dog washing station
Part of keeping your home clean is keeping the worst of the dirt out in the first place. If you have an indoor/outdoor pet, create a cleaning station to wipe muddy paws before they hit the carpet. It might be fancy like this one by Oliver Designs or more simply made with things you already have around the house. A basket with old towels, paw cleaner and, of course, a few treats by the entryway is basic but can make a big impact on your overall cleaning routine.
Editor's Pick: Consider adding shake-friendly flooring and wall materials in your entryway. We didn't have a true dog-washing station or a covered porch, which meant our Labrador, Vader, shook all the rain off right inside the door. The ceramic tile was easy to clean and saved the living room carpet, but I still wish we'd invested in

wall tile

or a similar covering that was easier to maintain.
Design with pets in mind
When you keep furry and feathered friends in mind when decorating your home, you'll help keep them safe. You'll also protect your home from the wear and tear that comes with pet ownership. Here are a few ideas to get you started: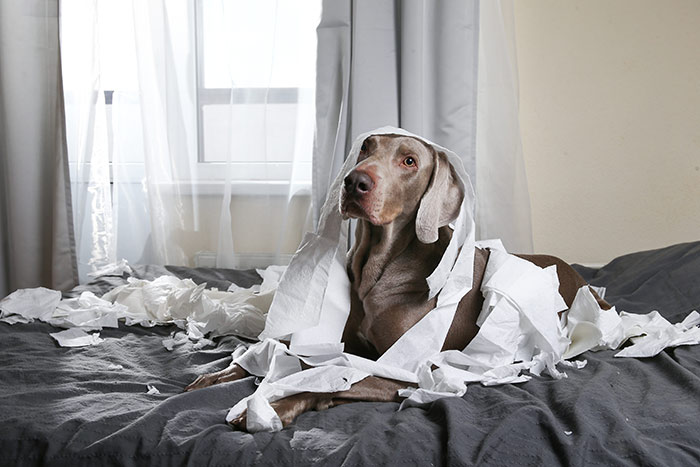 Toilet paper covers: If your pet unfurled or shredded the roll during the Great Toilet Paper Shortage of 2020, you know the struggle is real. A

toilet paper holder that hides the roll

could work for you. Other pet owner suggestions include a vertical dispenser, which can be harder for some pets to unravel, or placing the dispenser higher and out of paw's reach. This last one is controversial, but we'll say it anyway. Place the roll so it

dispenses from underneath

. It won't work for all pets, but it's worth a shot.


Patterned fabrics: Dark rugs and fabrics don't always hide dirt as well as we think they will, and if you have a white cat, you'll see every last hair all the time. Patterned fabrics will do a better job of hiding everyday messes while also adding style to your décor.


Easy-to-clean paint: When

painting your walls

, choose a satin or semi-gloss finish. These are easier to clean than most flat paints. They're also relatively easy to touch up if claws and swinging tails cause damage.


Metal over wood: If you have a chewer on your hands – here's looking at you puppy owners – consider furniture with metal legs instead of wood. They'll be less likely to gnaw on them and even if they do, the damage will be less.


Indoor/outdoor rugs: They might not be as lush as a Persian rug, but most indoor/outdoor rugs now come in a range of colors and styles to fit the look of nearly any room. They're also more durable and easier to clean, making it a good fit for nearly any pet.
Editor's Pick: When I found the super-mischievous Gus sitting in my crockpot – he knows how to open cabinet doors – I invested in these

childproof locks

. Now I don't find cat hair in my pots and pans, and he's safer being kept away from the cleaning supplies I store under the sink. Plus, they locks are the same color as my cabinets, so it still looks great.
Choose your scoop wisely
No one likes to scoop the litter box, but if you want to keep the odor down, you'll have to do it often. How often depends on your cat's biology and how many you have. If tracking is an issue, investigate different kinds of litter. We know cats can be picky about what touches those precious toe beans, but it might be worth some trial and error if it means you can sweep less and play more. Finally, get a small trash can with a lid. The lid controls odor and the small size means you're forced to empty it regularly before the smell builds up too much.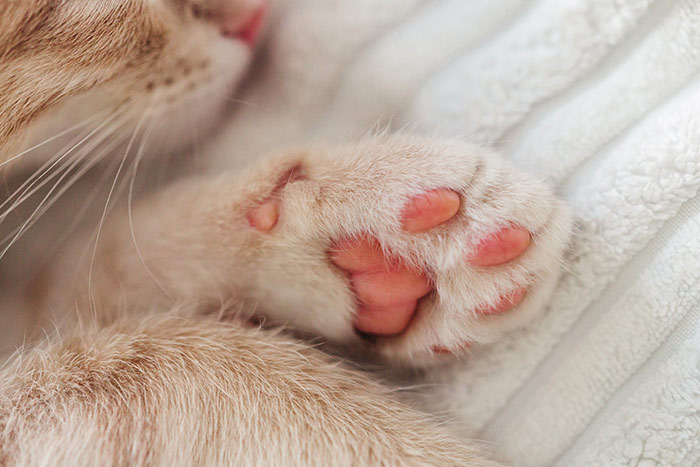 Editor's Pick: I've tried

recycled newspaper pellets

and more traditional clumping litter. There was less tracking with the pellets, although it didn't eliminate the mess completely. My cats weren't picky about using either one, but I ultimately opted for the traditional litter because it scooped better. Then I commissioned

knitted reusable Swiffer pads

from a friend for easy and environmentally friendly cleaning.
Invest in a pet-friendly vacuum and use it frequently
Vacuums that do more than just say they're tough on pet hair will probably cost a bit more, but you'll be glad you spent the extra money when it does the job right. Pick a model that works best with your home and type of pet. That means that if you have carpeted stairs and a Great Pyrenees dog, get a vacuum that's lightweight or with a good attachment for collecting all that floof. If you have a bird, look for a vacuum that does a good job of collecting heavier material like seed and nuts. Maybe you want a vacuum that's extra quiet so your skittish kitty doesn't run for the hills every time you turn it on. Whatever you choose, use that vacuum on rugs, curtains, lamps shades and in your car, not just floors and couch cushions.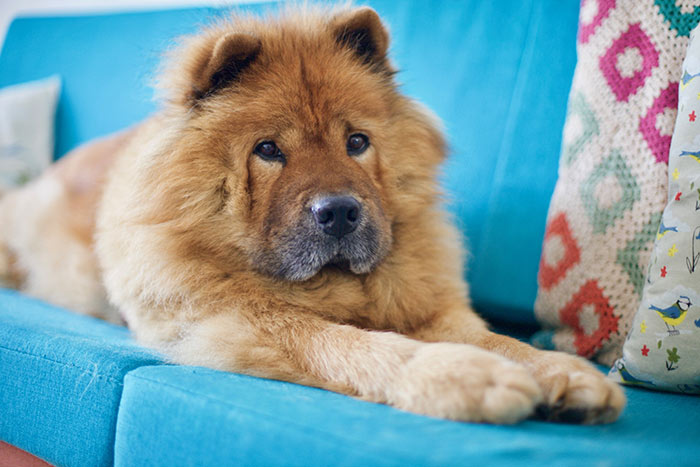 Family Handyman recommends vacuuming daily when you have pets. To be honest, that sounds like a lot if you have a life, so maybe try to vacuum those high-traffic areas – your pet's favorite rug or spot on the couch – daily and save the rest for later.
Editor's Pick: I use this small handheld vacuum for tight spaces and in between full vacuuming. It's been great for picking up kitty litter that escapes the box and for quick spot cleans on the couch. Plus, as much as I love my hand-me-down Dyson, it's heavy. This hand vac has been invaluable for cleaning the 18 stairs in my home. Yes, I've counted.
Pet ownership is a lot of work, but we wouldn't trade it for the world. Know how to go the extra mile for your fur babies. Visit the Schlage blog for tips on moving with pets, keeping them safe during holidays and even designing the perfect dog-friendly porch. Know a new pet owner? Congratulate them with something from our gift guide.