Find the perfect gift for long-distance friends and family.
By emily.bailey
Thursday, December 10, 2020
Try these tips for picking out gifts for long-distance friends and family, along with a few of our favorite suggestions.
Whether it's because of COVID or simply because Americans are more mobile than ever before, it's not uncommon to have family and friends spread across the country or even living abroad. While that could mean you have a free place to stay on vacation, it can also make holidays and birthdays difficult. How do you show them you care when you aren't nearby? Try these tips for picking out gifts for long-distance friends and family, along with a few of our favorite suggestions.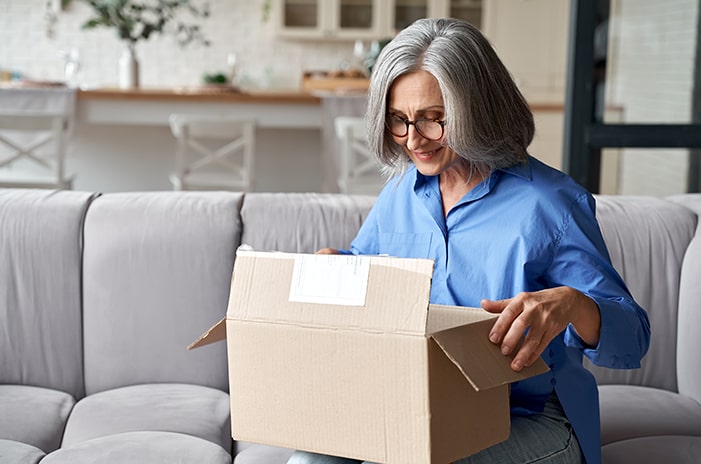 Stay close with technology
Technology makes it easier than ever to bridge physical distance. When buying the latest electronics for long-distance loved ones, pick gifts they'll find easy to use. If it doesn't work with smart devices they already own or are too difficult to incorporate into their current lifestyle, it's likely to stay in the box or worse. You want your gift to bring joy, not cause headaches. We like these gadgets for staying connected with friends and family.
Digital photo frames are nothing new, but this one from Nixplay connects to WiFi. That means you send pictures and videos directly to the frame for easy sharing. Not only do you not need to load the frame before you wrap it up, but you can continue to update it with your latest snapshots securely and in real-time.
Everyone could use an easy way to make video calls these days. What sets the Echo Show apart from your average laptop or tablet, however, is everything else you can do with it. In addition to chats, your loved one can enjoy movies and TV shows, listen to their favorite playlists on Amazon Music and ask Alexa all kinds of questions. The Echo Show is compatible a variety of other smart devices, too, including the Schlage Connect™ Smart Deadbolt with Zigbee technology.
Make small gestures for lasting impact
When you don't see someone every day, reaching out can sometimes feel awkward or like another item on your to-do list. The good news is that staying connected doesn't have to be a big commitment like a two-hour phone call, plane tickets or expensive trips to the post office. Choose small, heartfelt gifts that keep giving every time your loved one uses it.
"Coffee together" engraved spoon
Good things come in small packages and, if we're honest, with a bit of caffeine. These engraved spoons are a small gesture that will put a warm smile on someone's face each morning. We chose "Still having coffee together," but there are several other messages to choose from.
If you live with someone, a smile from across the room can say a lot. If you're miles apart, it's a little harder to show in-the-moment affection. This stylish wood friendship lamp can help. A tap on your lamp makes theirs light up. You can even pick different colors for everyone in the family or friend group.
Remember what brought you together
Take inspiration from what brings you together in the best of times. For example, what hobbies or movies do you share when you're not separated? Find creative ways to replicate your favorite experiences, even from a distance.
Personalized family recipe cutting board
When we can't spend holidays together with family, one of the things we often miss most are homecooked meals. Engrave this customized cutting board with Grandma's biscuit recipe or Dad's special sauce blend. It's not quite the same as cooking side-by-side, but it's still a nice taste of home.
This subscription box sends a book your bestie. They also get couple of gifts, each numbered to be opened at specific points in their reading. Get one for yourself too, and we bet you've never shared a book quite like this before. There are also boxes for kids, young adults, mystery lovers and travel junkies, to name a few.