Design the perfect holiday light show in 6 easy steps.
By reference-adjustment-service
Thursday, November 19, 2020
Whether you're enjoying them as a family or putting on a show for neighbors, here are Schlage's favorite holiday light show tips worthy of a parade.
Traditions at Christmastime vary widely from region to region and family to family. One common strand, however, is lights. Whether you're enjoying them as a family or putting on a show for neighbors, here are Schlage's favorite holiday light show tips worthy of a parade.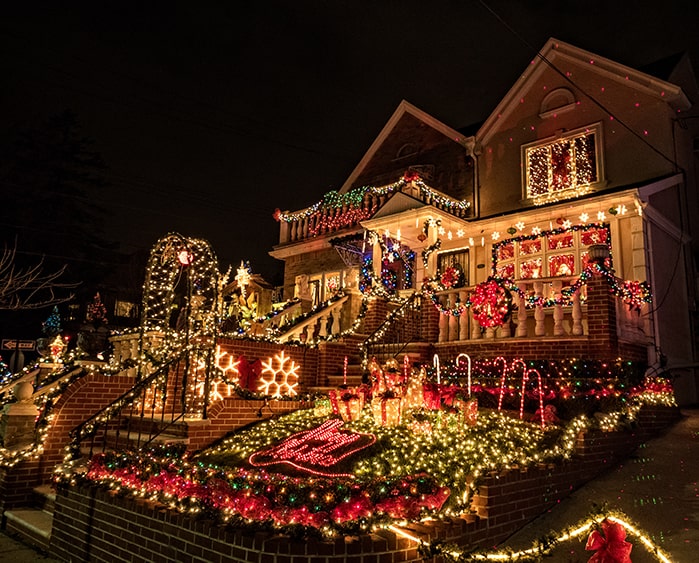 Shining some light on a bit of holiday history
Lights have been a part of Christmas tradition, even before electricity. The history of Christmas tree lights started by putting candles directly on branches. The family would then gather round in the parlor, light the wicks and after a few minutes of admiring the candles, blow them out. We're sure it was beautiful for those few minutes, but it was also a fire hazard.
Fast forward to the late 19th century when a man named Edward Johnson created the first string of electric lights using large, pear-shaped bulbs. By all accounts, it was stunning, but Americans didn't quite trust home electricity yet and it was costly. It's estimated that that single strand of just eight bulbs cost the equivalent of about $80 today.
Christmas lights became more popular in the 1920s when General Electric's pre-assembled lights became less expensive. Our only question is if the strands of a century ago still got so frustratingly tangled.
How to design the perfect holiday light display
1. Make it big.
If you want people to admire your display from afar, you need to think big. It isn't just about the number of lights you use, but the scenes you create. Supersize everything so neighbors can admire it from the street. Lifesize cutouts of Santa and his elves with a spotlight at night, giant outdoor ornaments woven in amongst lights in your landscaping or wireframe woodland creatures are just a few ideas to get you started. Don't stop at just one or two pieces of décor, either. Who says you can't have a whole herd of reindeer this year?
As you make it bigger, don't forget to still be considerate of others. Frantically flashing lights, for example, have been known to trigger seizures or trouble those with sensory disorders. And be sure any spotlights aren't shining in anyone's windows.
2. Pick a theme.
The bigger you get, the more tempting it will be to add and add and add more décor. There's nothing inherently wrong with that, but to keep your front yard from looking chaotic, pick a theme. It could be as simple as committing to using only one light color and using it on trees, bushes, the house's façade, porch railings, along your walkways and surrounding the garage. You might also choose to go more complex and create an entire scene that tells a story. Perhaps it's your version of The Nutcracker with ballerinas and mouse soldiers. Or it could be less expected, re-creating a vision of the tropics with lights.
3. Think in 3D.
Consider how you can add depth to your light display. By this, we mean décor at the front porch, out by the street-side mailbox and everywhere in between. Design your light show in a way that admirers' eyes will linger and find something to delight them in unexpected places. It will also help keep your display from feeling stale and unpredictable when they notice something new each time they pass.
4. Keep it safe.
No matter how many lights you include in your display, be sure to practice electrical safety. Inspect wires for damage before you plug anything in. Don't overload your extension cords and keep them clear of snow and standing water. Electrical cords are rated for certain uses and power needs and should only be used in the authorized way. Also, fasten your lights securely to protect your décor and home from wind damage.
If you're a light show veteran but are going more extravagant this year, make sure your electrical system is prepared to handle the extra load. You can find more electrical safety tips from Electrical Safety Foundation International.
5. Make it smart.
You want to enjoy your traditions, not be a slave to them. Use a smart plug and timers to turn your lights on and off automatically. There are several benefits to this. For starters, you'll conserve energy by not burning the lights when you don't need them. You'll also be less likely to tip off intruders that you aren't home. Leaving the lights on all day is a sign that you've left town, making your home an easy target. Finally, it's more convenient. Again, it frees you to do other things, but if you pair your smart plugs to a voice assistant like Alexa, you won't even have to get off the couch to start the show.
6. Invite your neighbors.
Now that your handiwork is on display for all to see, invite your neighbors, family and friends to take in the scene. Follow the tips above and, even if you're social distancing, everyone will be able to enjoy their favorite holiday traditions safely.
We love seeing all the festive lights, but they also have the added bonus of helping to keep your home safe. Get holiday home security tips at the Schlage blog or find us on Pinterest for more great Christmas décor inspiration.