Schlage Encode locks and Echo devices deal prime combo of security, convenience.
By emily.bailey
Tuesday, October 13, 2020
When you buy a Schlage Encode lock during Amazon Prime Day, you'll receive a free Amazon Echo Dot. Here's what you can do when you have multiple Echo devices.
Are you a fan of free stuff? Of course you are. On Amazon Prime Day in 2020, you can get just that. When you buy a
Schlage Encode™ Smart WiFi Deadbolt
, you'll also receive a free Amazon Echo Dot. And if you already have an Alexa voice assistant? Sync them together and take advantage of these five things you can do with multiple Echo devices.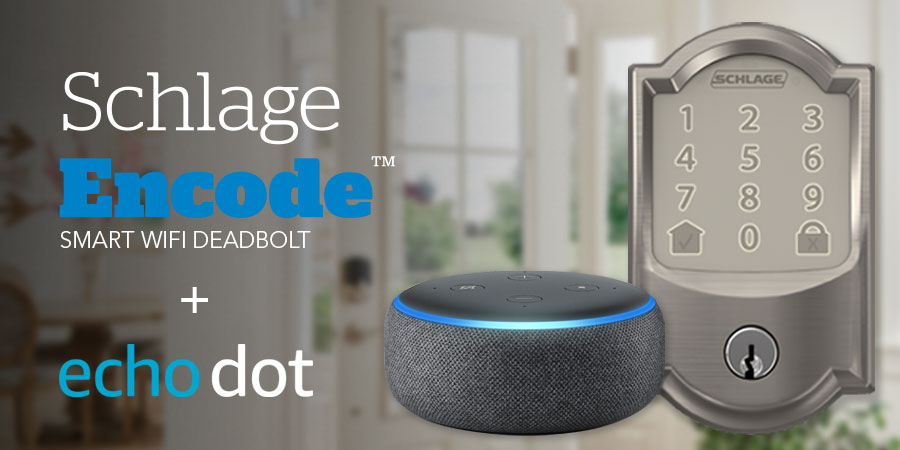 1. Protect your home with Alexa Guard
Perhaps one of the most underutilized features of an Echo device is Alexa Guard. This security feature is designed to detect sounds – breaking glass, smoke and carbon monoxide alarms, footsteps – when it's set to Away mode. You say, "Alexa, I'm leaving" and you'll receive an alert on your phone if it "hears" a potential threat to your home's security.
Alexa Guard works best when you have multiple Echo devices. With multiple devices, you've essentially added more sensors. For example, if you only have one Echo Dot and it's in the bedroom, it may not be close enough to detect sound at the patio door. A second Echo device can help eliminate that blind spot. To activate Alexa Guard, select Guard from the Settings menu in the Amazon Alexa App. You can also set preferences such as Away Lighting, Smart Alerts and link to third-party home security systems.
2. Help secure your door with the Schlage Encode Smart WiFi Deadbolt
While we're on the subject of security, let's talk about how you can use the Echo Dot, or other Echos, to control your Schlage Encode Smart WiFi Deadbolt. When the lock is connected to your home WiFi, you can ask Alexa about the status of your deadbolt, as well as tell her to lock and unlock the door. And when you have multiple Echo devices – one in the kitchen, another in the bedroom, maybe one in the basement – it's easier than ever to control your lock with those voice commands. Saying "Alexa, lock the door" from bed or asking "Alexa, is my door locked?" from the kids' playroom provides ultimate convenience and peace of mind.
3. Update shopping lists, calendars and reminders
When you ask Alexa to add something to your grocery list, put something on your calendar or set a reminder, it goes to your Amazon account. That means you can access that list or get the notification from any of your Echo devices. No more rushing to meet your kids' bus because you didn't hear the reminder from the other end of the house.
Note that if you set a timer or alarm on one Echo device, it will not sync with others in your home. The timer will only sound on that original Echo.
4. Play music simultaneously in multiple rooms
You're hosting a get-together and want your party music to play in the kitchen and living room. Or maybe you're cleaning the house from top to bottom and need some jams to keep the motivation going. You can play the same playlist on multiple devices in multiple rooms. PC Mag has step-by-step instructions for grouping your devices and setting up that functionality. Of course, if you'd rather not have music playing on all devices – perhaps your teen has different tastes than you – you can simply ungroup them as well.
5. Drop In on friends and family
Treat your Echos like an intercom with Alexa Drop In. This is a super-convenient function when you want to call the kids to dinner without screaming or if you want to tell your dog to get off the couch (or just tease them a little bit) when you're not in the room. You can say, "Alexa, drop in on the Living Room Echo" and immediately start the conversation to find out if your sweetie wants something to drink before the movie starts. Use this guide from How To Geek to enable Drop In for your Echo devices.
In addition to this limited time offer on the Schlage Encode lock and Echo Dot bundle, you can also get 20% off the Schlage Connect™ Smart Deadbolt and select interior door hardware on Prime Day. Find great deals on a variety of interior door knobs and levers, from the traditional Schlage Georgian knob to the more contemporary Schlage Latitude lever, as well as our best selection of trim styles and finishes.
Learn more about the Schlage Encode and Schlage Connect smart locks, as well as all of our electronic deadbolts, at Schlage.com. We also have a variety of resources for getting the most out of your devices at the Schlage blog.