6 steps to the perfect fall front porch look
By emily.bailey
Thursday, September 24, 2020
Give your curb appeal a fall face-lift. Here are six elements to keep in mind when looking for the perfect fall front porch decor.
Summer is quickly coming to an end and fall, with all its beautiful colors, is on its way! Welcome the new season by giving your curb appeal a fall face-lift. Here are six elements to keep in mind when looking for the perfect fall door decor.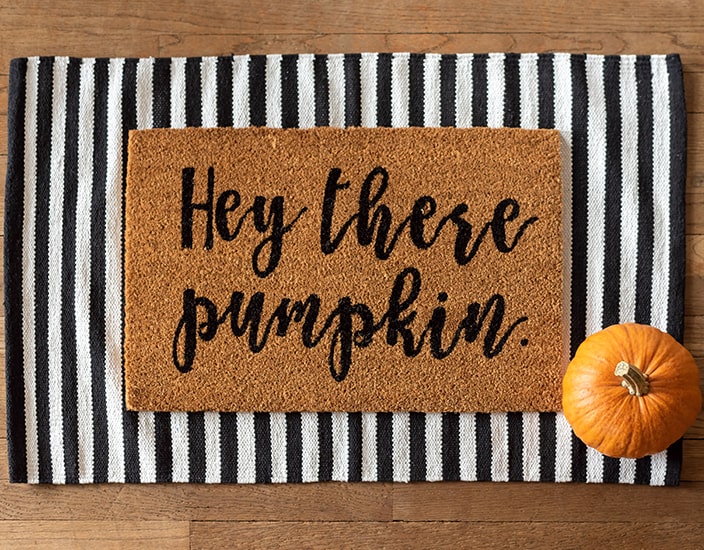 Front door colors
Painting your front door is a quick weekend project that's best done at the beginning of fall when temperatures and humidity drop. Embrace the best of the season by choosing a rich, warm color like the classic reds, oranges and yellows of fall seen here, or add a unique touch with a bold, unexpected shade. We recommend a blue like Sherwin-Williams' Regatta or Indigo, a deep plum-inspired purple or a saturated green. These "cool" shades might not be obviously autumnal, but their contrast will really allow your favorite fall accessories to pop.
Check out these three
door painting tips
before you get started to make your project even more of a breeze.
Everyday accessories
These accessories – lighting, door hardware, house numbers – you'll use every day, and they're as functional as they are fashionable. If your exterior lighting is outdated or tarnished, now's the time to update it. Coordinate the porch lights' finish with the color of your front door and your entryway handleset. The right fixtures can make all the difference in welcoming guests to your home and keeping you safe year round. Making sure the everyday elements of your curb appeal reflect your personal style and security needs will never go out of season.
Fall-inspired wreath
Make your newly painted front door pop even more by adding a contrasting wreath. Can't you imagine how beautiful this bright orange wreath from Grace Monroe Home would look on one of those blue or green doors? A simple search on Pinterest will turn up several affordable, DIY tutorials for getting just the look you want.
Welcome mat
Get rid of that dirty old mat that collected dirt and mud all summer long and add a fresh, new mat this season. This simple change can quickly take your curb appeal from dingy to beautiful.
Fall flowers
Mums aren't the only flowers you can decorate with in the fall. Add a little variety to your decor this year by trying out a new color palette like these jewel tones from Centsational Girl. Or try seasonal vegetables –cabbage, kale, even ornamental chili peppers like Driven by Décor – for something more unexpected.
Pumpkins
And finally, don't forget the ol' faithful pumpkin. Freshen the look by trying a new color. Some varieties of pumpkins are naturally blue, or you could paint, white wash or add metallic accents to them. If you choose real pumpkins over foam or plastic, follow these tips from the Kitchn to make your pumpkins last the whole season.
What items do you add to your front porch when fall rolls around? Share your photos with us on Instagram! And if you need more inspiration for your fall front porch décor, you can find it at the Schlage blog.