Use your leftover paint with these 15 DIY projects.
By emily.bailey
If you're looking for creative ways to use up your leftover paint, these 15 DIY projects are sure to inspire you.
You've read a lot about
DIY painting projects
lately and probably took on a few of your own. Now you have samples or leftovers just hanging around. Of course you can always store the remnants and save them for future touchups, but what if you're still feeling crafty? Here are 15 creative projects to use up leftover paint.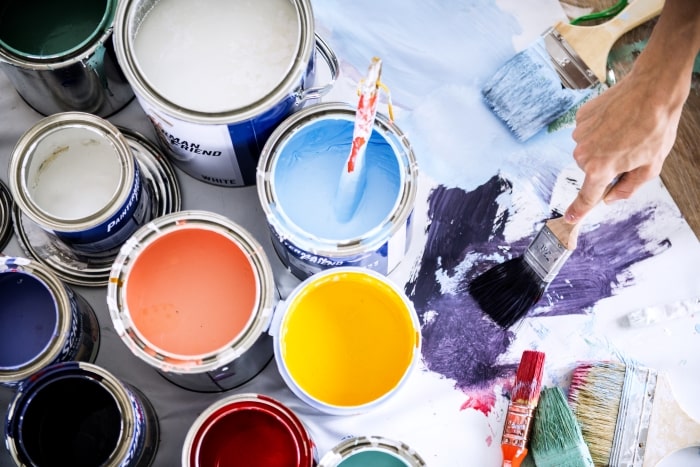 1. Accent wall
If you have a large amount of paint left over but still not enough to do an entire room, now's your chance to try an accent wall. Remember that not all accent walls have to be bright blue or daring red. That soft green you just used for the living room might look lovely in the bedroom. Try it behind your headboard if it complements other, darker walls.
When you have smaller amounts but like the idea of an accent wall, consider designs instead of a solid color. Tape off stripes like Organized*ish – she painted between two strips of tape for minimal paint use – or go freehand like My Style Vita.
2. Trims
Baseboards don't have to be white, and neither do your window frames. Door frames don't have to match the color of the door, either. Use your smaller amounts of paint to spice up the details. This can be especially fun in a child's room or eclectic powder room.
3. Doors
When painting, we often think of entire rooms or artwork. And if we do think about painting our doors, it's usually just touchups after our kids have done a number on them. But having leftover paint is the perfect opportunity to switch the color from builder's grade white, paint just the inset for some sophisticated detail (or to fake sophisticated detail on a hollow core door) or really think outside of the box with an "accent door." Need more ideas? Paint just one side of the door, give each side (or each door) a different color or sneak in a new color by painting the edges.
Try this DIY painting project especially if you have a smaller room and are struggling to decorate without adding clutter. It introduces visual interest and color without taking up valuable space.
4. Cabinets
Replacing cabinets are expensive and time-consuming. Giving them a new look by painting isn't revolutionary advice. But when even that job seems a bit too much right now, try freshening up parts of your cabinets with leftover paint. Maybe it's painting the trim. It could be a new hue for just the upper or lower cabinets for a two-tone look. Maybe it's the backs of the cabinets and shelves for an unexpected pop of color when you open them. In addition to the kitchen, don't forget the cabinets in your bathrooms, laundry rooms and other storage areas.
5. Drawers
Like our cabinet tip above, you can paint drawers in unexpected ways with small quantities of paint. A Girl and a Glue Gun shows how painting the sides can reveals a touch of unexpected fun when you open the drawers.
6. Furniture
There are so many options for updating furniture with leftover paint, we don't even know where to start. Chairs and tables are always prime candidates, and remember that you don't have to paint the whole thing. Apply a coat just to the legs or the top of that end table/nightstand/occasional table/kid's workstation/desk/coffee table … We said you had options, right? Don't forget about lamp bases, book cases and dog beds.
7. Floors
There are special considerations when painting a floor, but don't let it scare you. If redoing the entire floor is out of your comfort zone or budget, consider a stenciled pattern. Faux rugs can be very stylish, not to mention easy to clean.
8. Murals
Show your artistic streak by painting a mural, either right on the wall or on a canvas. The best home accessories are the ones that have special meaning, and often that means a piece of artwork that you created yourself. Give your kids a paint brush and canvas and see what they can do. You might have the next Picasso on your hands and not even know it.
9. Fireplace
It's summertime, so the fireplace might not be top of mind. Think of it as getting a jump on the busy holiday season. Or maybe you want to brighten it up for the warmer months. Depending on the size of your fireplace and the amount of paint you have, you can paint the face and surround. For a smaller job, focus on the mantel.
10. Fabrics
For some of us, fabrics aren't the first place our mind goes when thinking about paint jobs. But this can be your go-to solution, especially if you want to use up leftover spray paint. Outdoor rugs and doormats often take well to paint jobs. Indoors, consider curtains, including shower curtains, pillows and lampshades.
11. Utensil handles
Wooden spoons are useful but boring. Dip or paint the handles of kitchen utensils and they can instantly match any décor.
12. Frames
Whether they surround a mirror or a picture, painting frames is a quick way to add color and use up the last dribs and drabs of paint. If you have a gallery wall, use the same paint to give all the frames a uniform look. But if you have a collection of leftovers or samples (it is hard to make up your mind sometimes), painting each frame a different color can take your artwork to new levels of vibrancy and interest.
13. Flower pots
Paint flower pots to help give your garden that extra personal touch. This is a great craft for kids. It might give them a greater sense of ownership over those herbs you're helping them grow this season, or they might want to decorate it as a gift for someone.
14. Storage containers
Plastic bins are great for organizing but not always pretty to look at. Coat them in a solid layer of paint or go to town with the design of your choice. The same applies to vases, jars, baskets and any other storage container.
15. Base coat for a future job
When you make a dramatic switch from dark to light paint, it can take a lot of work to cover up the old color. You might be able to use your leftovers as a base coat or primer for a future job.
A bit of sweat equity can be incredibly rewarding when it comes to making your home uniquely you, even more so when you're able to upcycle materials. Find more DIY projects at the Schlage blog or get inspired on our Pinterest board.