How to sample your favorite styles before committing to a design.
By emily.bailey
Capture the essence of today's top design trends in a way that works for you with these tips.
Throw the rules out the window! The only thing you really need to remember about décor is to choose what you like best. But what if the things you select – a chevroned lampshade, a fuzzy blanket, a curved couch – leads to a hodge-podge of a room? Instead of people saying, "That's so you!" they're thinking, "What happened in here?"
This is the risk we run when we find a trend with some elements we like and others we can't stand. Sometimes it's that the trend doesn't work seamlessly with our lifestyle or we can only afford to redo part of a room. Capture the essence of today's top design trends in a way that works for you with these tips.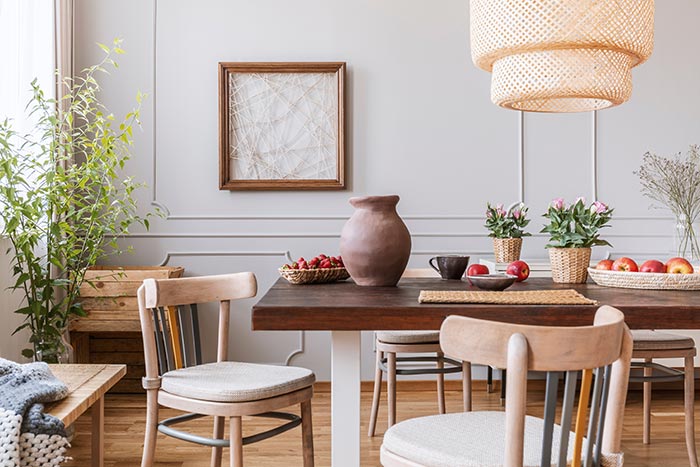 Go Art Deco – or global – with jewel tones
Art Deco and global styles are both marked by bold colors and generous amounts of pattern and details. Focusing on the jewel tones common in both is a great opportunity to hint at the trend without the lavishness or excess that comes with going all-in.
To keep your home from looking mismatched, take inspiration from other Art Deco or global elements, but tone them down. True Art Deco called for all the glitz and glam of gold. You might strategically choose other warm
metallic finishes
for accessories you'd use anyway. Consider lamps with a metal base, brass door hardware or, if you're redoing a kitchen or bathroom, plumbing and cabinet pulls in a warm or
gold-toned finish
.
For the global feel, pick a vibrant rug to brighten up otherwise neutral flooring and coordinate it with some wall art or other accessories with similar colors. The jewel tones you love will take center stage in the best way possible.
Show maximalist flair in a single piece
Many homeowners and designers are shifting away from minimalism in favor of showing more personality. If you like the pizzazz of maximalism but it still feels cluttered to you, put all the vibrancy and patterns of the style into a single piece. Apartment Therapy shows how to make a glittered clock on its list of maximalist DIYs.
So how does a glittery wall clock fit in with a more subdued décor? Coordinate with complementary colors like blue pillows that match the blue in the glitter. Or make it your room's statement piece. That glittery clock, but supersized to dominate the wall, would certainly be a conversation starter in an otherwise neutral-toned space.
This living room also hints at maximalism with its color scheme and mixed patterns. Diamond and triangle patterns match across fabrics and coordinating colors on different accessories help you avoid a chaotic feel. Clutter-free shelves and coffee table, as well as the pure white walls, curtains and lampshade, also show restrained maximalism for broader appeal.
Plant the idea of Bohemian Modern
Bohemian Modern continues to gather steam in 2020, partly because of its nod to the natural and fun. Think fringe, crochet, burlap and floor seating with oversized pillows. If that all feels too hippy for you, focus on the houseplants. Potted plants on windowsills, coffee tables or hanging over a sink are great indoor options and, chosen wisely, can be low-maintenance.
One way to mesh a touch of Boho Modern with other décor is to play with the combination of plants and containers. So-called Boho plants include ficus, succulents and hanging spider plants. Neutralize the 1970s vibe with contemporary containers. Or flip it with macramé and woven plant baskets filled with whatever plants speak to you. This bathroom adds a 70s touch with that owl vase and woven basket on the vanity.
Update your Mid-Century Modern with color
If you want your room to scream Mid-Century Modern, get an Eames chair. For a more subtle nod to the style that also gives you the flexibility to meld it with your existing décor, you might focus your attention on colors again. Houzz.com shows us some common color palettes for this time period. Like Art Deco's jewel tones, Mid-Century Modern colors work equally well as wall paint, furniture or accessories.
Make your retro color scheme work with more modern décor by paying close attention to variable shades. If Mid-Century Modern's love of orange and brown reminds you too much of that old shag carpet, maybe a
golden yellow
is a better fit. The colorful island and cabinets without pulls help bring this kitchen into the 21st century.