Simple fixes for common DIY mistakes.
By emily.bailey
When you take on home improvement projects, things don't always go as planned. The good news is that even the scariest DIY mistakes can be fixed. Here's how.
It's your worst DIY nightmare – the paint color you picked isn't what you expected, there's a hole in the wall, all you wanted was to simply replace a door knob but the old one won't come off. When you take on home improvement projects, things don't always go as planned. The good news is that even the scariest DIY mistakes can be fixed. Here's how.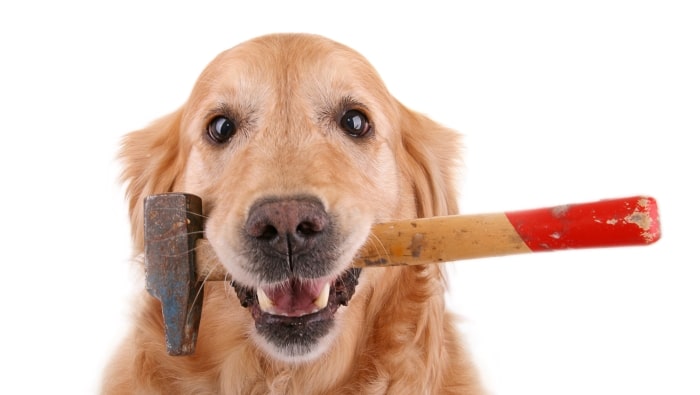 Paint faux pas
When we were sheltering at home during coronavirus quarantine, many of us reached for a paint brush to stay busy. It was a great idea! Are you 100% happy with the finished product? Here are some tips for fixing common painting errors.
Challenge #1: You chose the wrong color. It might be too bright or too green. Maybe that Art Deco-inspired jewel tone that's so popular this year doesn't match your tastes after all.
How to fix it: Here are a few hacks for fixing your paint job. Add a detail like stripes in a different shade of the same color. A little contrast, lighter or darker depending on what's needed, can help get the overall look closer to the right hue. You might also consider keeping the original color as an accent wall and updating the others if the shade is right but just a bit overwhelming.
Stow and Tellu has tips for fixing the wrong paint color without repainting. We love how they toned down the yellow tones in their new paint simply by switching up the room's furniture and wood finishes.
Challenge #2: The color is perfect, but you see all kinds of imperfections, blobs and drips.
How to fix it: Gently scrape the dried drips with a paint scraper, sand and repaint. Blend the new coat in carefully, making sure to remove excess paint from your brush or roller as that's likely what caused the problem in the first place.
Challenge #3: You really committed to giving your home a new look and painted more than one room, each in a different color. Unfortunately, now it looks like a patchwork quilt.
How to fix it: If you need to reclaim some cohesive design, you could repaint. But who has the time, budget or inclination? Instead, try using other décor elements to tie everything together. Neutral accessories like a beige bedding, gray sofa cover or natural-wood furniture will help tone down the overzealous color palette without buying more paint supplies.
Challenge #4: The new color is dramatically different than the old and you can still see the previous paint, even after all your best efforts.
How to fix it: Instead of layering on coat after coat of the new color, try a latex primer instead. One, maybe two coats of the primer if the original color was particularly deep, will give you a truer new color when you do paint.
Horrible holes
Challenge: One of the great things about owning your own home is being able to decorate the walls however you want. There's no landlord to throw a fit over holes from hanging pictures or shelving, but you don't want to look at those holes every day, either. Depending on how many imperfections you're dealing with – those who discontinued their gallery wall know what we're talking about – this should be a fairly quick fix.
How to fix it: If you're just dealing with nail punctures, all you'll need is to fill the hole with some spackling. Use a putty knife to get an even, flat application. Then sand the area lightly and finish with paint touch-ups. Larger holes will need a mesh or bridging material before applying the spackling. Kits are available to help with bigger jobs.
Door disappointments
Updating doors and door hardware is a stylish and relatively inexpensive way to enhance the look of your home. These DIY projects sometimes present unique challenges, though.
Challenge #1: You don't have to remove hinges before painting a door. There are ways to protect your door hardware, but sometimes even our best efforts can't prevent paint dripping onto hinges, knobs and latches.
How to fix it: Some DIYers have suggested using a Magic Eraser and plastic scraper, which lets you leave the hinges on the jamb, but you'll need some muscle to get results. For a less labor-intensive option, remove the hinges, then treat them with a paint stripper, boil them in water or use a heat gun. Pretty Handy Girl shares the steps for each of these methods. Before doing any cleaning, however, be sure to refer to manufacturers' cleaning suggestions. Some finishes may be damaged by certain cleaning solutions.
Challenge #2: You can't get that stubborn door hardware off. Antique door knobs were manufactured differently. Sometimes they just don't want to let go if they've been painted repeatedly over the decades.
How to fix it: To remove old hardware with hidden screws on the interior, look for a small slot on the side of the door handle. Insert a flathead screwdriver into that slot and pull the handle away. You should then be able to unscrew the escutcheon. The rest should be pretty straightforward, and you can unscrew the strikeplate on the door's edge to complete the removal.
If layers of paint are keeping the escutcheon "glued" to the door, use a utility knife to score around the edge of the hardware. If there's caked-on paint covering the screwheads, use a screwdriver and a hammer to gently tap to clear out the grooves. Take your time to avoid injury to your hands, the hardware or the door.
Challenge #3: Gouged doors: If you had to fight to get your old door hardware off, or if you have rambunctious kids, you might be dealing with some dings in your door.
How to fix it: To repair small scratches or gouges in a wooden door, simply sand the affected area and fill with wood putty. For larger gouges, try an epoxy wood filler. If you have a fiberglass or metal door, take a lesson – and supplies – from auto repair. Home Tips gives the details.
Challenge #4: All Schlage door hardware is guaranteed to fit standard door preparation. We know, however, that doors on traditional homes might not come with standard doors.
How to fix it: You may need to drill larger or new bore holes. These instructions for installing a Schlage Encode™ Smart WiFi Lock apply for nearly any kind of door hardware, not just the smart deadbolt.
Challenge #5: Doors that stick, rub or don't shut properly are often caused by a problem with their alignment. We most often see this problem when the weather changes and materials around the door shrink or expand with the moisture in the air. Sometimes it's because the house has begun to settle on its foundation. And sometimes it's because we updated the door's frame or flooring below it.
How to fix it: There are a few ways to fix your door alignment, depending on why it's rubbing. First, check the screws of your hinges. They might just need a simple tightening. Use a screwdriver instead of a power drill for better control and to avoid causing damage. If you still need to make a larger adjustment, try driving a long screw into the door jamb to "move" the hinge closer to the frame. If none of these does the trick, you may need to use a belt sander to plane the door, essentially creating more space so it doesn't rub. Family Handyman can help with each of these methods.
DIY projects can be extremely rewarding and let you put your own stamp on your home. Now that you know how to fix some of the most common home improvement mistakes, there's little to keep you from tackling that project you've always wanted to do. Find inspiration for your next handy venture at the Schlage blog or follow us on Pinterest.