How to choose the best hardware when building a new home.
By emily.bailey
When building a new home, the options for materials, fixtures and finishing touches are endless. Here's what you need to know to select the best door hardware for your new build.
Are you thinking of building a new home or in the process of working with a builder to create your dream house? Building a new home can be quite a process, filled with paying close attention to details big and small. The options often seem endless, and in many cases it can be a rather stressful situation. We want to shed some light on the door hardware selection process and hopefully make it a little easier for you to find something that looks great and, more importantly, keeps your family secure.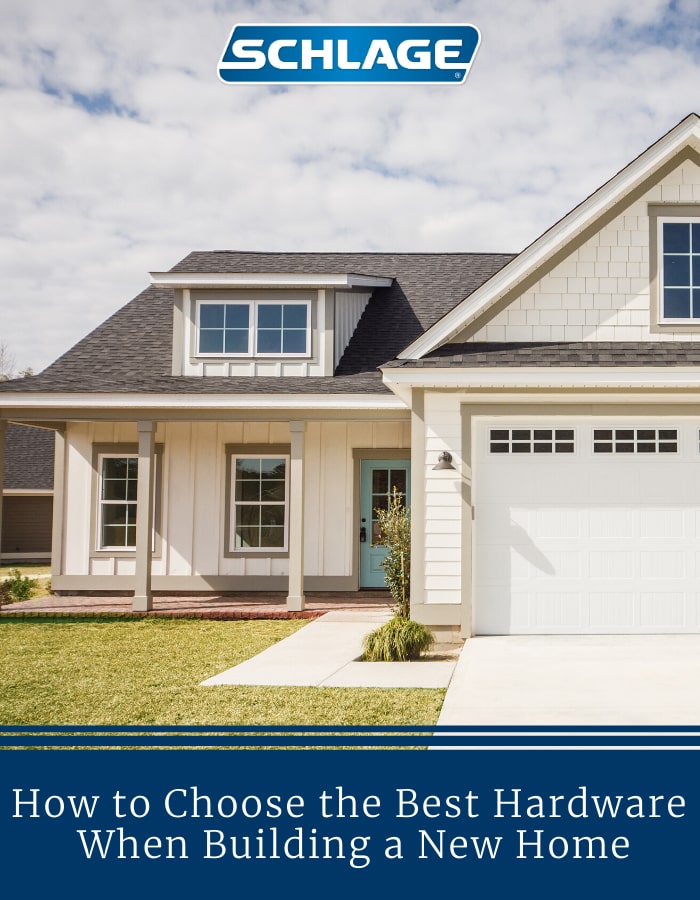 Make your custom home secure
You've invested a lot into your new home, but protecting your family is the most important investment you'll make. When it comes to exterior door hardware, deadbolts are your first line of defense. Schlage mechanical deadbolts and smart locks are rated among the industry's best in Security, Durability and Finish by the BHMA. Their superior security and quality metal construction provide you with peace of mind, no matter if you put them on your front door, back patio or garage entry. And when you choose one of our smart deadbolts, you gain keyless convenience and remote access from anywhere. We help make your smart home a secure home.
Part of the beauty of building your own home is that you get to bring your unique sense of style to the space – more on that in a minute. For now, know that Schlage Custom™ Door Hardware allows you to choose your decorative door knobs and levers at an affordable price without sacrificing the highest quality of residential security. Because, let's face it. If it doesn't withstand something as everyday as a child hanging from the lever and as vital as a sledgehammer attack, it doesn't really matter how nice your lock looks. We think peace of mind means feeling good about your style choices as well as being confident in your safety.
Show your style savvy
Schlage makes decisions easier and you'll never have to sacrifice style, thanks to a variety of design and finish options. We offer interior and exterior door hardware that perfectly complements every area of your home. It's the perfect way to capture your personal taste with details that make a statement. And remember that you can choose the same finish for all your hardware, from the front door to the back and everywhere in between. Suiting the finish and design of your door hardware helps you get that cohesive look that makes your home feel complete.
Whether you're building a home with contemporary architecture or one with a more traditional feel, we have something for you. For example, look to our door locks with a Matte Black finish. The dark hue adds a refined touch to minimalist décor as well as a punch of boldness if you opted for rich, deep paints. For a more traditional feel, consider Schlage's Aged Bronze knobs with a classic patina feel. The possibilities are endless when you consider our range of finishes.
Don't forget to ask your builder about additional finishes that may be available only to trade professionals, too. Schlage's Black Stainless is a stylish alternative to Matte Black and is currently exclusive to builders. It's a great way to get a unique look ahead of your neighbors.
Live your perfect life
When it comes to interior door hardware, the Schlage Custom Combined Interior makes sure your home can grow with you. With privacy and passage functions combined in one lock, you can change your doors from locking to non-locking based on your needs without having to replace the entire lock. Go from an office to a nursery and back again easily and seamlessly. It's the ideal solution if you plan to stay in your home for years to come.
Schlage products also feature a Limited Lifetime Mechanical and Finish Warranty and a 3-Year Electronics Warranty for smart locks. Why should this be important to you? Because it's our promise to support you during the lifetime of your lock, even if something breaks or the finish starts to show some wear. You can have confidence in the quality and craftsmanship of every Schlage product, whether it's a mechanical knob or a smart deadbolt. Our warranties are a commitment to earning your trust.
It's easy to overlook door hardware amidst all the other decisions you're making during a home build. But when you consider door knobs, levers and deadbolts early in the process along with other fixtures in the home, like when choosing your doors, kitchen faucets and bathroom hardware, you can be sure that you will have a cohesive design throughout the entire home. Our Style Selector Tool can help you determine what look is right for you and choose products that complement your design taste.
Feel free to drop by our Schlage Facebook page and tell us about the home you're building or find inspiration on Pinterest.