The best house party ideas of the last century.
By emily.bailey
From the Lone Ranger to gender reveals, here are 10 moments that shaped home entertainment history.
One of the perks of owning a home is inviting others over to celebrate and create memories. Some celebrations are laden with tradition, so our parties have remained similar throughout the century, while others have changed along with our lifestyles. From the Lone Ranger to gender reveals, here are 10 moments that shaped home entertainment history.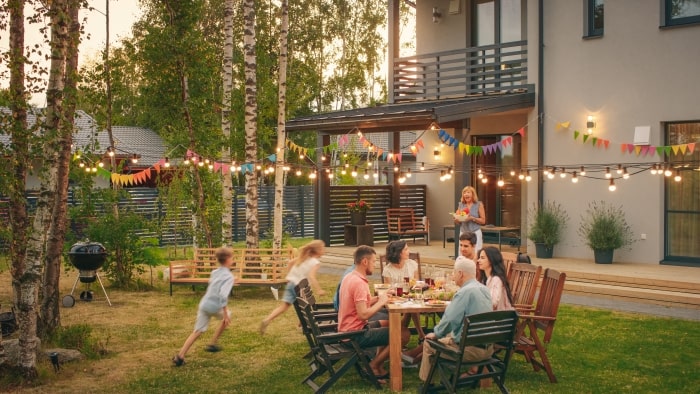 1. Family radio shows
During the Great Depression, money for leisure activities simply wasn't there. Entertaining for the vast majority of Americans in the 1930s tended to be an at-home, family-only affair. Even when money was tight, families invested in radios in greater numbers. Only one-third of U.S. households owned a radio in the late 20s, and that had increased to approximately 60 percent by 1933.1 A fun evening was a gathering around the radio, listening to shows like The Lone Ranger and Our Gal Sunday.
2. Cocktail parties
The first cocktail party was reportedly held in St. Louis in 1917. Prohibition in the 20s likely didn't do much to create the image we now have of ladies in cocktail dresses and gentlemen sipping their Old Fashioned in someone's living room. That came later, in the 1950s and 60s, and food like cocktail weenies, cocktail peanuts and Jell-O made the party an all-out event. We still love a good cocktail party today. Google how to throw one and you'll get tips from everyone from Martha Stewart to Wikihow. Just don't forget the bar cart.
3. Grilling
The idea of outdoor entertaining rose in popularity following World War II. Americans took advantage of the post-war building boom, moved to the suburbs and suddenly found themselves with backyards. With newfound space, time and money, 1950s American families could invite friends over for an open-air meal. For the first time, men did the cooking, although Wife was still preparing the salads and side dishes indoors. Still popular, modern outdoor gatherings may take different forms. In 2018, Pinterest reported a 192 percent increase in searches for stargazing parties.
4. Fondue parties
Some at Schlage think this isn't list-worthy, but if you entertained in the 1960s and 70s, you were a party pooper if you didn't invite friends over for fondue. The 1964 New York World's Fair introduced Americans to Swiss fondue. Before we knew it, stores were selling fondue party kits. What started as a cheese dish – the Swiss Cheese Union declared it the official national dish of Switzerland in 1930 – fondue eventually included chocolate for dipping, a fantastically American adaptation.
5. Dinner parties
At one time, particularly around the Victorian era, dinner parties were a way to showcase how affluent you were. It proved you could afford a home large enough for a dedicated dining room or great hall, you had all the fancy silverware for very specific purposes – don't even think about using a pickle fork for the lettuce – and you could serve elaborate multi-course meals to all your guests. Many argue the dinner party is a lost art, but we still see them. They just aren't formal anymore. Especially among younger generations affected by the Great Recession, it might be a potluck and someone's probably sitting on an ottoman, but it's still a party.
6. Game and movie nights
Like casual modern dinner parties, other forms of home entertaining have also gotten more relaxed. Having friends over for games or to binge watch Stranger Things/Arrested Development/Cheer has taken over. It's not so much up to the host to "entertain" as it is to make sure the streaming is cued up and the table is cleared for a board game.
7. Brunch
Brunch as we know it is a relatively new phenomenon, but it might simply be a matter of word choice. According to the New York Times, brunch is likely an American version of the English hunt breakfast, enjoyed after a morning of stalking foxes and whatnot. Today, brunch-as-entertainment is largely a girls' outing with mimosas and a full range of decadent food you wouldn't normally indulge in without your pals.
8. New Year's Eve
For each of us who wants to go out and ring in the new year with masses of strangers, there are just as many who prefer to stay in for a house party or with a small group of friends. Interestingly, these New Year's Eve house parties have gone largely unchanged in recent history. We still like to get dressed up, even if the clothes have changed a bit. We still enjoy a libation or two. And while the only way to get the countdown in the 1940s was on the radio, we're still waiting to set off our noisemakers at the stroke of midnight.
9. Children's birthday parties
In early history – think ancient Egyptians and Romans – only the pharaohs, gods and wealthy had birthday parties. Fast forward to the 18th century, and the Germans finally figured out we want sweet cakes to celebrate. Wealthy Victorians threw the first events that we would recognize as children's birthday parties, but even they were just excuses to teach their kids etiquette and show off how many servants they had. Around the middle of the 20th century, we finally see more kid-friendly parties, complete with games where children can run amok, paper hats and candles.
10. Gender reveal parties
Love 'em or hate 'em, gender reveal parties are thought to have been invented in 2008 with the simple cutting of a cake with pink icing. So why are they so popular now? Some credit medical advancements like the ability to find out the baby's sex before it's born and more people wanting to celebrate their miracle babies born via IVF. Others say it's just our love of sharing private moments more publicly, and isn't that the reason for most parties?
1 Kurin, Richard. The Smithsonian's History of America in 101 Objects. Penguin Books, 2016.