How to secure your home during a move.
By emily.bailey
Keeping your family safe in their new home is as important as the home itself. Use this checklist to examine and choose upgrades for your new home's security.
Moving is one of the most stressful times in a person's life. There are a lot of things that can be unnerving – not knowing who else might have keys to the home you just purchased, being uncertain about where to go in an emergency – but there are also a lot of things you can do to make this milestone easier. Start by examining and upgrading your security, because keeping your family safe in their new home is as important as the home itself.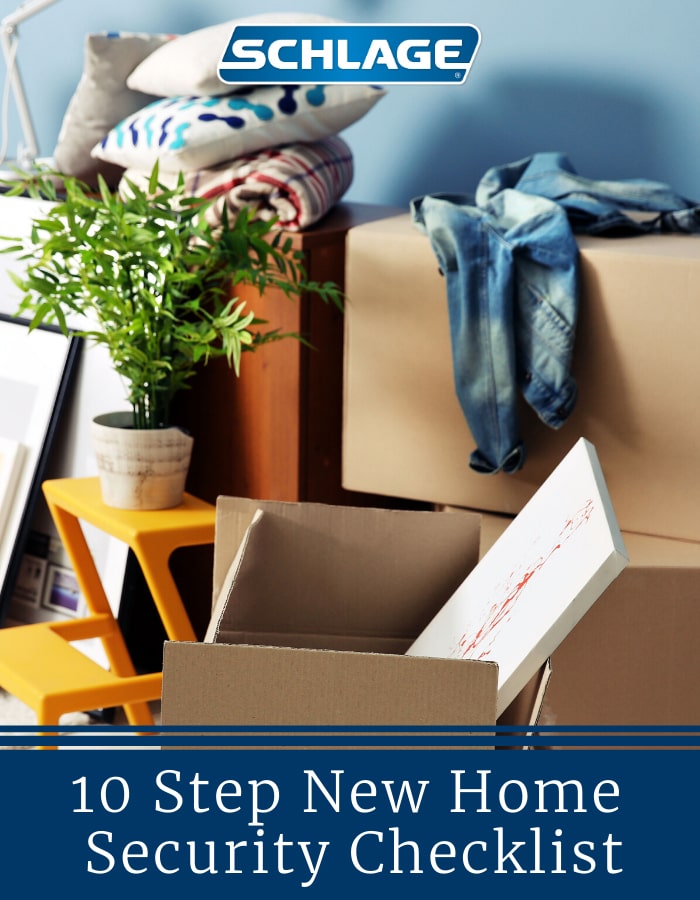 10-Step New Home Security Checklist
Review our security checklist before and after you move to protect your home and family.
Change all of the locks as soon as possible. For superior in-home security, install Schlage deadbolts and front entry handlesets. Nearly all of Schlage's products are rated Best in Security, Durability and Finish by the

BHMA

, meaning you can trust your hardware to protect your new home and everything in it.


If the house has a security system, change the access codes immediately and notify any alarm service of the new ownership. The same goes for a

smart lock that came with the home

as well as your garage keypad. Change their codes ASAP.


Tour your new home and property and look for weak links in your home's defenses such as missing deadbolts on exterior doors, flimsy door and window locks, and lack of outdoor lighting. Every entry door, including the door linking your garage and house, should have a

Schlage deadbolt

.


As part of your home security audit , check your smoke and carbon monoxide detectors. You want one in each bedroom, the kitchen and the garage, at a minimum. If they aren't already installed, add them. If they are old or not functioning properly, replace them. Even if they're in pristine condition, it can't hurt to replace the batteries.


Add, service or replace fire extinguishers. Also, learn how to use them. You don't want to be reading the instructions for the first time when there are flames on the stove.


Consider your perimeter security. Walk around your yard at different times of the day to judge lighting and shadows. Think about how you will enter and exit the home from different doorways and consider upgrades from smart lighting systems and sensors to simply increasing the wattage of existing bulbs.


Locate plumbing, electrical and HVAC valves and controls. Many new-home DIY projects require you to turn off the power or the water before replacing light fixtures or faucets, for example. It's also good to know where they are in case of unexpected flooding or other malfunctions.


Find out the phone numbers and locations of the emergency services that serve your area.


When you move in, join your local Neighborhood Watch.


Update your insurance coverage. This obviously includes your homeowner's policy, but see if any adjustments can be made to car insurance, too. Do you have a garage instead of street parking now? Maybe your commute to work is shorter? These things can sometimes lower your premium.
Your new home deserves the latest technology
Installing the latest in smart home technology can help improve your home's security and energy efficiency. Combined, that gives you peace of mind, added everyday convenience and more money in your pocket, always a good thing after buying a new home. When choosing a Schlage smart lock, it's worth the time to investigate which other devices and smart home hubs they work with so that you can easily and seamlessly control everything from lights to your thermostat, locks and maybe even the coffeemaker.
See which Schlage smart lock is the right fit for your home and the technology you already have with our Get Help Deciding Tool.
It can be easy to overlook details – some of them obvious, others less so – when you're in the middle of a move. Try our Moving Checklist to make sure you have everything covered, from security to pet and child care to creating a relaxation oasis in the midst of it all.