7 mistakes to avoid when purchasing exterior door hardware.
By emily.bailey
Choosing a new deadbolt and front door handleset may not be as simple as picking up whatever is available on the shelf.
When it comes to choosing the best exterior door hardware, there are many factors to consider to ensure the right fit for the style and security of your home. Choosing a new deadbolt and front door handleset may not be as simple as picking up whatever is available on the shelf. Make sure you do your homework and especially avoid these seven pitfalls when purchasing exterior door hardware.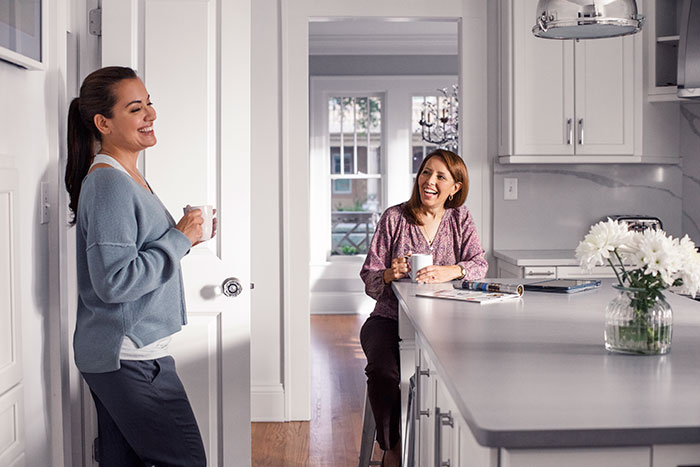 1. Not thinking about security
The number one concern on your mind when it comes to deadbolts and handlesets should be security. Not all deadbolts are created equal. Be sure to look for the highest security grade possible – a AAA for best in residential Security, Durability and Finish – to ensure the quality and durability of your lockset. For more information, check out our guide to security grades.
2. Going for the most affordable option
When it comes to securing your home, this is one time you don't want to save a few bucks if it means sacrificing quality and durability. An investment now will save you money and peace of mind in the long run. Research the safety ratings as discussed above and find out whether or not your new product would be covered by a warranty in the event it stops functioning properly or the finish begins to corrode. At Schlage, we offer a lifetime limited mechanical and finish warranty and a 3-year limited electronics warranty.
3. Not considering the features and benefits
Beyond a manufacturer's warranty, there are other things you should look for in your door hardware to make sure it's the right fit for you. Is it easy to install on your own or will you have to hire a locksmith? Does it guarantee other security features like a built-in alarm? Is there a wide variety of designs so you don't have to sacrifice style to get the best security?
4. Not optimizing for your lifestyle
Deadbolts and handlesets have come a long way in recent years. Not only can they secure your home, but they now offer the ability to add greater peace of mind and convenience to your day-to-day life. For homeowners that are constantly on the go, a smart lock may be the best choice for you. If you're interested in smart home living, you can also opt for an electronic deadbolt that works with other smart devices in your home, making it easier than ever to feel safe and secure. Find out which smart lock is right for you and your family's lifestyle.
5. Ignoring existing accents and hardware
The style and finish of your door hardware can go a long way in tying your entire home together. Look to existing fixtures like lighting or architectural accents for inspiration. For example, the clean lines of a Scandinavian-inspired home pairs perfectly with a contemporary Schlage Century handleset. Or look to a Schlage Brookshire handleset if your home has a more traditional Victorian or Georgian style. Your front door is the perfect opportunity to introduce your personal style before guests step foot inside.
6. Choosing the wrong finish for your climate
Where you live can affect the lifespan of your hardware as well. For example, in coastal climates some finishes are more likely to tarnish than others. Be sure to research the materials used in your lock to decide which is the best fit for your home.
7. Forgetting to check the handing on levers
Finally, you may think you can pick up any lever off the shelf. To avoid installing it upside down, pay attention to the handing of the lever versus which side of your door it will be on.