Want a secure home for your pet? Try a catio.
By emily.bailey
Looking for a safe space for your cat to enjoy? Try a catio. Here's what you need to build a DIY catio.
They show their love by bringing you dead birds or lizards. Why don't you show your love for them in a way that's a bit less lethal? We're talking about catios. Here's what you need to build a DIY catio. Because let's face it. The cat isn't going to do it for you.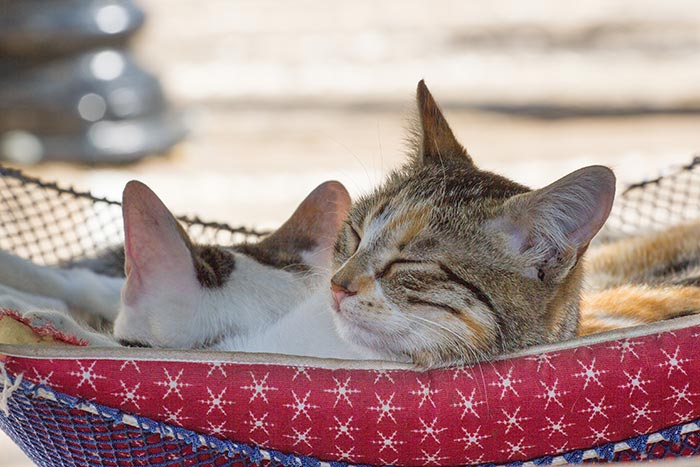 What is a catio?
Quite simply, it's a cat patio. Country Living describes it as "a man cave (or she-shed) for Whiskers." They come in a variety of sizes, from as small as a window box to as large and extravagant as a series of pathways and treehouses.
What are the benefits of a catio?
Catios can help keep your furry friend safe and healthy, according to the Humane Society. An indoor/outdoor cat can encounter many dangers when out on the prowl – traffic, predators, unkind humans and diseases to name a few. The same goes for a formerly feral cat you've adopted or a special needs kitty who loves the outdoors but needs some additional protection.
With a catio, they still get the thrill, fresh air and stimulation of being outdoors without the risk. Other animals in your neighborhood will also be protected when Kitty can no longer chase birds and other critters.
What do I need for a DIY catio?
Your catio can be as large and elaborate as you want, or you can keep it simple, perfect for a lounge kitty who just likes to enjoy a soft breeze. Aside from the structure itself, you'll probably want the following items:
Water bowl. We recommend skipping the food bowl, which can attract racoons and other wild animals.


Door and/or tunnel to get from the house to the patio. An

electronic cat door

that's triggered to open and close with a sensor in Kitty's collar is a good option.


Something to climb on and perches.


A bed, hammock or pillows for catnaps.


Shady spots for when the temperatures climb. Or, as

Houzz

recommends, a heating pad for when the weather cools off.


A roof to protect your cat from the elements.


Scratching post. If you're going for an all-natural look, you might use a tree or log instead of something store-bought.
Some optional features are a seating area for you so you can hang out with Kitty, toys and plants. Be sure to choose
plants that are not toxic to cats
. If you have multiple cats and they don't always get along, another great reason to build a catio, you may want multiple access points in case someone gets too territorial.
How do I build a catio?
The most common way to build your own catio is to purchase kits online and then put your DIY skills to use. Catio Spaces and Habitat Haven each have a variety of designs.
If you're feeling creative and confident, however, creating one from scratch is certainly possible. This Old House shows us how to make a window-height enclosure for about $500. And this video from Cuteness DIY turns an IKEA bookshelf into the perfect catio.
For something a bit larger, which is ideal if you have the space or more than one cat, try this tutorial from Instructables. One more option is to repurpose a large dog kennel like you might see outdoors anyway. Catster shows how they added PVC pipe to help kitty-proof it and keep their rescues from pulling a Houdini act.
Not a cat person? Check out some porch puppies instead. There's also a collection of more DIY projects on the Schlage blog, no matter which critter camp you belong to.