How to use your tax refund to improve your home's value.
By emily.bailey
Deciding what projects to tackle with your tax refund isn't always straight-forward. Let Schlage help you decide.
How do you spend your tax refund? For the last few years, the average American has received around $3,000 back at tax time. That's a nice chunk of change to put back into your home. Deciding what projects to tackle isn't always straight-forward, however. Let Schlage help you decide.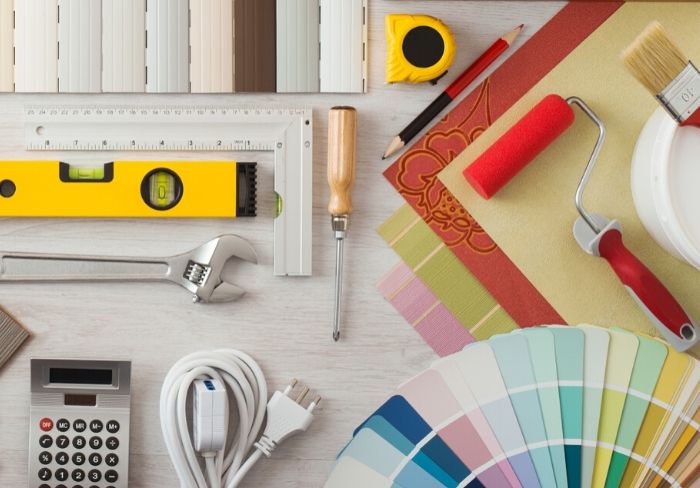 Repair or Improve
Home projects generally fall into two categories: home repairs and home improvements. Fixing a broken gutter or painting a room are generally considered repairs. Home improvements, according to Turbo Tax, "is something that adds value to your home, prolongs its life or adapts it to new uses."
If you're looking to sell your house in the near future, basic repairs can go a long way toward a quick sale. Potential homebuyers love the idea of not having to replace an old water heater. But if your goals are more long term or you've already found your forever home, improvement projects might be a better investment, allowing you to personalize your home to suit your own tastes and lifestyle.
Garage door or Windows
Garage doors are consistently one of the best projects you can take on, indoors or out. The 2019 Cost vs. Value Report found that a new garage door can recoup almost 98 percent of your investment when you sell. It might also be worth looking into smart garage openers so you can monitor your door no matter where you are.
Windows can help your home be both energy efficient by reducing drafts and more secure. If latches are broken, it's time to repair them or replace the window entirely. Thieves generally look for the point of least resistance when breaking into homes. Often, that means windows.
New front door or Paint
One of the best ways you can secure your home is to make sure your front door is still in good shape. If it's warped or cracked, it's time for a new front door. Even if your door is still structurally sound, you might consider upgrading to a more secure material like solid wood or steel.
If a new door isn't in the budget or you're happy with the security it offers, painting your front door can do wonders for your curb appeal. This is ideal when you're selling your home – house hunters decide whether they love your home within the first few seconds of seeing it – or simply want a new look.
Whether you replace the door or simply add a coat of paint, it's the perfect time to look into new front door hardware. Schlage offers superior security and durability, giving you peace of mind. And with our variety of styles and finishes, we bet you'll find the perfect look to go with your new door color.
Deck or Privacy fence
Decks, porches and patios offer the outdoor living space so many of us crave these days. They're perfect for relaxing with family or partying with friends in the summer. The options for materials and design are endless. Install a firepit, have a grilling station or outdoor kitchen, arrange cozy seating and you'll likely see an increase in the value of your home.
Privacy fences not only add curb appeal as a backdrop for beautiful landscaping, but they also add security against prying eyes, keep boisterous pets or kids in the yard and mark off your property line, especially beneficial if you have a larger plot of land.
Cabinet hardware or Door hardware
Installing new cabinets can be a costly and time-consuming venture. So is painting, although a bit less so. If neither of those options is in your budget or on your wish list, new cabinet pulls is the perfect way to upgrade your look with less hassle.
The same rules apply to your doors, whether it's your front entrance, master suite or basement door. Sometimes you need to replace the entire door, but sometimes a new handleset or interior knob or lever will do the trick without a big price tag or elbow grease.
Kitchen island or Kitchen countertops
Islands are one of today's most popular kitchen renovations, according to the 2020 U.S. Houzz Kitchen Trends Study. More than half of homeowners who renovate either add an island or update an existing one. Not only do they give you more meal prep space, but they're prime real estate for appliances like microwaves and dishwashers as well as additional storage.
That same Houzz study found that 89 percent of homeowners replace their countertops during a kitchen reno, making it the most popular upgrade. Engineered quartz and granite are the most preferred countertop materials.
Flooring or Ceiling
Adding hardwood, according to Forbes, can return up to two times the cost of installation when it comes time to sell. For a less expensive but still durable flooring alternative, consider laminate. New carpeting, or even just giving rugs a really good cleaning, is also a worthy option.
We like the idea of updating your ceiling because it's so often overlooked. Potential renovations include removing dated popcorn ceilings, adding crown molding or faux beams, and painting.
HVAC or Water heater
Having your HVAC system serviced or replaced can do wonders for the air quality in your home. Not only will you be breathing fewer dust and pollutants, but it might also help with mold-producing moisture. Of course, a well-working HVAC system will also help keep your home a comfortable temperature year-round, saving money and energy.
If you're replacing a water heater, you might consider a tankless model. It's easier on your wallet and the environment since it only heats the water you need. Both of these projects could be a key selling point when you're ready to put your home on the market.
These are just a few ideas. We didn't even get into adding mudrooms, installing security systems or sprucing up your landscaping. For more DIY projects, visit the Schlage blog or find us on Pinterest. And if you're looking for more house-selling tips, don't forget our Real Estate resources.