Curb appeal inspiration you have to see.
By emily.bailey
Instagram is one of our favorite places to go for inspiration, so we wanted to share 10 of our favorite outdoor living spaces.
We're turning 100! Over 10 weeks, Schlage is sharing its favorite top-10 lists. That's 100 tips, ideas and moments of inspiration so you can enjoy the safety, simplicity and style of Schlage for another 100 years to come.
Some of us can't get enough pictures of beautiful food. Others want to see celebrities, puppies and DIY makeovers. At Schlage, we geek out over curb appeal. Instagram is one of our favorite places to go for inspiration, so we wanted to share 10 of our favorite outdoor living spaces, whether they feature our door hardware or not. Hopefully these porches, decks, outdoor kitchens and more light a creative spark that leads to a new and unique look for your own home.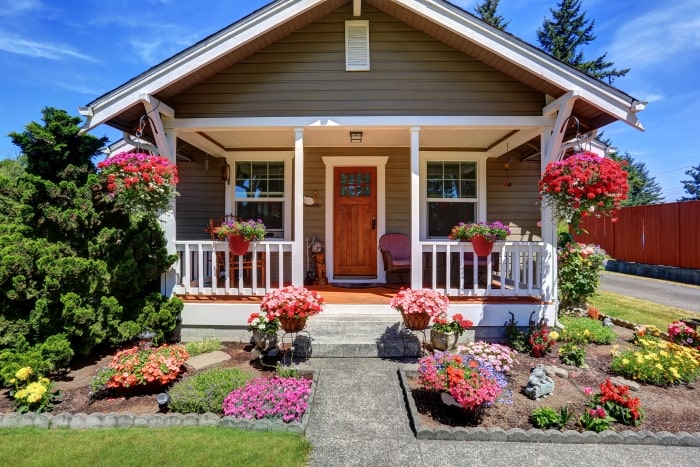 1. Gorgeous essentials
@vintagewhitefarmhouse
Wreath? Check. Layered door mats? Check. Coordinating porch lights and contrasting furniture? Check. This entryway has it going on in all the right ways.
2. Coordinated and classic
@ carolinewhiteheadphoto
We like to think of this front porch as classically coordinated. The matching finishes on the door hardware, lighting and house numbers help give it a cohesive look. There's a nice touch of modern to throughout to lift the traditional brick without it looking mismatched, too.
3. Patriotic puppers
@cindy.countryroad407
Even if you gravitate toward the understated look, holidays are a great opportunity to make a bigger splash. Embracing the full patriotic look for Fourth of July or Memorial Day is a can't-miss. And if you're still unsure, at least the dark red door works flawlessly with the brick for every day.
4. Inside-out living
@wuhs
5. Small and stylish
@babybentley18
This entryway shows us that a small front porch doesn't have to be small on style. It's hard to go wrong with greenery of any kind, and the flowered wreath adds a fresh pop of colorful elegance. We especially love how the design of the Schlage Camelot Front Entry Handle and smart lock complement the traditional features on this beautiful home.
6. Rug-ged love
@a_lovely_living
When you have a small front porch, it can be tempting to use a small doormat. That can actually make your entryway feel more cramped. That's why we love this larger outdoor rug, which anchors the potted ferns and creates a well-defined space.
7. Porch jungle
@mila_jestcafe
This take on Bohemian modern porch décor is a prime example of what you can do even if you don't have a traditional garden. You won't miss raised beds when you're surrounded by a jungle of palms, climbing plants and colorful flowers.
8. Beautiful balcony
@elvi_decorhome
If you've only been blessed with a narrow balcony, you're still in luck. This space still has everything you need by taking advantage of vertical space for cozy décor.
9. Rustic and romantic
@fishtailcottage
So many monochromatic designs we see today are all-white. This natural front porch taps into the raw-material craze with the right combination of browns and greens.
10. Movie must-have
@hilarylind_re
Whether inviting friends over for a summer soiree or sneaking in one last family movie night before fall, this outdoor theater fits the bill. Big screen, whimsical lanterns, comfy seating and hygge-style blankets are must-haves for lazy evenings.