Safety first: Essential gear for your next DIY project.
By emily.bailey
Be able to strike while motivation is high by keeping this safety gear at the ready so you can tackle your DIY projects without delay and still keep all your fingers.
You see it on Pinterest and want to dive right in. You collect the materials, make sure you have the right tools and you're ready to start cutting/painting/gluing/sanding/sawing. But do you have the right safety equipment? Be able to strike while motivation is high by keeping this safety gear at the ready so you can tackle your DIY projects without delay and still keep all your fingers.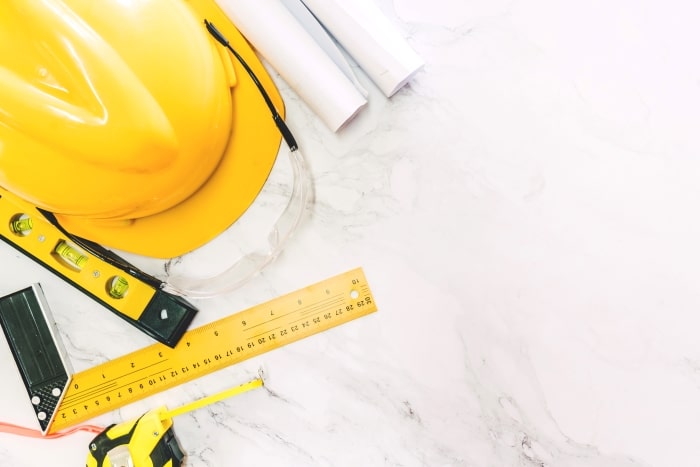 1. Safety glasses
Eyes are fragile, so protect them from flying debris, dust and splashing liquids. Saw Dust Girl suggests getting a neck strap for convenience and investing in goggles that won't fog, perfect for working on any sweaty project. You might also like safety glasses with LED lights in the frames.
2. Ear protection
Ear muffs are a power tool's best friend. If you're going to be working with loud machinery for any length of time, your ears will thank you. Ear muffs or plugs will work just fine.
3. Gloves
Hand protection is no joke, and with all the different tools you're likely to use, it's important to have the right gear. Cloth and leather gloves are good options for reducing injuries from splinters, nails and sharp equipment. Rubber or latex are good for handling stain, paint and other liquids. Also consider anti-vibration gloves if you plan on using power tools frequently.
4. Leather thumb and finger guards
For those times you don't need whole-hand protection, thumb and finger guards are ideal for carving projects. It seems minor until you nick yourself during what seems like a small job.
5. Push sticks and blocks
If you're doing any woodworking or breaking out the power saw, invest in some push sticks or a block that can feed your materials into the blade while keeping your fingers out of harm's way.
6. Mask and respirator
Protect your lungs when doing anything with drywall or sanding. Masks are also advisable when painting, especially if you choose paints with stronger fumes or if you're doing a ceiling.
7. Work boots
Never DIY in flip-flops. The last thing you want is to drop something on your toes or puncture your foot on an errant nail, so get some good footwear.
8. Protective clothing
Whether you're working with carving equipment, caustic materials that may splatter or flammable liquids, invest in clothing that can protect your body head to toe. Face masks, leather aprons and flame-retardant fabrics are a good start.
9. Knee pads
This is a must if you're replacing flooring. Your joints will thank you. But you might also appreciate it for smaller jobs like painting a series of cabinet doors or gardening projects where you might end up kneeling.
10. Hard hat
If you're tackling a larger project or one that takes place overhead – a kitchen gut job or replacing a chandelier – protect your noggin.
11. Back support
Lift with your legs, and even then, wear some kind of back support when lifting or transporting heavy items.
12. Safe disposal containers
Protect curious kids and pets, and do your part for the environment, by knowing how to properly dispose of toxic chemicals, paints, aerosol cans and other items that can't simply go in the trash. Then get the right equipment to seal it up safely.
13. First aid kit
Accidents happen, and when they do, you should be prepared. Bandages, antiseptic and gloves are among the supplies you should have on hand until you can seek more extensive medical attention, if necessary. Find a complete list of first aid supplies at RedCross.org.
14. Fire extinguisher
You might be working with electrical equipment, power tools or flammable materials. Have a fire extinguisher on hand and check it regularly to make sure it is in good working condition. The garage is a prime location for an extinguisher whether or not that's where you tackle your DIY projects.
15. Flashlight
Good lighting makes any job easier, but if you're going to be in a tight crawl space, a proper flashlight can help you spot protruding nails or cut risks before they happen.
16. Ladder
Instead of tip-toeing and losing your balance, get a ladder. Then learn how to use it. Set it on stable ground, recruit a spotter to help hold it steady and only use it for its intended purpose.
17. Sunscreen
Outdoor projects tend to take place in warmer months and when it's not going to rain on your new paint job. Protect your skin if you're going to be outside for an extended time.
18. Hair ties
This is where hair improvement meets home improvement. Tie back hair to keep it out of your face so you can see what you're doing and keep strands from getting caught in equipment.
19. Phone number for the pros
We can't all be experts at everything and it's good to know your limitations. Recognize when it's time to call an electrician, plumber or other professional to handle something that's dangerously outside your skillset.
20. Situational awareness
Sometimes the best safety tip has nothing to do with your gear. Be aware of what's happening around you, including kids and pets playing nearby, standing water that might conduct electricity and power cords so you don't inadvertently cut through them.
Now that you're properly outfitted for any home improvement project, get inspired to tackle your next DIY effort. Explore ideas from Schlage on Pinterest and Instagram.